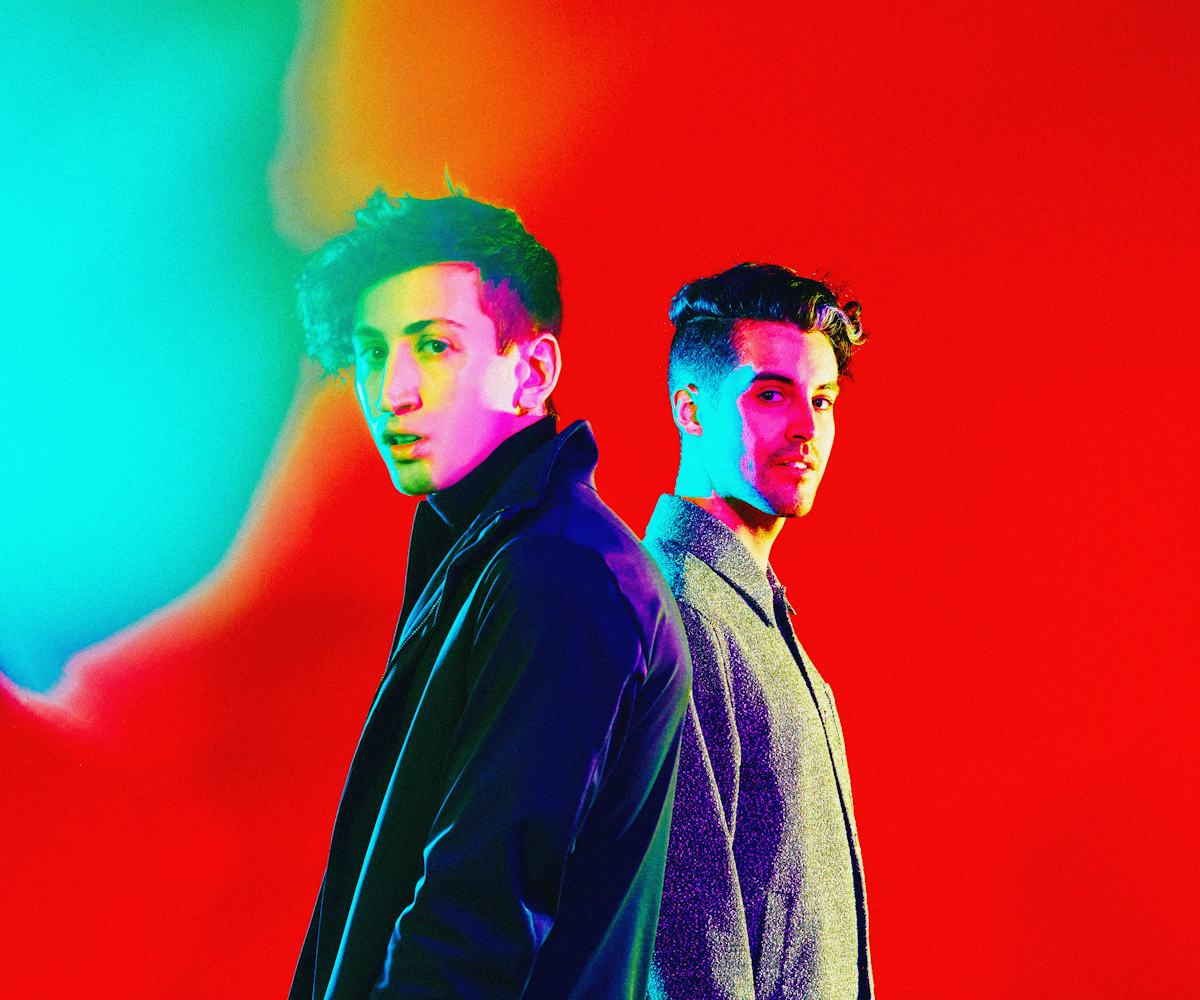 Secret Weapons Is The Goth Pop Band You Need To Hear
Watch the video for new single "Ghost"
If you like weird discovery stories, then the story of synth-rock duo Secret Weapons, made up of Danny Rocco and Gerry Lange, will be one of your faves.
The duo worked regular nine-to-five jobs as entertainment lawyers at the very label to which they are currently signed—they were making music incognito, hence the name. After working a full day piled under legal paperwork, the guys would go home and record and produce songs in their Brooklyn, New York, apartments, without even some of their closest friends knowing. Label chairman and music icon L.A. Reid heard through the grapevine about a song that had gone viral—and, as it turned out, the artist was one of the guys in his own legal department.  
My own discovery of Secret Weapons is how I learned to never ignore the opening act—it can be as big of a surprise as learning your legal team has a side gig as a band. As it turns out, every once in awhile, a band blasts your face off and seduces you from the lobby, charming you into the venue, like Secret Weapons did for me last year, when I saw them as they toured with Weezer, Panic! At the Disco, and Fall Out Boy. If you saw this tour, you know what I mean.
And if you didn't, rest assured that this duo knows a thing or two about writing viral hits. Just take a look at their first single, "Something New," a song they released without telling anyone they were even in a band, which ended up being the one that got them signed. 
Last year, Rocco and Lange released their debut EP, a four-song collection of high-energy and contagiously melodic pop songs that made you immediately understand just how silly these two can be, something that's not surprising considering they have been friends and making music since high school. And now, their music goes to the next level, with the upcoming release of their first full-length album and accompanying psychedelic music video for first single "Ghost."  
At first listen, "Ghost" is darker and different than what we've heard from the band before; it's almost as if The Weeknd and Wham! had some sort of gothic pop child. While it still carries the gravitas and wall-of-sound production of the usual Secret Weapons song, Lange's voice has more of an underlying desperation to it. "It's darker, but the overall message is inspirational. So much music today is hopeless. It's 'we are sad,' end of sentence. We want to be like our generation's E Street Band. We want everyone to know that we're in it together and we'll overcome," Rocco says. "The album really drives home what we're about."
Until now, there's only been one other existing Secret Weapons video, which features the guys' true-to-life story of breaking out of their day jobs and into their music careers, and—you guessed it—having the best time ever. But the release of "Ghost" hits a different creative marker in their careers. Not only in a darker, not-having-as-much-fun kind of way, but the guys have worked hard to make sure the imagery and visuals all tie into the same world. Rocco notes, "This is how we see it, and we want everyone to see it initially through that same lens." 
"We wanted all the new Secret Weapons music to live in the same universe. So we created this bizarro world that is a dystopian version of New York City. All the characters live and breathe the songs we've written," Rocco adds. "There's a couple that live in this dystopian world, where all people have a certain type of light. Throughout the video, people start losing their lights. We follow the characters on a very cosmic and urban journey to get their lights back."  
The video has psychedelic, neon vibes that'll make you feel like you've made a wrong turn into a cult-classic '80s film like Tron, crossed with a rainbow EDM acid trip, all while visiting the post-apocalyptic world of Alexandria in an episode of The Walking Dead. The tune has the infectious sounds of a saxophone, with a ridiculously catchy chorus reminiscent of a tune off of something from Michael Jackson's Thriller. And though the guys may be ready to show us their darker, more serious side, it's easy to see that what lies ahead on the rest of the album will likely be a balanced mix of both. 
The full-length album, As the Setting Sun Comes Crashing Down on Me, is set to release later this year, and hints that these guys have experienced it all: from self-doubt and ceaseless introspection to finding confidence and hope. Just as everything in the world of Secret Weapons is both yin and yang, the album too is likely to be part fun and games, part confessional and complicated, with all of its songs equally rearing to crawl into your head, and never leave.