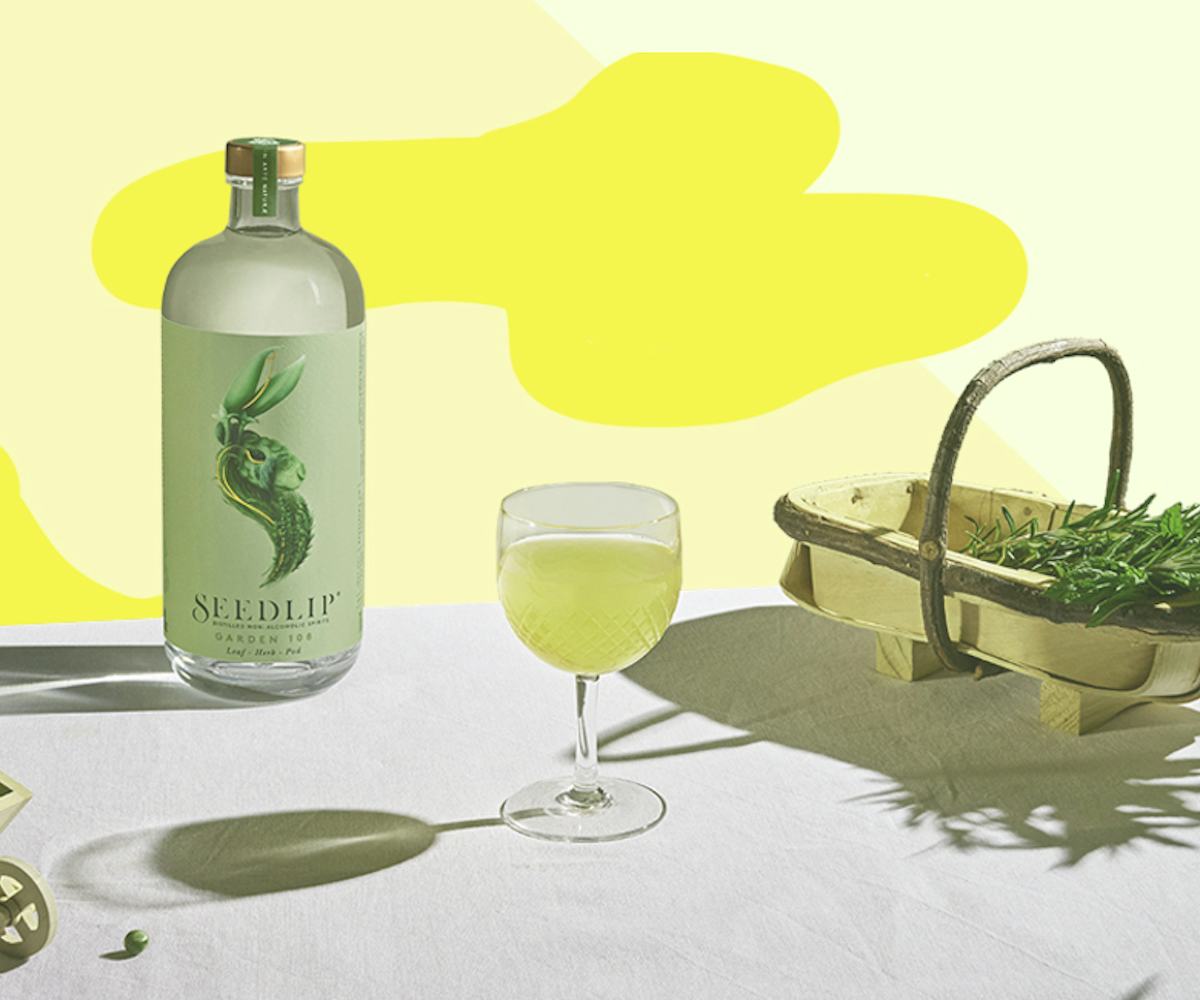 Don't Sleep On This: The World's First Non-Alcoholic Distilled Spirit
For all those Dry January cocktails
Friends don't let friends miss out on all the cool, under-the-radar things they know about, like where to buy ultra-fashionable clothes at decidedly non-runway prices or which little-known beauty brand is low-key making the best highlighter around. And because we consider our readers to be like friends, we decided to gather together all our best tips in a new series: Don't Sleep on This. Check in every week to see what things we can't wait to share with you.
It feels like every conversation we have this time of year involves the other person telling us: "I am doing Dry January." It seems like not that long ago that going sober in January was more of an anomaly, but now no one blinks an eye at the idea, and even nods in recognition when hearing that the person is tacking on a Whole30 diet for a "truly cleansing experience." Hell, my cashier at Trader Joe's revealed to me the other day—unprompted—he was laying off alcohol through Easter.
As I am not the type to deprive myself of anything that brings me, well, joy, I've never attempted neither Drynuary nor Whole30. Sure, I've laid off alcohol or sustained myself on salads for lunch following a gluttonous holiday season, but I've never driven my body to the point where I needed a "reset" this drastic. Which is why it's surprising that I found myself last Monday previewing The Fat Radish's new vegan menu paired with Seedlip's non-alcoholic cocktails. And while The Fat Radish has long been one of my favorite restaurants in the city, it was the promise of cocktails made from "world's first distilled non-alcoholic spirit" that piqued my interest that night.
Made from botanicals, Seedlip is all-natural and sugar-free, and its existence was inspired by The Art of Distillation, a 1651 book documenting non-alcoholic herbal remedies, that founder Ben Branson came upon one day. Branson, who comes from a long line of farmers, was fascinated by the process of distilling non-alcoholic librations, and set out to answer the question of "what to drink when you're not drinking," the company's current slogan.
Given the response to the concoctions served at the Fat Radish, he found the correct answer. Ranging from an alcohol-free take on a Negroni (a "NOgroni") to a "No Sin and Tonic" (a gin-free favorite) and an espresso "MartiNO," the cocktails were as nuanced and satisfying as the ones you would find in any respected craft cocktail bar in Manhattan. In other words, you did not notice the lack of booze. (It might have helped that the drink recipes were created by some of those highly respected bars, like The Aviary and Mission Chinese.) I was impressed and, for the first time, could see the appeal of ordering a mocktail over a cocktail.
Available in two flavors, the herb-forward Garden 108 (named after the amount of days it takes to sow, grow, and hand-pick the peas that come from Branson's family farm and make up each bottle) and the woodsy Spice 94 (referring to the year 1494, when allspice berries were discovered in Jamaica, from where Seedlip still sources them), each spirit is made up of six botanicals that are macerated with a small amount of alcohol to extract flavor. Using a traditional copper still method, the liquid is then distilled twice, to separate out the alcohol and create a layered flavor similar to that of a good-quality spirit. While most liken Seedlip to a non-alcoholic gin, I would compare it to a vermouth, even though to liken it to any alcohol is to do it a disservice, so unique is the taste.
Even though you can sip Seedlip on its own, it was created to be mixed in cocktails; I would recommend drinking it in a cocktail, too, as it's a little thin on the tongue by itself. If you want to try a cocktail firsthand, you're in luck—several bars around the country already stock the spirit and serve their variations of Seedlip cocktails, including The Dead Rabbit, Nomad, and Eleven Madison Park in Manhattan. Or, you can just make a cocktail yourself, with recipes (available on the brand's website) ranging from a simple tonic drink (Garden 108 mixed with tonic over ice) and mule (Spice 94 mixed with ginger nectar, fresh lime, and soda over ice) to more complex ones that I tried on Monday (recipes below). Just yesterday, I mixed Garden 108 with a bit of all-natural tonic and a splash of sugar-free cranberry juice to go with dinner!
And while it may seem that this spirit was created for Dry January and non-drinkers, that wasn't entirely Branson's intention—in fact, the brand encourages people to have a glass a wine or a margarita and a Seedlip cocktail in the same evening. And that's the kind of Dry(-ish) January I can get behind.
Seedlip, non-alcoholic spirits, $40 each, available at Seedlip.
NOgroni
Ingredients:
NOgroni
Ingredients:1 oz. Seedlip Spice 94
NOgroni
Ingredients:0.8 oz. non-alcoholic bitter aperitif*
NOgroni
Ingredients:0.8 oz. non-alcoholic sweet vermouth*
NOgroni
Ingredients:orange twist, to garnish
Directions
Add all the ingredients to an Old Fashioned glass with ice and stir. Garnish with an orange twist.
*For full specs, please email nogroniplease@seedlipdrinks.
Apiary
Ingredients:
Apiary
Ingredients:2 oz. Seedlip Garden 108
Apiary
Ingredients:1 oz. honey tea syrup*
Apiary
Ingredients:0.5 oz. lime juice
Apiary
Ingredients:salt, a pinch
Apiary
Ingredients:4-5 drops Sichuan peppercorn oil
Apiary
Ingredients:4-5 drops sesame chili oil
Apiary
Ingredients:Edible flower (option), to garnish
Directions 
Add all the ingredients to a shaker, shake, and strain over a large cube in an Old Fashioned glass. Drizzle Sichuan peppercorn oil and sesame chili oil on top. Garnish with an edible flower.
*To make honey tea syrup, mix 1.5 quarts of hot water with 1.5 quarts of honey and 1 quart of tea. Let the tea steep for at least 10 minutes.
Espresso MartiNO
Ingredients:
Espresso MartiNO
Ingredients:2 oz. Seedlip Spice 94
Espresso MartiNO
Ingredients:2 oz. cold brew concentrate
Espresso MartiNO
Ingredients:0.5 oz. simple sugar syrup
Espresso MartiNO
Ingredients:coffee beans, to garnish
Directions
Add all the ingredients to a shaker, shake, and double strain into coupe glass. Garnish with coffee beans.