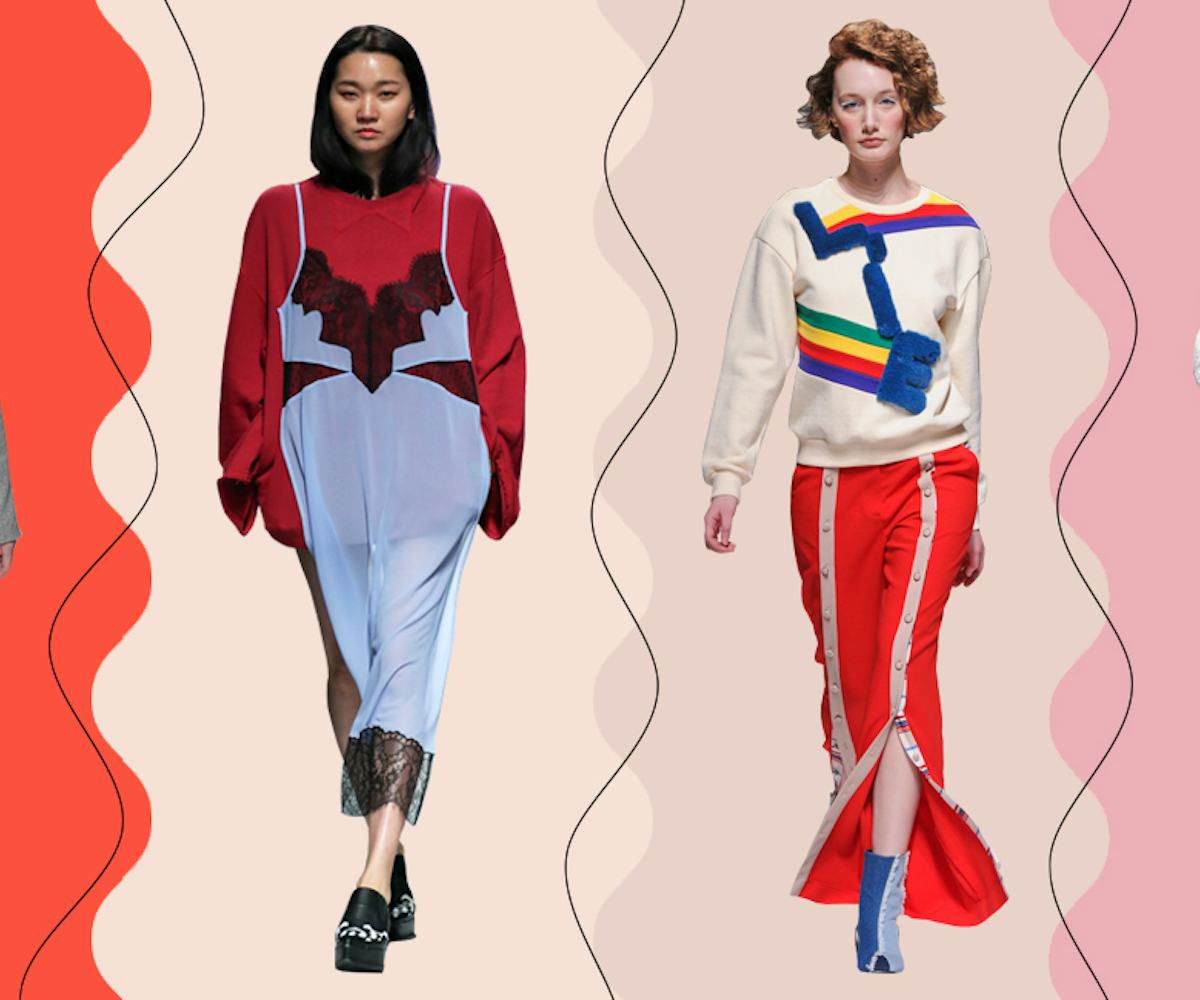 Seoul Fashion Week Restored Our Faith In The Power Of Fashion Weeks
It's been a very long time since I've experienced that am-I-breathing, New York Fashion Week-is-pure-magic feeling. And by "a long time," I mean all the way back to those tents-at-Bryant Park days, which hasn't happened since, I think, 2009. 'Twas a time when I wasn't jaded; I still had a real zest for life, my 22-year-old waist actually fit into tragic American Apparel plum corduroy skinnies, and I was accustomed to the reality that my digital camera was bound to fall to its death due to the pushy paparazzi snapping away at an Olsen and/or Jessica Simpson as they'd make their post-show exit. Magic!
Nowadays, my eyeballs cannot deal with another apt albeit annoying "Is NYFW Dead?!" headline. I've mourned the old NYFW. I accepted it. I get it. The thrill is gone. Everything must change. Goodbye. This is why you may or may not find me Ambien-sleeping in bed with my cat during NYFW, dreaming of my borderline alcohol poisoning following Alexander Wang bashes. But sometimes I get lucky and receive an invite to check out a fashion week a million-ish miles away. A fashion week that's not in NYC/Paris/Milan/London and that's, gasp, actually exciting in a way that just doesn't exist in the regular FW circuit anymore. Imagine that!
Actually, imagine this: Seoul Fashion Week, which just wrapped over the weekend. It was, spoiler alert, VERY EXCITING. This was immediately crystal clear on my arrival when I experienced the return of that breathless-Bryant Park feeling. Actually, that's a lie. It was a fireworks-in-my-heart explosion. In other words, sorry Bryant Park tents, there's no breathtaking, Instagram-perfect venue quite like SFW's chic and spaceship-y Dongdaemun Design Plaza designed by, wait for it, Zaha fucking Hadid (!!!). Like, EXCUSE ME?
Anyway, I'd blame being fashionably late in my Forever 21 for the shows on Seoul traffic (if you know Seoul, this isn't entirely a lie!), but, truthfully, it was mostly because I was losing my mind via the style-slaying subjects who caused the aggressive photographers to block the ramps in which I was attempting to descend to get to the shows. The K-Pop stars were super-cute, but the cool kids were the real showstoppers thanks to their designer duds. I'm talking about actual kids, by the way. Like, 8 years old and younger. I wasn't sure what my reaction should've been toward their parents, but the kids seemed happy and were livinggg for the cameras. I could not take the cuteness. I also couldn't take the jet lag, but Hera, a local K-Beauty brand that sponsored SFW, helped mask my drowsy face. Specifically with its eye cream.
Anyway, the shows. Oh! Many were very, very good. Word of mouth was to expect greatness from the LVMH prize-shortlisted Blindness, and the brand totally delivered on the bold and the beautiful. It gave me dramaaaa, honey. Also, Haute Granny Gone Wild. See: head-to-toe '70s living room floral couch prints. This is a good thing. And a trend! You've seen and, if you have good taste, loved the Grandma Chic retro prints as of late from Richard Quinn, Marine Serre, Gucci, and, previously, Balenciaga. Glamour (PERMA-PEARLS) was subverted with punk-ish fetishistic details, like black leather shorts/cropped tanks, netting, and masks saying things like "Gender is Ok." I enjoyed the beaded glove-draped-on-the-shoulder look, the wide-brimmed '40s-style hats, the nylon headscarves, the cinched trench.
Aside from the popping prints, another main design element was exaggerated ruffles and cascades, either densely clustered or cut in enormous volume. Then there was the also eagerly anticipated PushBUTTON. Fun fact: PushBUTTON, whose show aptly and absolutely pushed many an, ahh, button, was named after a Madonna lyric from her underrated gem, "Hollywood." Reminder: 'Tis the song Madge performed before iconically smooching Britney Spears at the VMAs. The collection had bits of Madonna's cowgirl, Americana appreciation moments—revisit her "Don't Tell Me" and "American Pie" videos, and feel free to thank me later. The killer cowboy boots were glorious, #NEED pieces included that Raf at Calvin Klein-y oversized Rocky Mountains jacket with leopard patches and PVC fringe, as well as that oversized cowboy shirt in black leather. Ultra-cool anti-fashion FASHION that struts in the same vein as Balenciaga, Vivienne Westwood, et al. Oh, and apparently those Matrix-y shades (think, Off-White and Alexander Wang AW18 shows) ain't going anywhere, and I'm here for it.
Okay, also I loved the way LIE slayed in the Sporty Spice-hits-the-club department. Specific sartorial slays: a high-pile fleece that looked both warm and effortlessly normcore cool. OMFFashionGods @ the rainbow shag fur bomber. Loved the clear vinyl pieces combo with winter fabrics. I immensely appreciated the hip-as-an-Opening Ceremony rack snap-down track pants.
KIOK went cuckoo cute with its streetwear-oriented collection. Chic combo fabrics in easy outerwear shapes. Think: Christopher Shannon. Great denim pieces, especially the pants. Then, there were armor-like hoods and headwraps, gigantic boxy pockets, bustiers like breastplates, and extra-long leg warmers. Humble fabrics like denim and gingham and plaids, a trend on the SFW catwalks, were funkified. It was all quite demure-meets-kickass. It was all very *opens another credit card.*
But BIG PARK was my absolute enthralling everything. BP really knows and succeeds at putting on a head-turning show. Models stormed out from what looked like a cabin in the Sleepy Hollow woods and down the runway as creepy horror film music with a shadowy splash of hip-hop beats and a side of screamo shrieks sent shivers up and down my designer-less-clad bod. Also goosebump-inducing: the exquisite outerwear. The statement pieces were never-ending. KEEP THEM COMING. Amazing platform shoes with a printed struttable sole. Saturated as shit colors. THOSE GODDAMN COATS. *Faints* It was all about the really cool linings on the coats—I specifically lived for, then died over, the bright orange shearling-type lining. Another coat was lined with the "Big Park" animal emblem in purple. Lots of texture and fabric mixing, in general, was going amazingly on. Checks and tweeds were given a twist. Obsessed with the punk 'n' pretty-ass braids. IDK. It was all very viscerally affecting from start to finish, when the models entered the Poltergeist-y light at the close of the finale. I'll come/run into the light for those looks!
In short, Seoul Fashion Week gave me everything. By the end of the wonderful week, my eyelids were unrolling onto the runway like a red carpet with the crazy paparazzi stomping all over them as they surrounded the K-Pop stars. My K-Beauty shopping spree (DO NOT SLEEP ON THE SNAIL SLIME) in the K-Beauty Mecca that is Myeong-dong has encouraged me to leave my apartment. This is not an ad, but K-Beauty favorite, Son & Park's Beauty Water, has been saving my problematic sebum levels and slaughtered soul. I mean, Seoul. (Forgive me, I'm tired!)
So, thank you, Seoul Fashion Week, for making me breathlessly believe in the *~fashion week*~* again. For blessing me in Beauty Water. For being bold and beautiful. I pray to be invited back next season. Amen.
BIG PARK
BIG PARK
BIG PARK
BIG PARK
BIG PARK
Blindness
Blindness
Blindness
Blindness
Blindness
KIOK
KIOK
KIOK
KIOK
KIOK
KIOK
KIOK
LIE
LIE
LIE
LIE
LIE
LIE
LIE
PushBUTTON
PushBUTTON
PushBUTTON
PushBUTTON
PushBUTTON
PushBUTTON
PushBUTTON