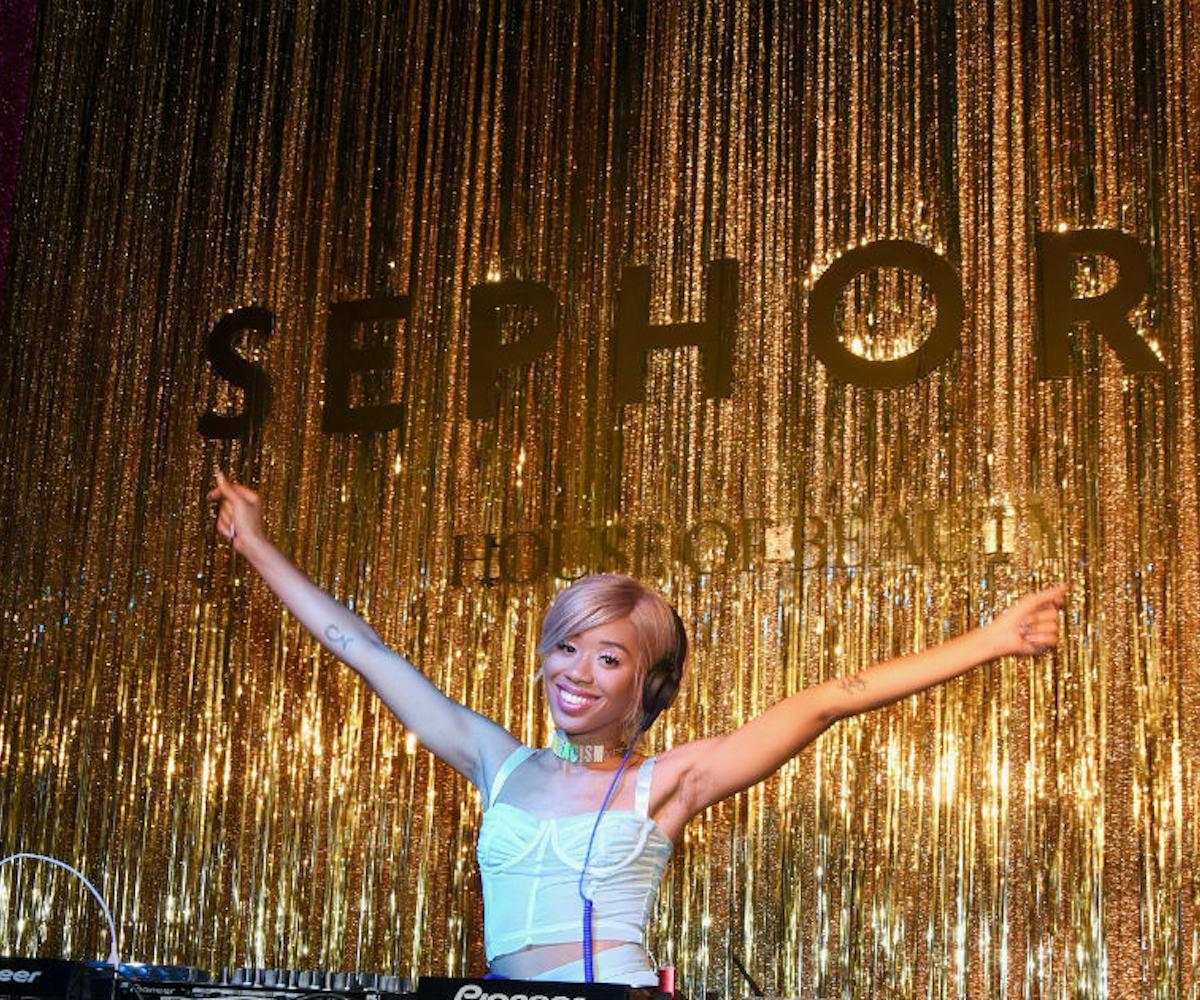 Photo by Presley Ann/Getty Images for Sephora.
Visiting Sephora's Version Of Beauty Euphoria
It wasn't only good for social media posts
Contoured and coiffed, beauty lovers from near and far poured into Downtown L.A.'s Majestic this weekend to attend the latest beauty festival: Sephoria. Sephora's version of Beautycon, Sephoria is a place where makeup-, hair-, and skin-care-fans come to experience a kind of utopia, or at least euphoria—hence the festival's name.
The two-day event was described by the brand as a "beauty playland meets your social media feed IRL," but what does that mean in real life? Well, it involved a three-story maze of over 50 separate areas where attendees could learn more about (and receive samples from) brands like Drunk Elephant and Bite Beauty. There were master makeup classes and stations where eyeshadow palettes and lipsticks could be customized. There were places for Dry Bar blowouts, Benefit eyebrow-shaping, or makeup application by a Sephora team leader.
But utopia can be overwhelming, and euphoria hard to sustain, and Sephoria sometimes felt a bit dizzying, what with each brand looking to outdo the other by creating booths that would draw attendees in and hold their attention. Fenty Beauty had a large glitter-filled compact. Milk Makeup created a greenhouse to promote its Kush Mascara. Urban Decay had slot machines where people could win different prizes. Biossance brought in one of those money blowing booths, but, instead of cash, samples were sent swirling around your head. Jo Malone had a flower wall situated next to one of London's famous red phone booths. Perhaps most grandiose of all, La Mer erected a large pot of its $325 moisturizing cream, filled with tiny moisturizing pots. 
And, of course, even though Sephoria was filled with real people in real time, the point of it all was for it to exist on social media. Instagram was more than encouraged—it was practically mandated, many brands had their own cameras and lighting set up for people to capture #content. 
It was hard not to think of the way Amanda Hess described Instagram museums in a recent New York Times piece; there were aspects of Sephoria that did feel a lot like a "masochistic march through voids of meaning." I had to work hard to avoid being in the background of other people's posts, and, at times, it seemed like most everybody was experiencing Sephoria through their phones. 
But there was also another side to it, one that could only be experienced by showing up in person. Proper foundation shades were discovered, and the importance of the double cleanse was demystified by Tatcha founder Vicky Tsai; Chrissy Teigen charmed countless attendees talking about her collection with Becca, and former Teen Vogue editor Elaine Welteroth shared her wisdom about the importance of self-care. The Insta-bait setups may be what gets the most attention and likes ("you're all going to have Instagram posts for the rest of the year," I overheard one Sephoria attendee tell a group of girls), but they weren't the only—or even the main—draw.
Anyway, utopia is a made-up concept, and euphoria is only a fleeting feeling. Learning how to draw the perfect cat-eye is a skill that will last forever—as will all the swag we were sent home with. Or, at least, it should last about six months to a year—just long enough.