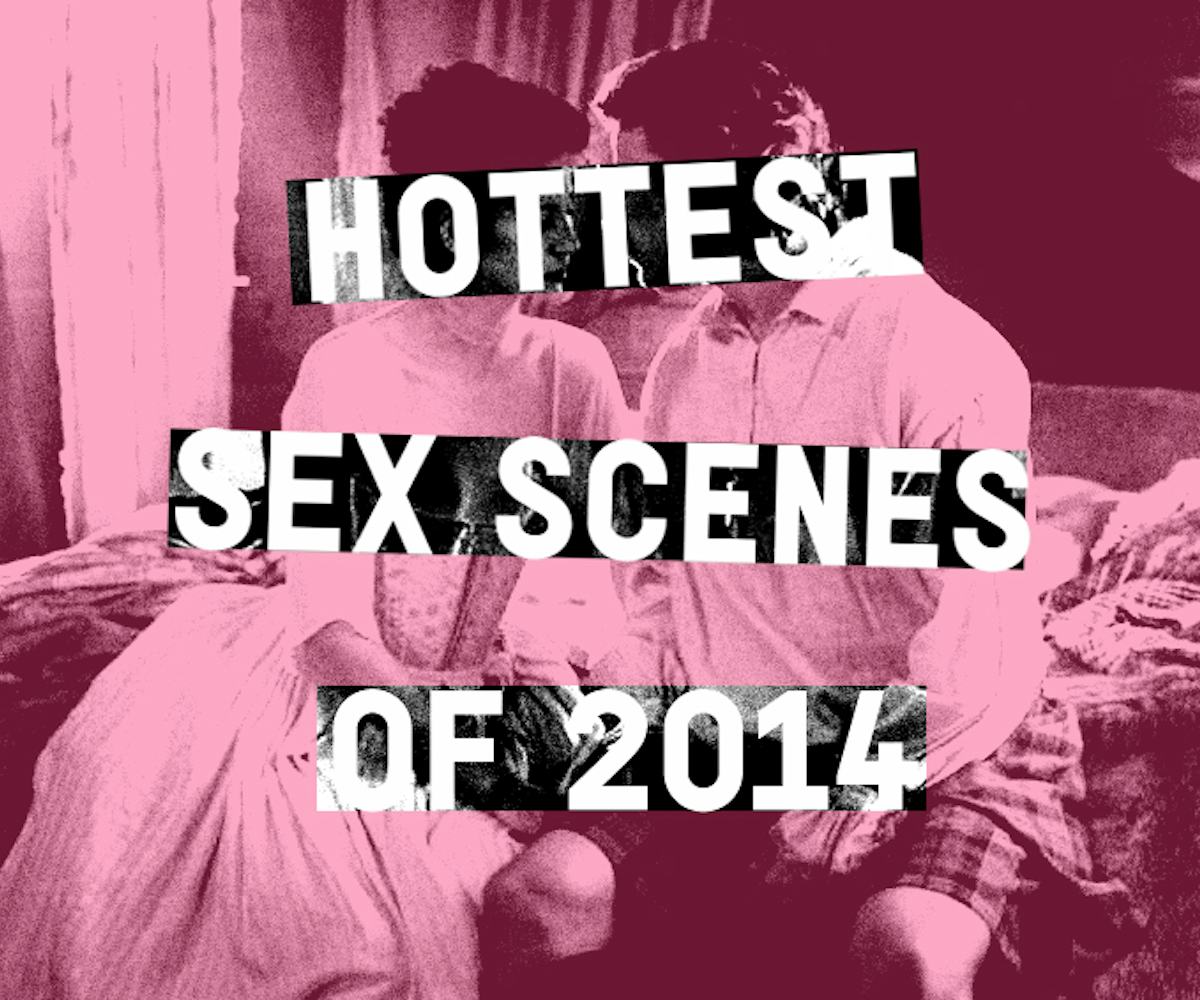 photo via sony pictures television
the hottest sex scenes of 2014
Weird, hot, and definitely nsfw.
It's been a great year for super-hot weirdo sex in TV and movies—from threesomes to clones, and everything in-between, our favorite shows weren't afraid to really go there. And we weren't mad about it. Quite the opposite.
Read on for a totally NSFW list of the scenes we couldn't stop talking about. Here's to hoping 2015 continues right where this year leaves off. 
Outlander
Have you watched Outlander on Starz? Have you even begun to? Go, go right now. We can wait. Based off of Diana Gabaldon's book which has a massive cult following, the story centers on an unlikely time-traveling couple who have insane, absurd, totally sexy chemistry. In the seventh episode of the season, aptly titled "The Wedding," the couple basically spend the whole time figuring each other out. You know...physically. P.S. Sam Heughan is a very, very attractive man. 
That Awkward Moment
Have you ever wanted to see Zac Efron do it doggystyle? Because, um, now you can. 
Gone Girl
The sex scene between Desi (Neil Patrick Harris) and Amy (Rosamund Pike) is absolutely terrifying, not only because you are aware of how clueless Desi is, but also the depths of Amy's pathos and desperation. Not for those who are squeamish, of course. 
Stranger By The Lake
Though this hit film festivals in '13, this sexy thriller made its way to the U.S. in '14, showing that desire may be the strongest—and most dangerous—pull of all. Lots of full frontal nudity, and the actors actually felt uncomfortable doing the very explicit sex scenes, so stand-ins were hired.
True Blood
By the time True Blood reached its final season, we thought that nothing could surprise us. That is, until this sex scene between Jason and Eric. Sure, it turned out to be a dream, but we still got to watch it happen… And re-watch it. Cough.
Gay sex scene Jason and Eric Alexander Skarsgard Ryan Kwanten True Blood from hector Caamaño Gil on Vimeo.
Orphan Black
Well, it's safe to say that Paul has a type: In season two, we got to see him having sex with Rachel Duncan, the tortured, corporate pro-clone (and the third clone he's done it with). Of course, this wasn't your average sex scene: Rachel literally puts her hand into Paul's mouth to inspect his teeth to see if he measures up first. It's twisted and kinky—basically everything we'd want/expect.
House Of Cards
Sure, there were different combinations of sexual tension between Frank Underwood, his wife Claire, and their bodyguard Edward Meecham throughout the season, but having it culminate in a threesome was like a gift to us directly from the writers. 
Nymphomanic 
Um, the whole thing. And also, the first erect penis on a mainstream film. Yay! (And, also, yay?)
Want more?
The Year In NSFW: 10 Things We Can't Unsee
The Best Feminist Victories Of 2014