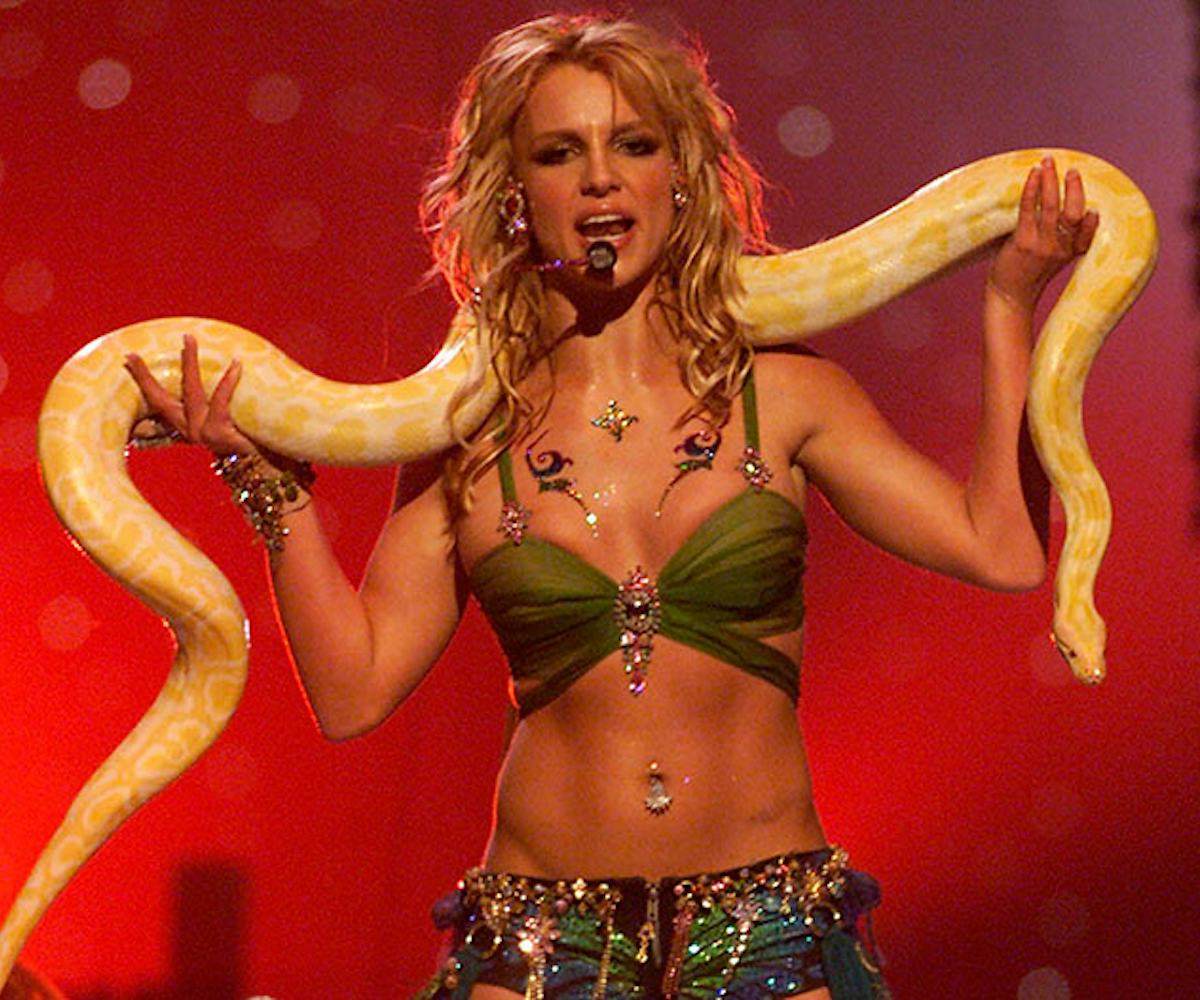 Photo by Scott Gries/ImageDirect
the 10 sexiest moments of the vmas
If there's one thing we can count on during MTV's Video Music Awards, it's sex. In one way or another things will get a little sleazy, and that's great. We wouldn't have it any other way. Things have been relatively tame since Miley twerked in 2013, but that's not to say there won't be a return to form when she plays host this coming Sunday. Though, at this point, we've pretty much seen it all: Girl-on-girl action, humping, boob tapping, sex talk, and one pop princess writhing with a live snake. The most shocking thing would be to have two boys go at it on stage while a trap remix of Taylor Swift's "Bad Blood" shakes the house down. (Listen up, Miley!) So, as a #tbt of sorts, let's revisit some of the award show's sexiest moments and pray the music video awards hear our call for envelope pushing.
Diana Ross Says Hello to Lil' Kim's Cleavage (1999)
What? This isn't how a bonafide diva greets the queen of rap? Oh, well.
Madonna Sets the Shock-Value Bar High (1984)
If you can believe it, MTV had difficulty booking talent for the first-ever VMAs in 1984. Madonna, at the time, was still new and asked to perform a new song to a live tiger. MTV agreed to the song, but not the tiger. That's how the whole cake-sitch came about. As for the writhing around? Blame it on her performing instinct. She lost a shoe walking down the cake, improvised the rest, and subsequently made the VMAs a hub for shocking material.
Madonna Marries Britney Spears AND Christina Aguilera (2003)
How do you top the performance that made the VMAs the VMAs? Have two of the world's biggest pop stars (and rivals) don skinny bridal outfits, sing a few lines, and then kiss them with tongue in front of millions.
Rose McGowan Wears a "Dress" (1998)
A year before Lil' Kim's boob got some love from Diana Ross, Rose McGowan walked the VMAs' red carpet in mesh and chains. Zero fucks given. Listen to the reporters in the video above. It's fascinating how confused they are.
Britney Spears and The Snake (2001)
Honestly, this is one of THE best award-show performances, ever. Everything about it is on point: the outfit, the snake, the abs, the writhing. Everything a pop performance should have was there. The original footage should be archived in a museum.
Salt-N-Pepa's Here (1994)
And they're in effect and wanting to talk about sex. There hasn't been a hip-hop medley like this in years.
Beyoncé Brings Her Baby Boy Out (2003)
Before was Beyoncé was BEYONCÉ, she was being lowered onto a stage chaise by her ankles before the artist formerly known as Jay-Z joined her.
Guns N' Roses and Elton John Put On an Expensive Performance (1992)
"Sexy" things may not have happened during the performance of "November Rain," but it sure as hell was an expensive performance. Look at all the strings! Look at that flute player! Look at Slash. This is subtly sexy.
t.A.T.u. Has a Mass-Kissing Orgy (2003)
Pretty self explanatory.
Miley Cyrus Twerks (2013)
#neverforget