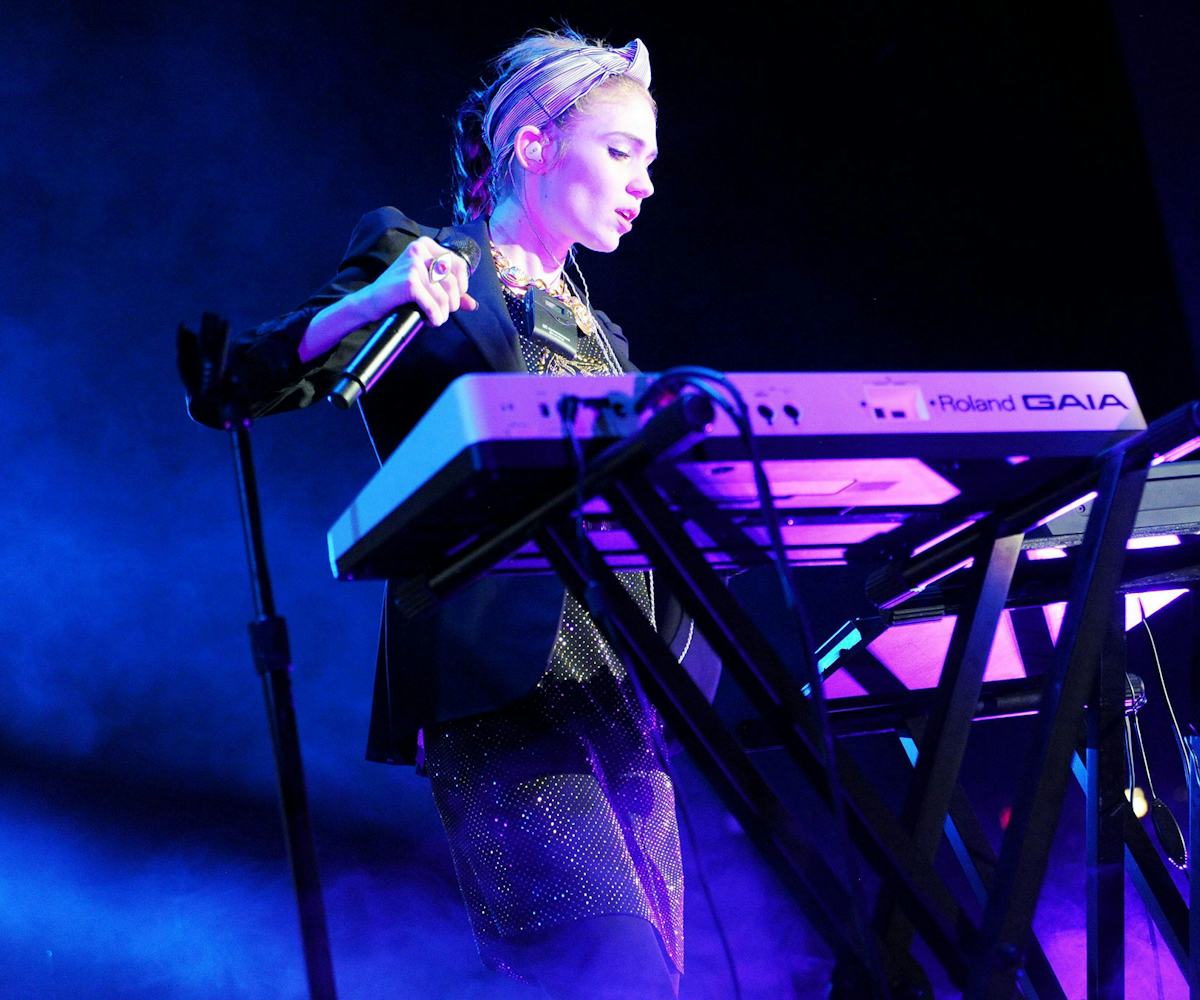 photo by matteo prandoni/bfanyc.com
girl talk
the indie music world is being dominated by awesome women—so why do they get so much hate online?
It's been a big week for female-fronted bands: Lorde became the youngest artist to top the Billboard charts since 1987, and set the record for longest track at number one on alternative radio by a female artist (if you don't know her song "Royals," you've probably been living under a rock), while Paramore got their first top 10 radio track with "Still Into You." From Lana Del Rey to Lucius, Hayley Williams to Hunters, it seems like there's no shortage of incredibly talented--not to mention cool--ladies making really, really good music.
And yet, we've spent most of it talking about the problem the indie world still has with women who can rock out--especially online.
What kicked off our conversation was the much-discussed article by Chvrches' frontwoman Lauren Mayberry about the way she's treated by people--anonymous or otherwise--online. That the music industry has its issues with sexism is nothing new, but it's certainly taken on a whole new, aggressive, personal look in the 21st century. The Scottish singer penned a piece for The Guardian bringing to light the endless stream of vile, sexually explicit, misogynistic messages the band receives through social media, most of which target her. While Mayberry notes that she expects criticism based on Chvrches' sound, she's not OK with the message that she should just grin and bear it as messages like, "I have your address and I will come round to your house and give u anal and you will love it you twat lol" (an actual message she received). "What I do not accept, however, is that it is all right for people to make comments ranging from 'a bit sexist but generally harmless' to openly sexually aggressive. That it is something that 'just happens,'" she writes, adding, "Is the casual objectification of women so commonplace that we should all just suck it up, roll over, and accept defeat? I hope not. Objectification, whatever its form, is not something anyone should have to 'just deal with.'"
That the band is spending their time calling out cultural sexism rather than celebrating the release of their excellent, long-awaited debut album The Bones of What You Believe (which came out September 24), is just one sign that it's more than this little problem; in fact, the crazy thing about the article wasn't that it elicited calls from, say, Rolling Stone or Stereogum to get readers to change the way we treat women in bands (which it should have--and yes, you can find a few offensive comments in the stories they posted reporting on the article), but rather a round of "amen" from some of our favorite female-led indie bands. "Important read, well said Lauren," tweeted Tegan & Sara, with everyone from Haim to Kate Nash taking to social media to affirm the points Mayberry made in the article.
Paramore's Williams was among the group who retweeted the article. "The internet gave people a set of balls that they probably don't have in real life," she told me over the phone this week, adding "When I saw that post, it's so real and people don't know it, it's such a hidden thing. For someone to write about it on the Internet and get a lot of attention for it was incredible--I loved it." 
It's not the first time in the past six months that a musician has spoken out about it; in April, Grimes took to her Tumblr offering up a manifesto of sorts. Amongst the points she makes in a post titled I Don't Want To Have To Compromise My Morals In Order To Make a Living," she writes, "I don't want to live in a world where I'm gonna have to start employing body guards because this kind of behavior is so commonplace and accepted."
Just last week, Lorde took to her Tumblr to call out the absurd pressure placed on female performers to look "perfect." "There's a lot of importance placed on physical perfection in this industry, and I wish my favorite stars didn't look perfect because I think fans (me included) have these feelings of worthlessness, like they'll never be as pretty/talented/whatever, as a result of this intense Photoshop culture and the endless strive for perfection," she wrote. This is someone who is just 16-years-old and already acutely aware of how her looks will be interpreted.
Is it any wonder, then, that Chvrches started out as an (intentionally) anonymous band, or that Lorde made her big US debut in New York City last week without any stage lights; perhaps her reasoning is that if there's no spotlight on her, there's no way for people to sexualize or objectify her, and can instead just focus on the music. But it's certainly not the answer; it's a bit like telling women to cover up so that they don't get rape, which is another way of saying, "It's your problem, not ours."
But it is our problem; we buy albums, we get tickets, we tweet back at people. We have the power to support artists who speak out, just as we have the power to call out sexist comments on Facebook (and believe me when I say they exist--yes, even on NYLON's Facebook page). Because misogyny against awesome indie ladies is also misogyny against us awesome indie-listening ladies--we have all seen, heard, or experienced it ourselves, be it in a mosh pit or on an online message board.
"I realized early on that the microphone in my hand could be really empowering," Williams explained when talking about her own experiences with sexism. "When girls realize that they do have a voice and it's not wrong to use it and express their true identities, that's what we need to be encouraging."
And if there's any time that it could change, let's hope it's now. With our playlists dominated by not dudes with scruffy beards, but bad-ass women in just about every genre, we may just be reaching a critical mass in the internet age. "There's such a cool resurgence of females in alternative music," a hopeful Williams said, adding, "There are a lot of strong women taking over, and I love it. It's so empowering." Let's hope that she's right.