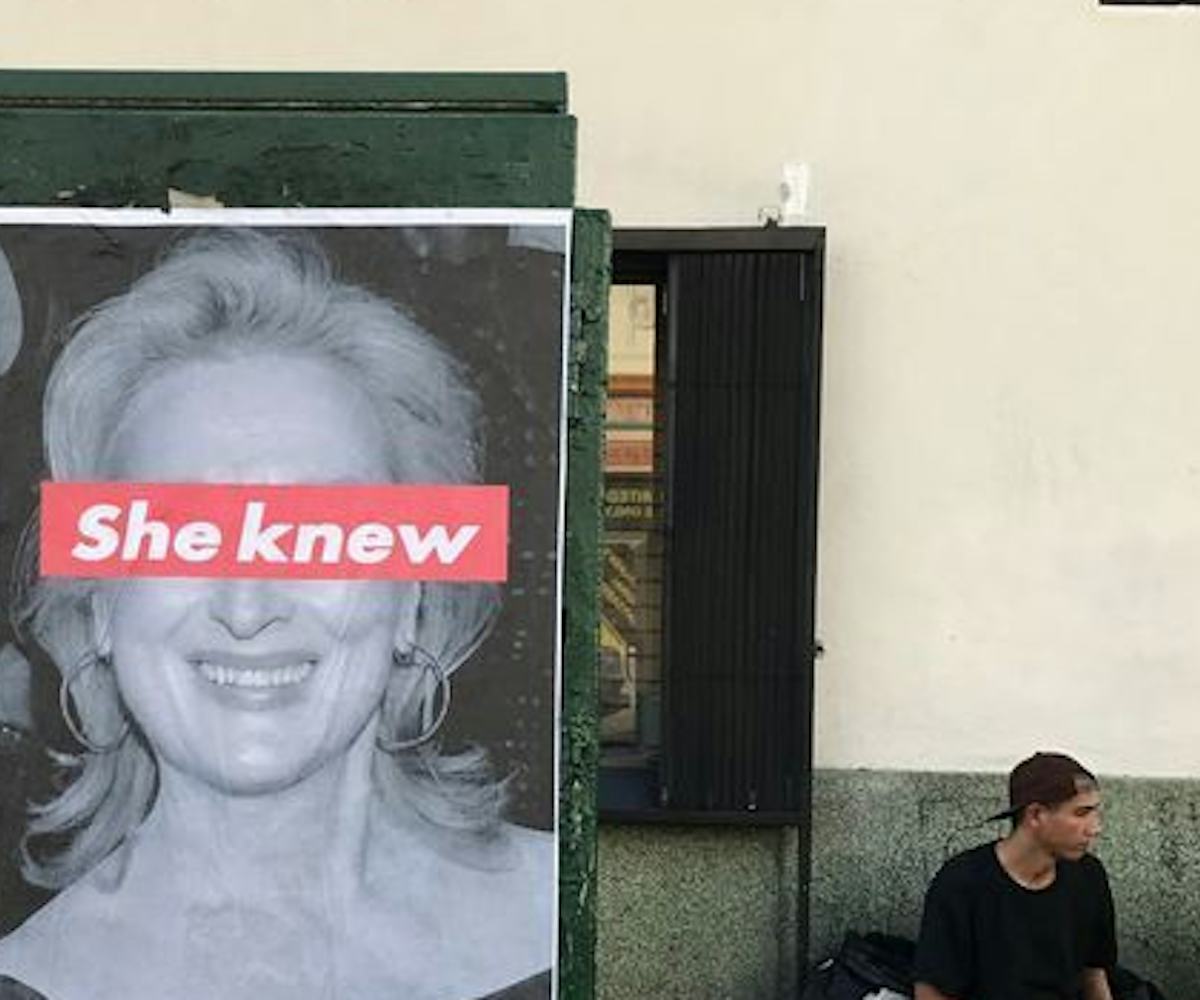 photo via twitter.com/yahoomoviesuk
An Anonymous Street Artist Is Suggesting Meryl Streep Knew About Weinstein
"She knew" posters are popping up all over Los Angeles
Last weekend, Rose McGowan took to Twitter to call out the hypocrisy of actresses, including Meryl Streep, who plan to wear black to the Golden Globes in protest of the sexual assault happening in Hollywood, but have yet to speak out against the predatory men, including disgraced producer Harvey Weinstein. Yesterday, Meryl Streep issued a statement, via The Huffington Post, in response to McGowan's since-deleted tweet, citing that it "hurt" to be "attacked" by McGowan, and claimed that she "did not know about Weinstein's crimes, not in the 90s when he attacked her, or through subsequent decades when he proceeded to attack others."
"I wasn't deliberately silent," she wrote. "I didn't know. I don't tacitly approve of rape. I didn't know. I don't like young women being assaulted. I didn't know this was happening."
But someone is now claiming that Streep actually did know about Weinstein's alleged two-decade sexual abuse history. The Hollywood Reporter reports that posters done by an anonymous street artist have been appearing in different locations across Los Angeles, depicting Streep as a Weinstein enabler. The work features an image of Streep standing next to a smiling Weinstein with a red tape across her face with the text "She knew."
The report also cites that many of the posters have been placed "near Streep's house in Pasadena, near the SAG-AFTRA building in Mid-Wilshire, and across from the 20th Century Fox studio lot in Century City." Streep's upcoming film, The Post, is produced by Fox.