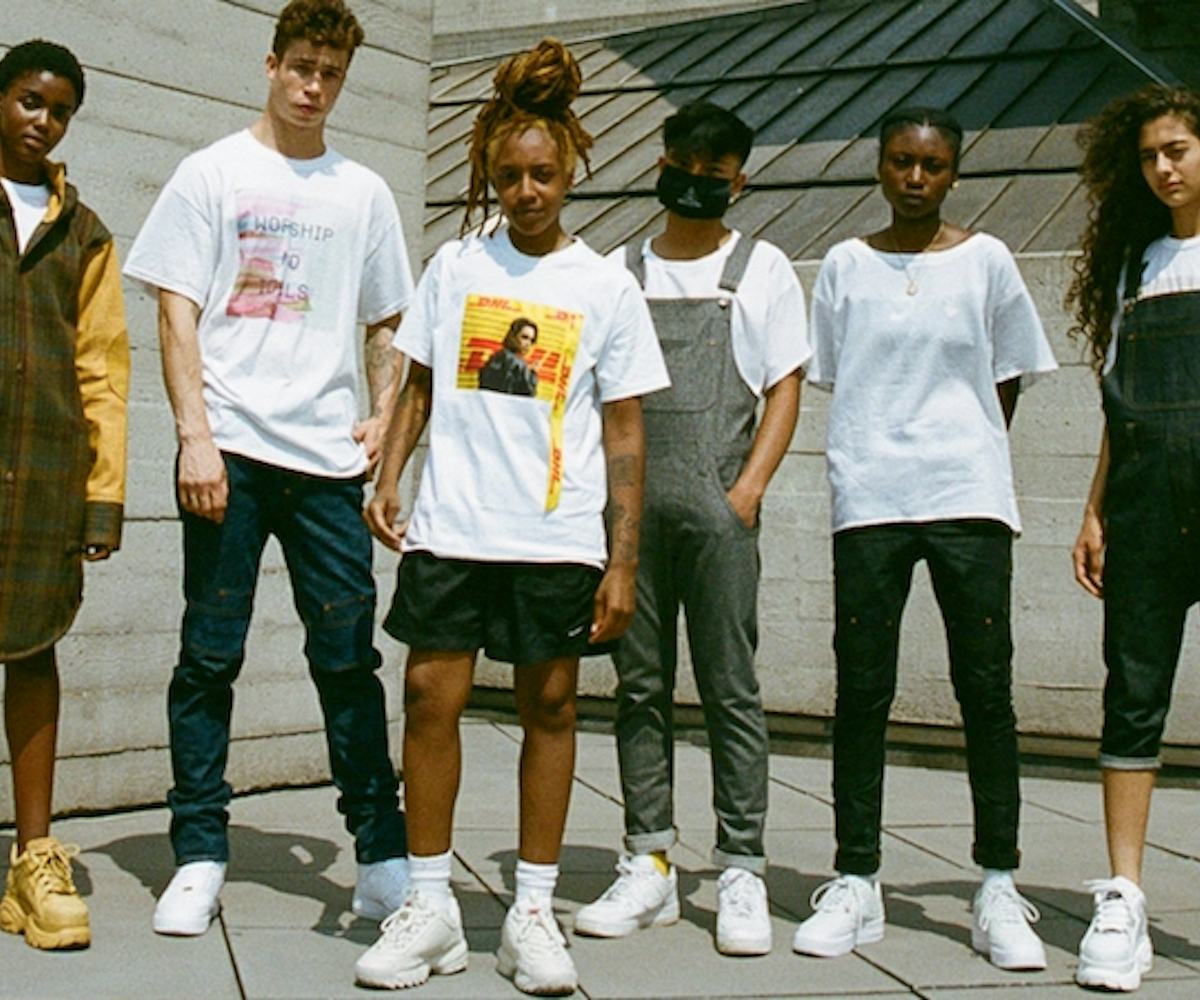 Photo courtesy of Sheila Rashid
Check Out Gender-Fluid Label Sheila Rashid's Fall 2018 Collection
Overalls like you've never seen before
When we first chatted with Chicago-based designer Sheila Rashid, she was just beginning to make a name for herself. Her namesake gender-fluid fashion label was gaining buzz but had not yet officially launched. A little less than a year later, she was catapulted into the spotlight when her now-signature overalls were worn by Chance The Rapper to the 2017 VMAs. And now, the designer is gearing up to launch her latest collection for Fall 2018, ALL SZN.
Rashid's story is an inspiring one. She began creating her brand before even graduating high school. "I was hand-painting T-shirts and distressing hoodies for myself and my peers," she says. "It evolved into me wanting to make things from scratch, so I started making dresses inspired by geometric shapes and avant-garde details, such as strong shoulders and seam details."
Fast-forward and the brand established itself as one that can be worn by all; it doesn't discriminate against anyone's gender identity, or lack thereof. "I chose to create a unisex line because it represents and reflects my own style and personality," says Rashid. "I'm androgynous and a tomboy at heart, but also keep in touch with my feminine side, so I wear clothes that shouldn't have a label."
For her Fall 2018 collection, Rashid was inspired by the details of her loft space, bringing "industrial chic" to clothing. She drew inspiration from the beauty of the renovated and converted space; the juxtaposition of exposed brick and wood represented by mixing denim, wool, and color in the form of patchwork and color blocked overalls, jeans, and outerwear. "The boldness of the exposed pipelines in a loft space makes it beautiful, and the boldness of this collection coincides with the inspiration I get when I compare the two-tone overalls with the wood and exposed brick in renovated spaces," she says.
Rashid has moved away from the florals she used in her first full collection, replacing them with plaids of all sorts. Patchwork and color blocking are also used throughout, and bright and bold colors have been introduced. It's a streetwear-inspired collection that's meant to stand out without being over-the-top.
What's next for Rashid? She is looking forward to opening some pop-ups in Chicago and, hopefully soon after, in London. She also plans to open a storefront where she'll have stock of exclusive size runs of newer pieces. She also hopes to be one of the catalysts that will bring the gender-fluid movement to the masses, something she feels is inevitable. "In the future, I can definitely see gender-fluidity catching on in larger brands—it's already happening now. There will be no choice but to cater to the masses as one because, ultimately, I think that's why we're called a universe," she says.
You can start shopping select pieces at SheilaRashid.com now, with the full collection dropping on August 13. Take a closer look at Fall 2018, below.