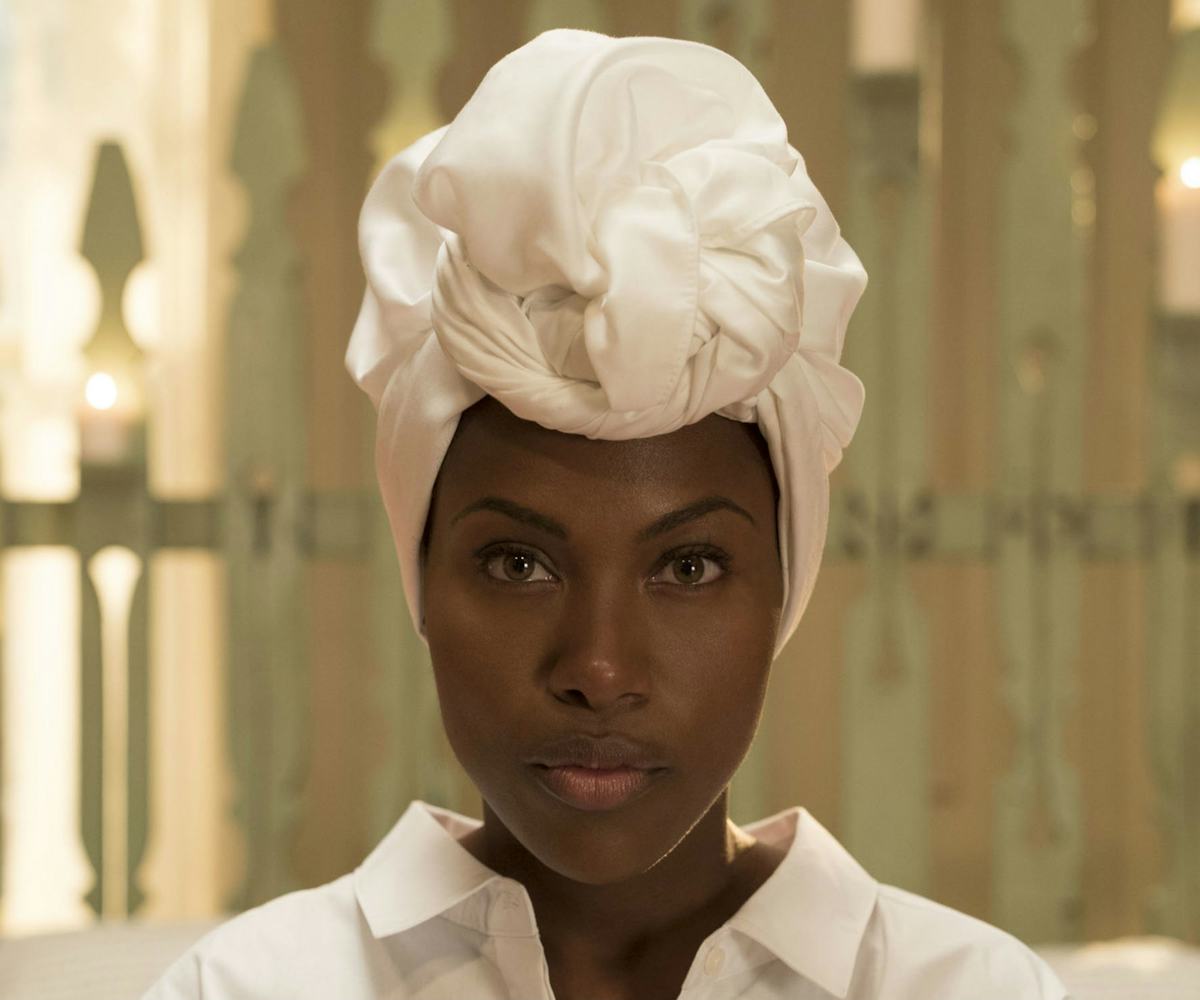 Photo Courtesy Of Netflix.
Spike Lee On Creating A "Sex-Positive, Pansexual" Hero In 'She's Gotta Have It'
Nola Darling is the hero we need right now
A lot has changed since Spike Lee released his debut film, She's Gotta Have It, more than 30 years ago. "We shot [the film] in 12 days," he says. "From July 1 to July 14, 1985. Two six-day weeks for a total budget of $175,000. That's all we could do. That was it." Fast-forward to 2017, and "now, many years later, we have much more money, much more resources. It's a bigger canvas." And so the new Netflix series remake has changed with Lee, but also with the times.
The protagonist is still Nola Darling (played brilliantly by DeWanda Wise), the "sex-positive, polyamorous, pansexual" artist who takes charge of her life and her body—but she comes to us a lot more evolved. This time around, she's not only juggling her host of lovers, but also the gentrification creeping in on Fort Greene in Brooklyn, New York, where she resides. She's advocating for Black Lives Matter and condemning street harassment. She's dismissing our current president—who is referred to in the show as "Agent Orange"—and declaring what we already know: "2016 was a fucked-up year."
As Lee explains: "We get to do things with Nola we just couldn't do. We get deep into her character. In the film, she says she's an artist, but rarely do you see her do art. That's not the case now."
We also get to know her suitors—Greer Childs, Mars Blackmon, and Jamie Overstreet—a lot better. When I ask Lee if he was more particular than usual when casting for Mars, a character the director himself played in the original, he said, "Over the last 30 years, [he has become] iconic. The character, when you go online, you Google, and you see murals of Mars all over the world." 
So, yes, but Lee says he's happy with his decision to bring on Hamilton's Anthony Ramos. The other suitors are played by Cleo Anthony and Lyriq Bent, but if Lee had his way, he would've cast Daveed Diggs as Greer and Leslie Odom Jr. as Jamie. Odom still plays a part, though—he's the one singing the Nola Darling theme heard throughout the series.
Speaking of music, that's been elevated in the series, too. There's a lot of jazz, which was the case for the original, but there's also a lot of more modern-day hip-hop and R&B. "I've been doing film for 30 years, three decades, and music has been a part of my repertoire from the beginning," Lee says. "We still brought back some of my father's original score, but we [also] have new songs by unsigned artists. The approach to music has not changed, we just have a lot of it."
One of the biggest criticisms of the 1986 film was that it was told from the male perspective. In retrospect, of course, it was. Lee, at the time only 28 and three years out of graduate school, wrote, directed, produced, and starred in it. Darling was the protagonist, but a man was telling her what to say and how to act. He could get away with that back in 1986, but it wouldn't fly in 2017—and Lee knows that. The series might receive criticism for some aspects, but the whole male fantasy thing won't be one, according to him. "That charge cannot be levied that Spike's new She's Gotta Have It is told totally through the male gaze," he says. "That's bullshit."
The black female writers hired for the project have a lot to do with that. Pulitzer Prize-winning playwright Lynn Nottage, as well as Radha Blank, Joie Lee (Spike's sister), and Eisa Davis were brought on to help modernize Darling. Lee's wife, Tonya Lewis Lee—who came up with the idea for the remake and produced the new series alongside her husband—played one of the biggest roles in the change of perspectives. When she saw the movie for the first time as a young girl, she didn't think much about who was writing the story, but, rather, the story itself. She says, "I was just looking at, 'Oh my gosh, look at this beautiful brown woman in black and white with all of these lovers living her life, I want to be like her.'" It wasn't until she sat down with Lee to work on the remake that it became clear. "Spike would say, 'No, I created Nola,' and it's like, 'Right, a man created this character, but now we're going to have to really flesh her out for an episodic series to be a true woman,'" Lewis Lee says. "So let's be mindful that, yes, you're a man directing this, but this is a show about a woman for women—for men, too, but really about a woman for women—so let's make sure that when we're showing her sexuality, that we are representing that as well."
There were other aspects of the project that Lewis Lee and her husband didn't exactly see eye to eye on. There's a scene in the first episode when Darling is assaulted by a stranger on the street. It replaces a rape scene from the original film that Lee has since called the biggest regret of his career. "I had questions about that because I do think, as a woman, if something like that happens to you, you tend to recognize your vulnerability and you're more protective of yourself," Lewis Lee says. Instead, it prompted Darling to start a feminist street art project. Realistic or not, that story arc and messaging end up being one of the most powerful parts of the series. Not to mention, it's timely as hell.
The trailer for She's Gotta Have It dropped shortly after the sexual assault allegations against Harvey Weinstein first started blowing up. The show tackles a bevy of feminist topics, but neither Lewis Lee nor her husband could've predicted just how relevant the subject matter would be. "In the show, we're talking about sexual harassment, we're talking about how men look at women and deal with women and how we as women deal, and here we are right now having this sort of national conversation around these issues, and we're writing that conversation, and we didn't even know it would be here," Lewis Lee says. In that way, Nola is the perfect character to represent today's modern woman, but also a perfect template for those coming behind her. "I think Nola's right on time, I think she shows a really healthy way of dealing with trauma by working it out in her art, working it out in therapy, talking to her friends… I think she's a great hero for us right now."
You can watch the series starting tomorrow on Netflix.