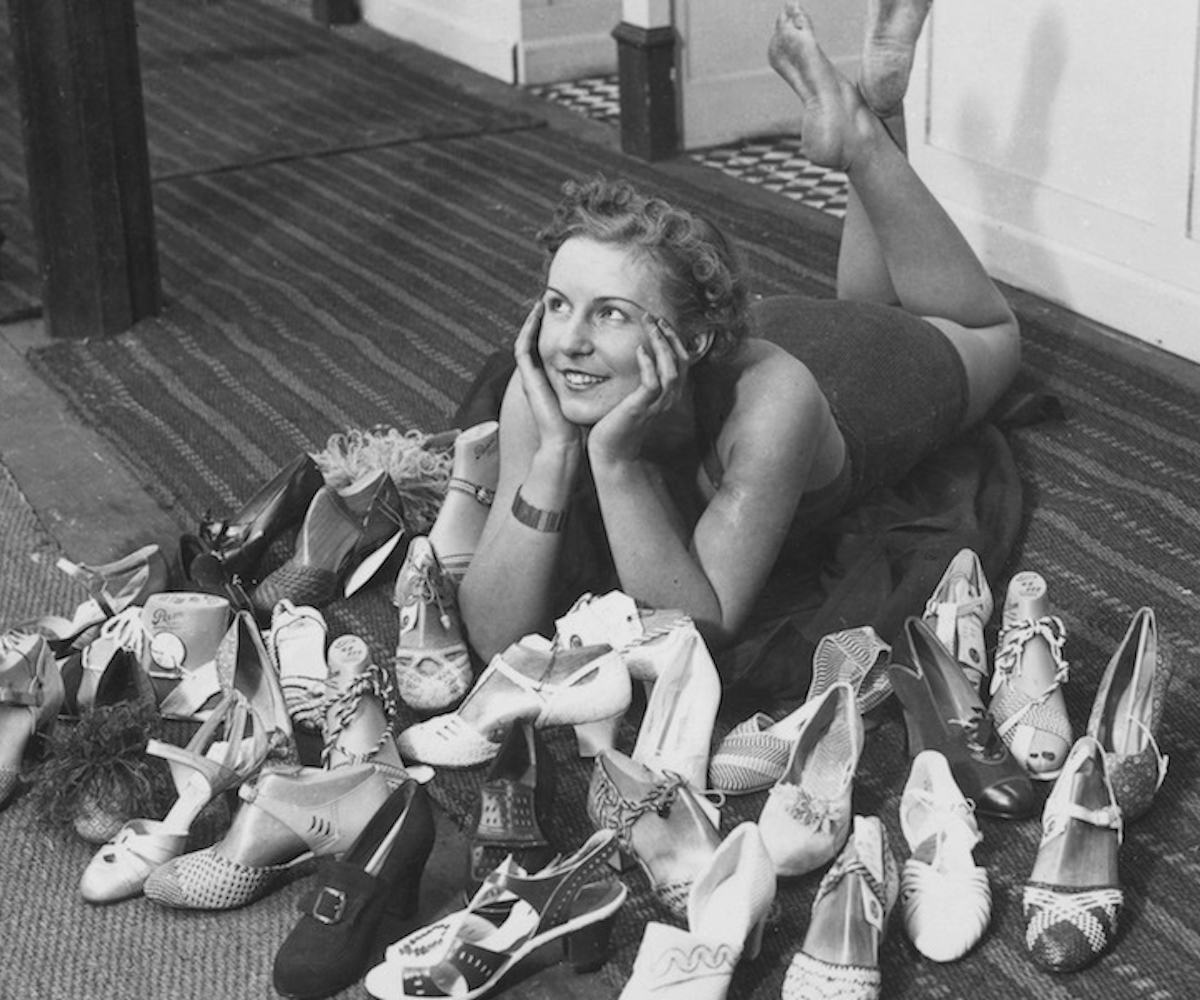 Photo by J. A. Hampton/Topical Press Agency/Hulton Archive/Getty Images.
In Praise Of Being A "Shoe Person"
Confessions of a shoeaholic
"You're a shoe person, huh?" someone remarked to me while I was making a cup of coffee in my work kitchen a few months ago.
It wasn't the first time I have been asked that. While some people rely on bold outfits, hats, or artfully layered jewelry to make a fashion statement, my shoes are the pièce de résistance of my wardrobe. I own over 50 pairs—most of them heels, a lot designer. Some of them are elaborate and printed, some are timeless classics, and some are so bizarre that I wear them only once a year, though I love them as much as the pairs I wear weekly.
I remember the first shoes with a capital "S" that I got. I was about to turn 18 and my mom took me to a store to pick out something for my birthday. While the store mostly carried designer brands, she directed me to an empty-ish rack of last-round markdowns. Surprisingly given, the small selection, I saw The Shoe. It was a Giuseppe Zanotti wedge, suede on top with an intimidatingly curved and architectural wood-like heel and silk straps that tied around the ankle into a bow. They were beautiful and in my size. After receiving a nod from my mom letting me know they were in our budget—even at 75 percent off, any price tag above $25 scared me—I put them on. For the first time, I understood what an "investment piece" meant; I knew, for certain, that I would wear this shoe for a long time. More than 11 years later, I still wear them, not out of nostalgic sentiments, but for how they add a touch of something special to even a jeans and a T-shirt.
It's fitting that this was how my obsession with shoes started. I get my love for footwear from my mom, who is a master bargain shoe shopper. Since she wears the rare size of 5.5, she is able to wait until the very end of an outlet sale to buy luxe shoes at the price of Zara ones. (She can also buy kids' designer shoes, which are sold at half the price of their adult counterparts.) When I was little, I lusted over a pair of her snakeskin kitten heels, trying them on every few months to see if my small foot finally fit into them, awaiting the day it would. Following one summer, I was devastated to find that my feet had grown so much over a few months that I had skipped over my mother's size and could now no longer fit into that shoe. Years later, my mother jokingly admitted how relieved she was when my feet grew bigger than hers, knowing that I would never be able to steal her shoes like I do her handbags or accessories.
Over the years, I have curated the shoe collection of my dreams. And while it's harder for me, at an average size 8, to find affordable high-quality shoes than it is for my mom (I refuse to buy anything full-price), I have become a skillful shopper. There is a pair of Nicholas Kirkwood zigzag heels that I found, two years after first lusting over them, in an outlet at a laughable price; Christian Louboutin pumps I got on TheRealReal—an amazing resource if you want to build a designer wardrobe—after selling some old clothing and shoes I no longer wore; $20 Manolo Blahnik heels that I found in a thrift store and lovingly reconstructed with the help of a cobbler; and M.Gemi heels so comfortable that I genuinely cried when I had to toss them. I have gotten many pairs of cheaper shoes, too, that I've loved equally.
But more than being just the accessories to my otherwise-classic style, my shoes serve as my memories. There is a pair of teal-and-golden Jimmy Choo sandals that I got after my high school graduation and wore on only the most special occasions; a pair of silver Chanel pumps I got for $100 during Saks Fifth Avenue's semi-annual sale with my mom the first time she visited me in New York where I'd moved after college; and bright Sophia Webster espadrille wedge sandals I got at a sample sale when I needed a momentary cheering up during a difficult time in my life. Every time I put them on, I am reminded of those moments in my life. So while some people may commemorate special moments in their life by getting tattoos, or cope with troubling times by dyeing their hair, I celebrate my own triumphs over difficulties by making shoes the focal point of my external appearance. 
And that's why, back in my office kitchen those many months ago, as I continued making my coffee, I responded to the question without hesitation: "Yes, I am a shoe person."