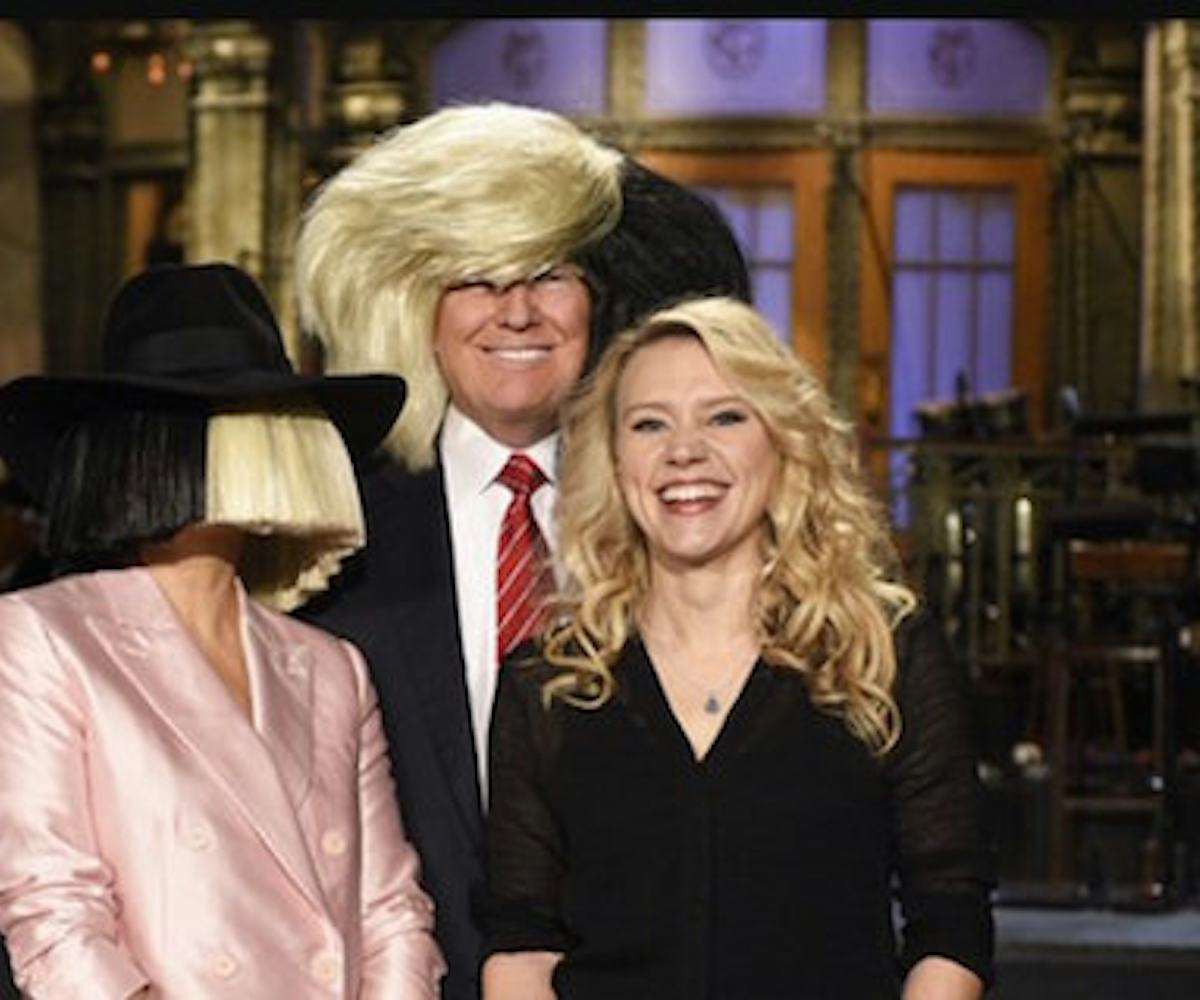 Photo courtesy of NBC
Tune In To 'SNL' Tonight To Watch Sia (hopefully) Throw Shade At Donald Trump
When the news first broke it seemed unbelievable. Sia, the steel-voiced singer and outspoken advocate for all things right and just in the world, would share a stage with Donald Trump, the goofy, xenophobic, real life Bond villain, who's a few unlikely twists of fate away from becoming the leader of the free world.
But, it's happening. On Saturday night, Donald Trump will become the third presidential candidate to host Saturday Night Live (Steve Forbes and Al Sharpton hosted before him) and Sia will be the musical guest. The odd couple pairing is a shrewd move by Lorne Michaels, who like any good television patriarch understands that controversy equals ratings. And there can be no more controversial host in today's climate than Donald Trump.
In the lead up to tonight's polarizing episode, civil rights groups, Latino groups, and pro-immigration groups have petitioned Michaels and NBC to dump Trump, whose acidic, racist, and wildly out-of-touch campaign has managed to offend anyone with a half a brain. But Michaels has remained steadfast, and as it stands now, Donald Trump will get what is arguably the strongest PR push of any GOP candidate to date.
Unless Sia happens.
In 1992, Sinead O'Connor took the stage at Studio 8H, and in protest of the Catholic Church ripped a photo of Pope John Paul II in half, a moment that to this day, remains one of the most indelible, hard-to-shake images in Saturday Night Live's 40 year history. Nearly two decades later, Sia, one of popular culture's most vocal proponents of gay rights, has emerged as the perfect candidate to grab O'Connor's torch and run with it.
Maybe this was Michaels' intention. He could have paired Trump with any number of pop stars with an album to promote—Justin Bieber immediately comes to mind (can you imagine?). Instead, Michaels chose Sia, one of the most fearless, transgressive mainstream artists we've ever seen. It's hard to believe that someone as savvy as Michaels didn't coordinate this intentionally. He must know that Sia will likely not sit idly by as a man who represents the antithesis of everything she stands for, mugs and preens for the camera while making light of his very problematic political and social point of view.
On Friday, NBC released a set of promos that showed Sia and Trump in the same room for the first time, confirming once and for all that this is really happening. As usual, Sia's face was obscured, so we couldn't tell if she was secretly cringing as Trump flashed his pearly whites while sporting a facsimile of Sia's trademark wig. Perhaps as a sign of things to come, Sia posted the promos on Twitter and wrote "Trying to give @realDonaldTrump a taste of life as a queer immigrant. Not sure it's working..?" before cryptically teasing that there was "more to come."
What doe she mean? Will she mimic O'Connor and tear up Trump's headshot? Will she set a Trump wig on fire? Will she just straight up torch the place?
One thing's for sure: We'll be watching, and isn't that the point?