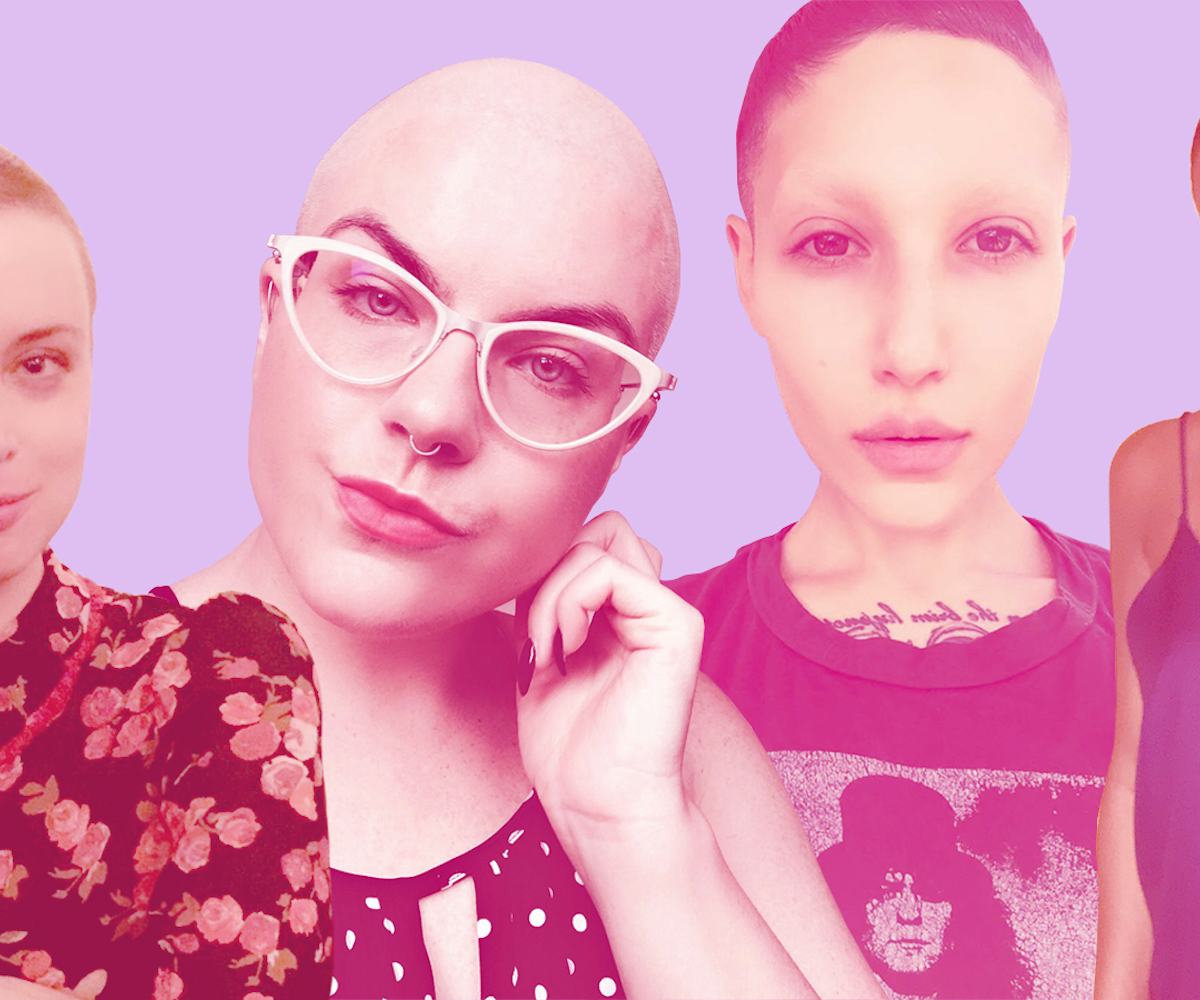 A Brief Look At The Empowering History Of The Female Buzz Cut
It's more complex than you may think
Once a look reserved for the margins, the buzz cut has recently surged in popularity with women and can be seen on more heads than we can count. In 2017 alone, we've noticed a number of powerful celebrities take the follicular leap, whether for a movie role or as a personal choice.
Of course, long before this hairstyle became buzz-worthy celebrity trend (no pun intended), it has been a style worn by women from all walks of life for decades, for reasons that transcend trendiness and instead find their roots in politics and activism.
While many simply associate the look with the rebellious, punk aesthetic, it's a historically important symbol in both black and queer culture and has been used as a means to combat gender norms and white ideas of femininity.
Long embraced by women of color, the buzz cut has been worn by black icons like Grace Jones and Pat Evans, proving that conforming to white beauty standards is not a mandate. Evans, one of the biggest (and highest paid) models of the '70s, rocked a bald head in defiance against an industry that did not embrace black beauty values. In an interview with Ben Arogundade, author of Black Beauty, Evans explains that she was uncomfortable with the modeling and fashion industries' obsession with straight hair and the pressures that were placed on black models to conform. To her, embracing baldness was the highest form of protest.
The buzz cut has also been long associated with queer women and the battle against heteronormative beauty ideals. And as writer June Thomas explains, while not every queen woman has short hair, and not every short-haired woman is queer, short haircuts have commonly become associated with queer identity. She considers short haircuts serving as a "lesbian rite of passage" of sorts, explaining in an article in The Advocate that the way queer women wear their hair is a more obvious way to signal their queerness to others. While not all of these shorter haircuts are necessarily buzz cuts, that ultra-short crop is certainly one commonly used option.
We've definitely come a long way from the time when the buzz cut was a rarely seen occurrence and exclusively the domain of black and queer cultures. Now, while the look still retains those historical ties, it is also seen on a much wider variety of women, and the path to the buzz cut is different for every woman—a personal journey, as told through her hair. We talked to four women who sport the hairstyle, as well as two psychologists, to break down the significance of why so many women are getting buzz cuts today. From the dismantling of gender conformity to the volatility of the current political atmosphere, the buzz has taken on new meaning for women of all races, identities, and backgrounds.
"I've always felt the most sexy, confident, and powerful after I shaved my head," says Clara Rae Natkin, a makeup and visual artist who has been playing with the length of her hair since the age of 18. From chopping all of her hair off into a shaggy pixie to going for the full buzz, her hair decisions have been emotionally charged. "I've always felt like my outward appearance needed to match what or how I was feeling internally," she says, "I wanted to transform my life, and the quickest way I knew how to transform my outsides was to cut off all of my hair." 
Natkin treats buzzing her head as a new beginning, a rebirth of sorts. Speaking of the second time she buzzed it all off, she tells me, "I felt like I needed to start over and force myself to be in what I call 'fetus mode,' in order to transform my life again without any hair or makeup—just being completely raw. Having a buzzed head was slightly like having armor against the world. Now, I'm growing it out again because I feel like I'm reaching yet another stage of my life where I want to be gentler and softer with myself."
Similarly, others found the act of cutting off all of their hair very releasing—even without a corresponding emotional tie. Cherie Camacho, associate manager of team and culture at Glossier, never felt attached to her hair and cut it off simply because she wanted to. "I gave myself a pixie cut in my bathroom one day after work. I stood in front of the mirror with a pair of craft scissors and started chopping it off. I didn't blink at all—it was very cathartic," she says. Eventually going to a salon to transform her DIY pixie into a full-on buzz cut, Camacho says that she 100 percent plans on maintaining it. "This is the sexiest I've ever felt in my life! I feel so badass in a way that I've never felt before. I'm finally in love with myself."
Vijayeta Sinh PhD, psychologist and owner of NYC Family Therapy, explains that sometimes people will use their bodies to communicate something they're feeling, especially if they have difficulty communicating with words; a change as drastic as a buzz cut can be liberating, and even life-changing. (And no, she's not having a Britney Spears in 2007 moment, so don't even ask that.)
Aside from emotional significance, a woman's choice of hairstyle can also be extremely political. Sinh says that it may be a way of giving a "middle finger" to gender-related norms of femininity and beauty.
As Leslie Carr, clinical psychologist, tells me:
A woman's hair is deeply rooted in symbolism. It's often viewed as an element of female power and personal expression, but it's also deeply tied to the patriarchy. Women often receive certain types of messages—like that men prefer long hair on women—which is something that psychologists and evolutionary theorists postulate because long, healthy hair is a sign of fertility. Meanwhile, older women are often told that they need to make their hair shorter as if they've aged out of the ability, or the right, to wear their hair long and loose. Hair, for women, is deeply personal and also deeply political.
For photographer Lydia Hudgens, Carr's theory proves true. Hudgens had long experimented with her hair—half-shaved head, mohawks, the works—but after waking up on International Women's Day, she felt the urge to cut it all off. "Considering what we're currently dealing with, our rights being removed and the political climate, it just felt all the more appropriate," she says. "It just felt really freeing and liberating."
What's alarming (though, somehow not surprising) in Hudgens' case is the amount of feedback she got from men. "They either loved it or hated it, but always liked to voice their opinion of it—or tell me that I would look gorgeous with a full head of hair," she says. In fact, it became such a frequent occurrence that she even started an Instagram account to address the hate and fetish messages she would receive.
Despite unwanted feedback, Hudgens remains confident in herself, telling me that she feels more like herself, and more striking, sans hair. And with that, she certainly doesn't feel confined to gender norms. "I love playing with my look, but was sick of being told what was beautiful or acceptable in terms of being a woman," she says. "In this day and age, I feel like I'd rather be happy and successful doing what I'm doing than worrying about keeping up appearances so I can make other people happy—or comfortable, which I think is more of what it comes down to."
Another important aspect of the female buzz cut to consider is that not all women wear the style by choice. Many women suffering from cancer are left with no other option than to shave their heads post chemotherapy treatments. Other diseases, such as alopecia, cause patients to lose hair in patches, and buzzing all hair off is the only way to even it out. 
Lucy Swope, social strategist and lead singer of GHOST COP, had to buzz off her hair for health reasons. After being an avid user of bleach, toner, and dye on her hair for years, she noticed that her eczema was getting to the point of constant pain and extreme discomfort. After an extensive allergy patch test indicated three of her six allergies were chemicals found in bleach, dye, shampoo, and conditioner, she decided to go for the buzz—in fact, her boyfriend (and bandmate) filmed it, and they plan to incorporate it into a music video.
For Swope, the result was better than expected. When asked if she was in shock after taking the dive, she was surprised to find that she wasn't. "I thought I would be—I braced myself for it even—but I wasn't in shock at all," she says. "In fact, I wondered why I hadn't done it sooner." While the new cut was purely for health-related reasons, she tells me that she enjoys that it "challenges gender perceptions."
However much as it may be trending amongst celebrities, the female buzz cut is not the latest "lob" or "'70s fringe," and should not be treated as such. It's one of the most powerful forms of female expression—from its deepest roots in black and queer culture to the way it serves as a way for women to stake a claim on their bodies when dealing with health issues. Plus, it gives a big "fuck you" to societal gender norms, and there's absolutely nothing wrong with that.