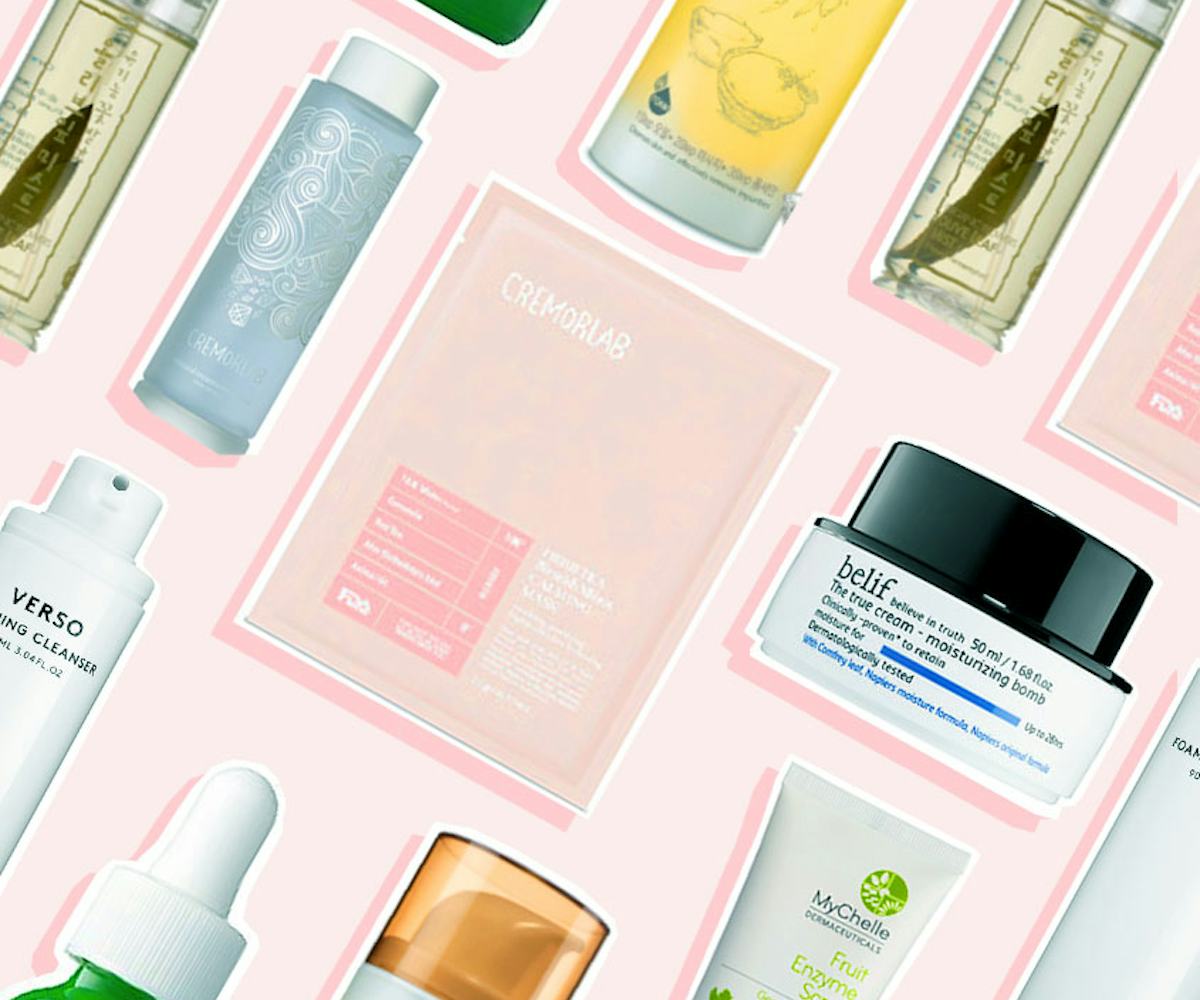 korean skin care, simplified
you don't need a 10-step routine to get the benefits
Skin-care junkies all over the world are fascinated by accounts of Korean women using upwards of ten, even up to 20, products—morning and night. This is, at the very least, intimidating. Frightening, maybe.
If you're interested in upping the Korean influence in your skin-care routine without that heroic level of commitment, look to this "Korean-American regimen," a simplified routine by yours truly. After all, Korean-Americans like myself grew up watching Neutrogena face wash ads. At the same time, like our overseas counterparts, we make skin care a huge priority and apply the wisdom from our sage mothers and grandmothers. 
First, the good news: The 10-step routine is not a hard rule and actually somewhat of a myth. The quantity of products is really up to you. Christine Chang, founder of Glow Recipe, says, "While there's no 'set' amount of steps that women use, Korean women are very open to layering products, especially as they believe each step achieves different results on skin." This is why you'll meet Korean-Americans with three steps, and others with twelve. It's personal.
But still, consider allotting a bit more time if you're really trying to implement Korean principles. One main reason is Koreans emphasize taking their sweet time to nurture the skin, something many Korean-Americans have also known since their teen years. Alicia Yoon, founder of Peach & Lily, says, "Serums might be massaged on with a vibrating tool for deeper penetration. Mini facial massages might be given when applying essences to help with circulation and work the muscles. Patting things in and waiting it to be absorbed is not lost on skin-care-savvy Korean women."
With all that that in mind, let's break it down.
Cleanse thoroughly & gently
Cleansing isn't new to us, stateside—the only difference is now you have to do it twice. This adds another minute to your routine. Chang recommends double-cleansing, first with an oil or cleansing water to remove oil-based makeup, then a foaming cleaner to remove dirt and grime.Goodal, trans foam cleansing oil, $30, available at Glow Recipe; Verso, foaming cleanser, $40, available at Sephora.
Tone for hydration
Toning isn't about removing extra makeup, dirt, or oil (that's what the double-cleansing is for), it's about suffusing your skin with major hydration and balance. Even if you're oily. In fact, Chang says, "Astringent, clarifying toners are a rather foreign concept in Korea, as many of the local products are milky or even slightly 'bouncy' and loaded with hydrating & anti-aging ingredients."
Whamisa, organic flowers olive leaf mist, $38, available at Glow Recipe.
Pat on the essence
"If any one product had to be added into your skin-care regimen, I would say an essence is an easy way to start—it can be combined with any skin-care regimen and great for all skin types," Yoon tells us. (This is also true according to my ageless mother who says she would rather give up every other skin-care product she owns.)
Cremorlab, mineral treatment essence, $42, available at Peach and Lily.
Treat with a serum
Now that your skin is damp and ready to absorb the powerful stuff, apply your serum—whether it's a vitamin C to brighten or a retinol to help with wrinkles or acne. Serums are far more than mere moisturizers, as "the idea of using products to keep skin nourished, firm, and radiant is a mandatory and key part of a solid Korean skin-care routine," says Yoon.
Mario Badescu, vitamin c serum, $45, available at Ulta.
Moisturize
Another step you're already doing! The only difference is Koreans primarily view moisturizers as sealants for your previous steps, especially the serum. Also, remember to add SPF if your moisturizer doesn't already include it.
belif, the true cream moisturizing bomb, $38, available at Sephora.
Exfoliate
You already do this, right? Two to three times a week? Right?
MyChelle, dermaceuticals fruit enzyme scrub, $18, available at MyChelle.
Mask yourself
Skin-care experts in the U.S. (and the French) love their masks, but you've probably noticed we're now surrounded by Korean sheet masks. The great thing is you can use sheet masks if you stumble upon a specific issue just for a few days. Yoon explains, "Sheet masks are often seen as a la carte serums. They're great because they come in single-pack sheets and you can buy different kinds to have your serums du jour that are needed."
Cremorlab, herb tea blemish minus calming mask, $6, available at Peach and Lily.