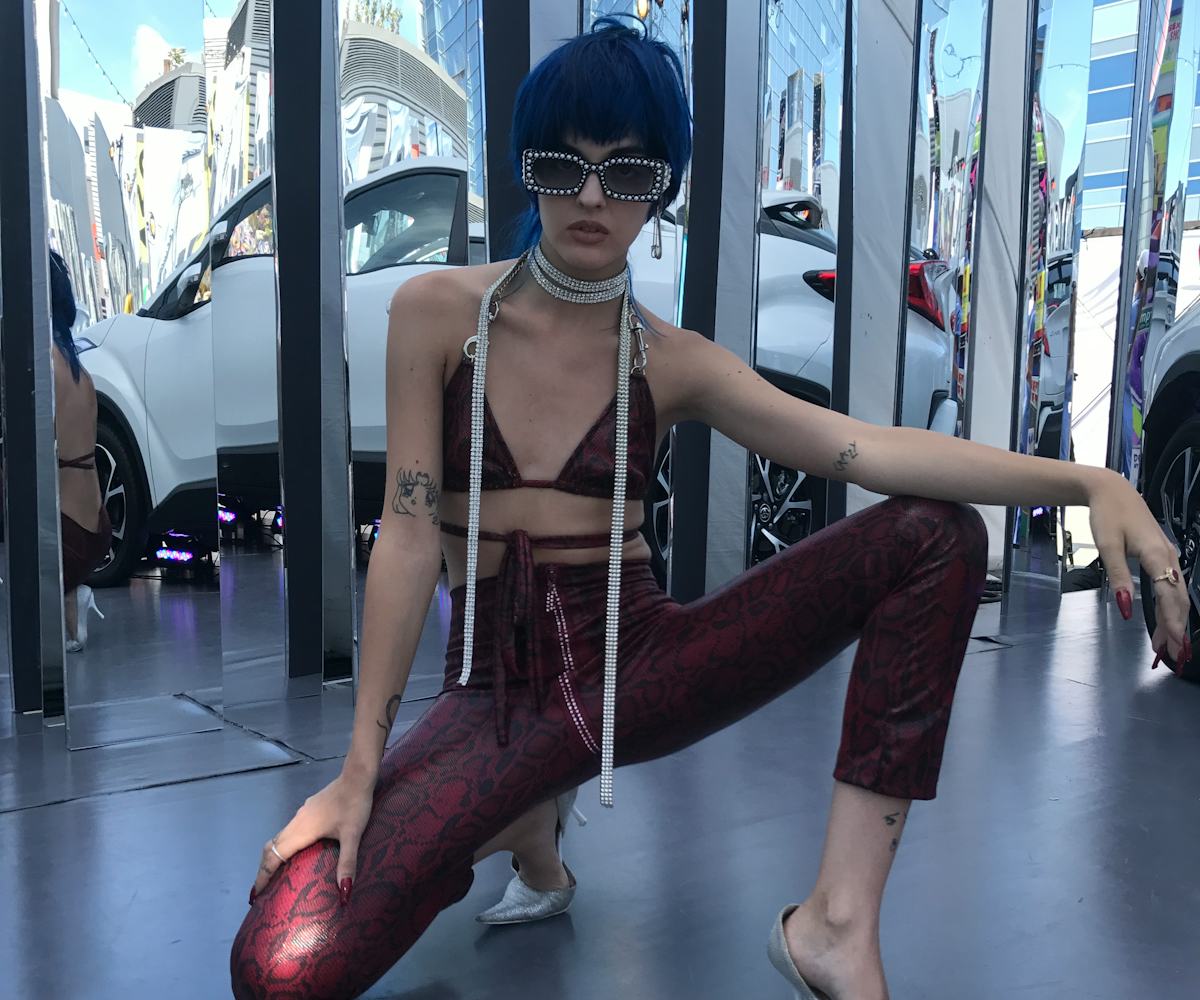 Sita Abellán Just Dropped a Bikini Collaboration Inspired By Lil' Kim
But the blue-haired It Girl dreams of creating a fashion line of her own
Sita Abellán has a thing for snakes. Just a few days ago in Milan, she got a tattoo of the slithery reptile (and well-known internet insult) on the inside of her right wrist.
"It's my new logo," the Spanish DJ, model, and onetime star of a Rihanna music video says of her fresh ink. "The image of a snake is really sexy. I think it represents what a woman is, but not in a bad way." Proving that exact notion is her outfit du jour: a black-and-red faux snakeskin bikini, affixed to her neck by some heavy silver chains, and a pair of cropped snakeskin pants, finished off with a rhinestone zipper.   
In fact, the bikini top was dreamed up by Abellán and brought to life through her new collaboration with Los Angeles streetwear brand, Freak City. The collection, which is comprised mostly of bikinis and fishnet crop tops, debuted at MADE LA, a fashion festival that has taken on the task of making fashion cool again in the City of Angels. 
Considering her notoriety as a techno DJ, her inspiration for this range comes from a rather unexpected source: Lil' Kim. "I wasn't really a fan of hers growing up, but now I'm really inspired by her style," Abellán says, referencing Lil' Kim's wardrobe in the '90s.
A simple Google search will prove that Lil' Kim's best outfits over the years have included bikinis. She's worn a chinchilla fur swimsuit, rocked quite a few leopard print triangle tops, and even donned a beaded paisley string tie with a matching kimono on the red carpet.
For this collection, Abellán and the Freak City co-founders, Justin Time and Vally Girl, almost exactly replicated a mesh swimsuit that Lil' Kim wore on the Baby Phat runway in 2000. The swimsuit includes the same rhinestone cat logo on the bottoms, but Freak City added Louis Vuitton's star and flower motifs on the bikini top and served up the whole look in a neon camo print as a modern iteration of the style.
Abellán first discovered Freak City years ago on the platform where we all find new brands: Instagram. She was particularly enthralled by the line's cheeky replications of designer goods that were in-your-face fake, like the puffer jacket made in faux collaboration with Fubu and Versace and the oversized velour tracksuit emblazoned with Gucci's interlocking Gs. So she made sure to visit the brand's store when she was in Los Angeles to shoot Rihanna's "B*tch Better Have My Money" video in 2015.
"I passed through the store, and I fell in love—it was amazing," she says. It was then that Abellán discovered that she shared the same taste in clothing with the Freak City team. In other words, it was the perfect sartorial match for a crazy collab. Abellán notes that they "shared the same vision," while Vally Girl compared their compatibility to a certain form of telepathy. 
This isn't the DJ's first try at a buzzy collab; earlier this year, she partnered with the Polish streetwear brand MSBHV on an abbreviated range of rhinestone-studded kimonos and halter tops. All of these partnerships are helping the 23-year-old get closer to her ultimate goal: a fashion label of her own. In particular, she dreams of starting a shoe line under her name.  
She prefers to wear what she calls "stripper heels," which are shiny, sexy, extremely high, and just plain fun. But she has a hard time finding her preferred style of off-kilter footwear, outside of vintage stores. For example, the pointy silver d'orsay heels on her feet at MADE LA were a score that cost her only five euros.
"I think the world needs a shoe brand that's cool. There are luxury shoes that are really beautiful, and then you go to sneakers, but there's nothing in the middle," she points out. While she works on figuring out the details for her line, Abellán just keeps booking DJ gigs around the globe and using her spare moments to sketch the stiletto creations she'd like to see IRL.  
After L.A., she's headed to Pitti Uomo in Florence, Italy, to attend some menswear shows, DJ some parties and festivals (including August's HARD Summer), and surely gather some inspiration from the shoe capital of the world.