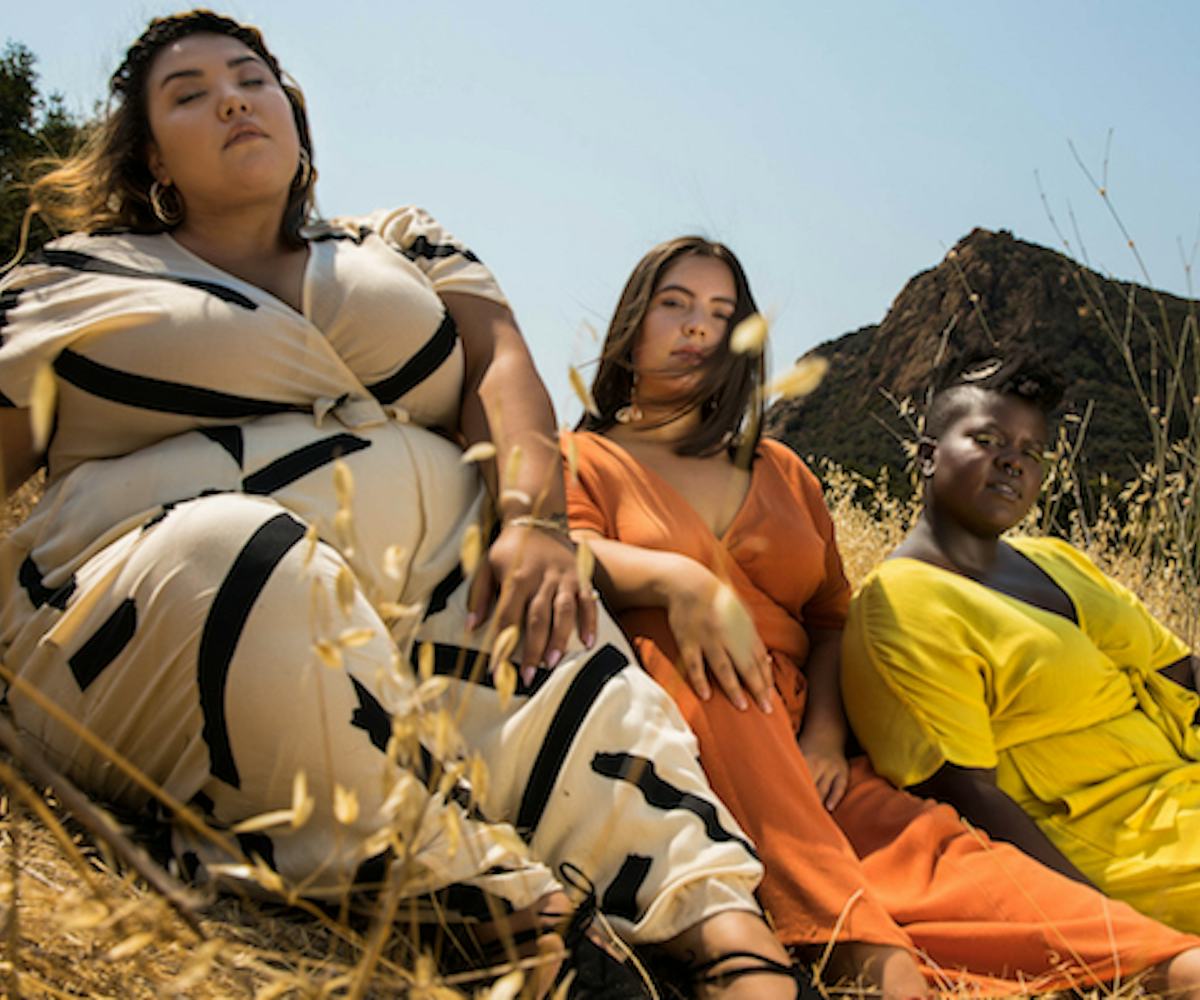 Photo courtesy of Premme
Six Affordable Brands That Make Truly Beautiful Plus-Size Clothes
They're designing with the plus-size girl in mind
Earlier this month at NYFW, labels such as Chromat, Savage X Fenty, Gypsy Sport, Mara Hoffman, Christian Siriano, and more showcased their Spring 2019 collections on bodies of all different walks, sizes, ages, colors, abilities, and more.
While these major labels are setting the tone for the industry to move away from unrealistic ideals and a focus on "straight sizing," we'll admit—runway clothing isn't necessarily the most accessible. But because finding wearable, affordable, beautiful plus-size clothing should be, we rounded up the six brands that are helping you do just that. Check them out, below.
CoverstoryIf minimalist, clean dresses, separates, and accessories are what you're looking for, look no further than Coverstory. The selection of brands—including OAK, B.B. Dakota, Rachel Pally, and more—is expertly curated by founder Heidi Kan, and aims to serve the woman who craves a sleek and modern aesthetic. Carrying sizes 10 to 28, it's essentially the Need Supply of size-inclusive brands. "Most plus-size retailers carry looks that are either very matronly or very sexy, whereas Coverstory has thoughtfully curated a selection of modern, clean, stylish essentials that will be coveted by women of any size," says Kan.
As someone who has created a niche in the plus-size market, Kan believes that the market as a whole is only going to continue to grow. "The plus-size market has improved a lot in the last couple of years," says Kan. "The large retailers are finally starting to listen and inclusivity is on every retailer's mind. I believe all of the chains will follow J.Crew and add plus size to their selections. I wish the fashion industry was moving faster than it currently is, but any improvement is welcome."
Savage X FentyEver since the release of Rihanna's Fenty Beauty, we knew that she was the ultimate champion of diversity. So when we caught wind last spring that RiRi was diving into the lingerie market, we knew it was going to be just as glorious display of inclusivity and self-love as her line of cosmetics. And, welp, as if her ad campaigns don't speak for themselves, her NYFW show last week was one of the most size inclusive of all. Not only did she cast bodies of all shapes, colors, and sizes, she also cast not one—but two—pregnant models.
Savage X Fenty is not only an attainable lingerie brand, but also one that proves that sexy lingerie—be it sheer lace and cone shaped pasties or cotton bralettes and boy shorts—can be worn and enjoyed by all bodies.
All 67The plus-size market is lacking in high-quality and stylish designs of all types—including outerwear. And if you're above a size 12 or 14, you're probably familiar with the struggle it is to find a quality leather moto jacket. That's where All 67 comes in.
Designer Jeff Cafone started his career as a touring musician and fell into design after he taught himself to sew. Once he began creating bespoke leather jackets for women of all shapes and sizes (including the cast of Orange Is the New Black and for employees at Buzzfeed and Condé Nast), he realized how appreciative women who wore larger sizes were. "The experience was very emotional," says Cafone. "They told me they had never had access to the fit and quality and style that I was making. That led me to explore the state of extended size fashion and survey the options available, or lack thereof, in the market. I was shocked at the lack of quality and representation."
From there, Cafone created All 67 last year, representing the 67 percent of the population that struggles to find covetable clothing in extended sizing (aka sizes 12 to 28). The brand is focused on affordable luxury, which began with leather moto jackets and will continue to grow into a collection of elevated staples, including dresses, separates, and accessories, "Our focus is on cost per wear, allowing the customer to see and feel the quality that has been sadly lacking in the market," says Cafone. Filling these voids, whether outerwear or any other niche, is what Cafone believes will continue in the plus-size market, until it fully serves the customer better than the legacy brands that have failed everyone who doesn't fit into the "straight size" mold.
CoEditionBack in March 2018, a team of fashion professionals seeking to transform the plus-size fashion industry—and the fashion industry as a whole—launched CoEdition, a multi-brand e-commerce site catering to those who wear size 10 and up.
While it may still be under a year-old, it's quickly become a one-stop shop for all things fashion. Currently, it carries a mix of popular contemporary fashion labels such as Rachel Roy and Stuart Weitzman, as well as newer, emerging brands like Margaux and Warp + Weft, and even a handful of international labels. In less than a year, it's collaborated with labels like Hutch and Bruna Malucelli, and while it already carries over 40 stylish, inclusive brands, it hopes to expand to carrying 150 by the end of the year, covering the ready-to-wear, accessories, swim, and intimates categories.
PremmeChances are, you're already familiar with household names Nicolette Mason and Gabi Gregg, two influencers making waves in the world of plus-size fashion. Last year, the two teamed up to launch their very own fashion label, Premme, which, needless to say, was a hit. The collection featured everything from striped off-the-shoulder tops, wide-leg trousers, and figure-hugging denim—bold pieces that allowed for self-expression and were carried in sizes 12 to 32. "Premme was born out of a love of fashion and the recognition that the industry is still lacking when it comes to the wants and needs of plus-size women," Mason told me over email. "We believe babes of all sizes deserve bold, fashion-forward statement pieces without compromise."
While the brand had taken a short hiatus, Phase 2 is set to launch this Friday. And while we don't know everything that'll be included, we do know that the brand's cult-favorite Marissa set (which casually sold out in under nine hours during the initial launch) is due to make a comeback. Keep your eyes peeled!
Universal StandardIf there's one way to describe the Universal Standard girl, it's that she exudes a certain kind of downtown cool. She opts for clean lines and a minimalist aesthetic, wearing styles that are relaxed and professional. And she wants these styles in sizes she can actually wear.
From elevated classic tees and blazers to silky slip dresses and sheer button downs, Universal Standard has created an extensive line of elevated wardrobe essentials. But, most importantly, the label really has the inclusive sizing range down, carrying sizes 6 to 32 in both regular and petite versions, with plans to "expand the sizing range in both directions."
Founders Polina Veksler and Alex Waldman created their line back in 2015, after creating their first eight-piece, size-inclusive collection that sold out in just six days. Now, they're working to close the gap between the fashion industry and a separate plus-size fashion industry. "We firmly believe that the days of a separate 'plus-size' clothing industry are numbered," says Waldman. "We're working to create a future where plus-size and straight-size women shop from the same rack with taste as the only filter for choosing style. Fashion needs to be desegregated because it's not just a matter of size, but also of design, variety, and quality. We need the apparel industry to evolve past the 'us and them' mentality that has been so deeply entrenched until now." We couldn't agree more.