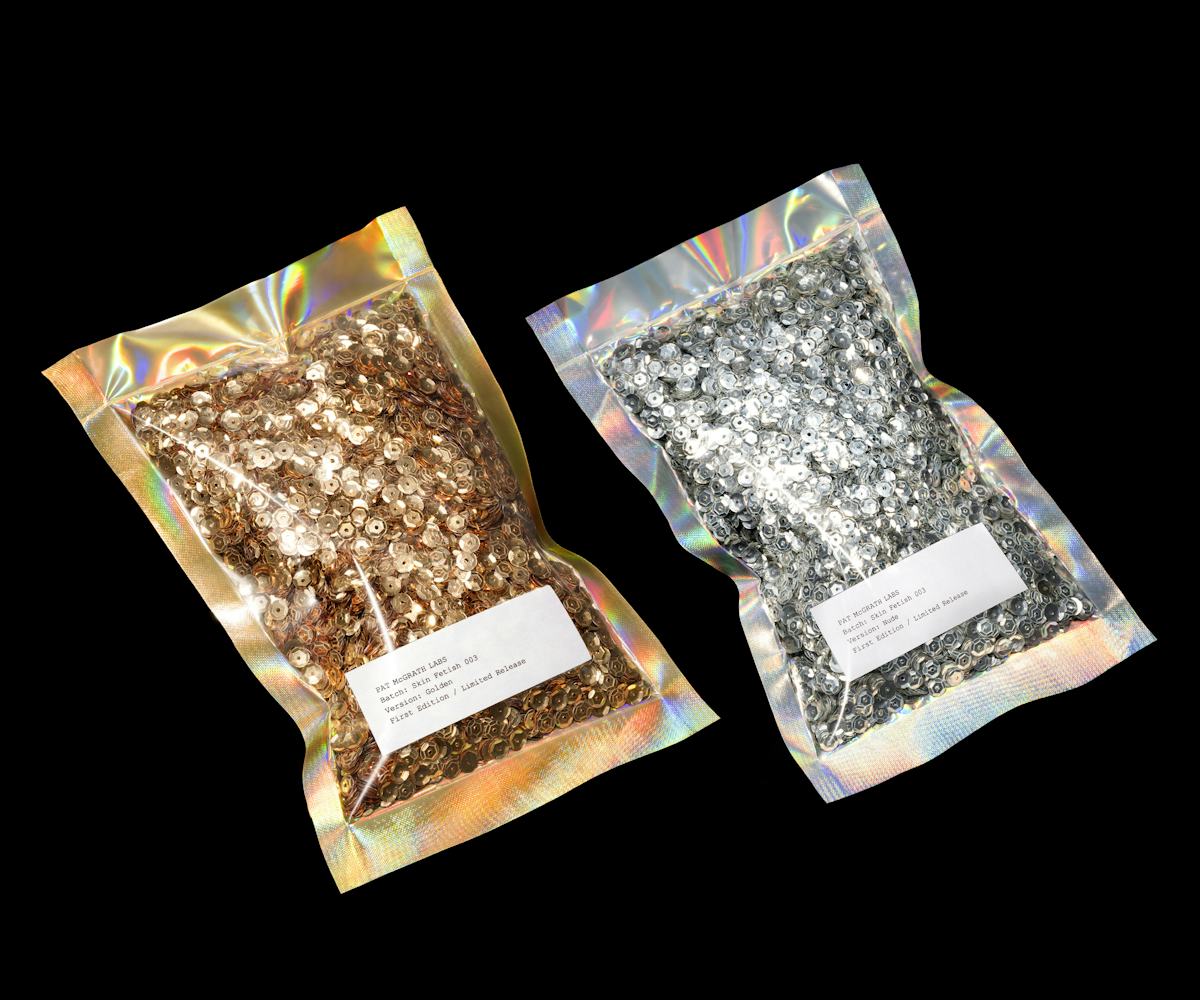 Photo courtesy of Pat McGrath Labs
Pat McGrath's Skin Fetish 003 Is Finally Here
And it already broke the Internet
The holy grail of highlighters is finally here. The highly anticipated Skin Fetish 003, the next product to launch from the legendary makeup artist Pat McGrath's makeup line, Pat McGrath Labs, dropped this afternoon—and instantly broke the Internet.
The highlighting kits are currently available in two shades, "Golden" and "Nude," which are both universally flattering, ensuring that anyone can use. They come nicely packaged in McGrath's signature pouch of couture sequins, and contain a multitasking pressed pigment, a two-sided highlighter and balm stick (which allows you to create anything from a beautifully dewy complexion to an otherworldly luminous look), and a brush McGrath sourced from Japan.
Photo Courtesy of Pat McGrath Labs
"Nude"
Photo Courtesy of Pat McGrath Labs
"Golden"
While the kit was first used on the Valentino runway this past February, the products have been part of McGrath's backstage secrets for decades. The pressed gel pigment is so opalescent that it's pretty enough just to stare at, but when applied, it transforms your skin into the gorgeous, incandescent skin of an angel. The dual stick contains a slick balm, made of argan oil and aloe vera, that's perfect for a glossy look while the highlighter end perfectly illuminates. The products are not only meant for your face—McGrath uses them to make everything from the shoulders and décolletage to the tip of the nose literally glow. 
All in all, Skin Fetish 003 is bomb. Don't believe me? Check out the video below:
And if you still aren't convinced that this is the greatest beauty product of them all, the initial launch from this afternoon crashed their website (for three hours, mind you). Take that, Kylie.
While the $72 kits have already sold out (because, duh), fear not. They'll be available for Sephora VIP Rouge members on May 3 and online and in select Sephora stores for all on May 10. But just like today's initial launch caused the site to crash, we imagine the Sephora launch to be just as insane, so make sure you're prepared and act fast.
We're still waiting for more info on the launch of her full line (rumored to be sometime at the end of 2016), but until then, Skin Fetish 003 will certainly hold us over.