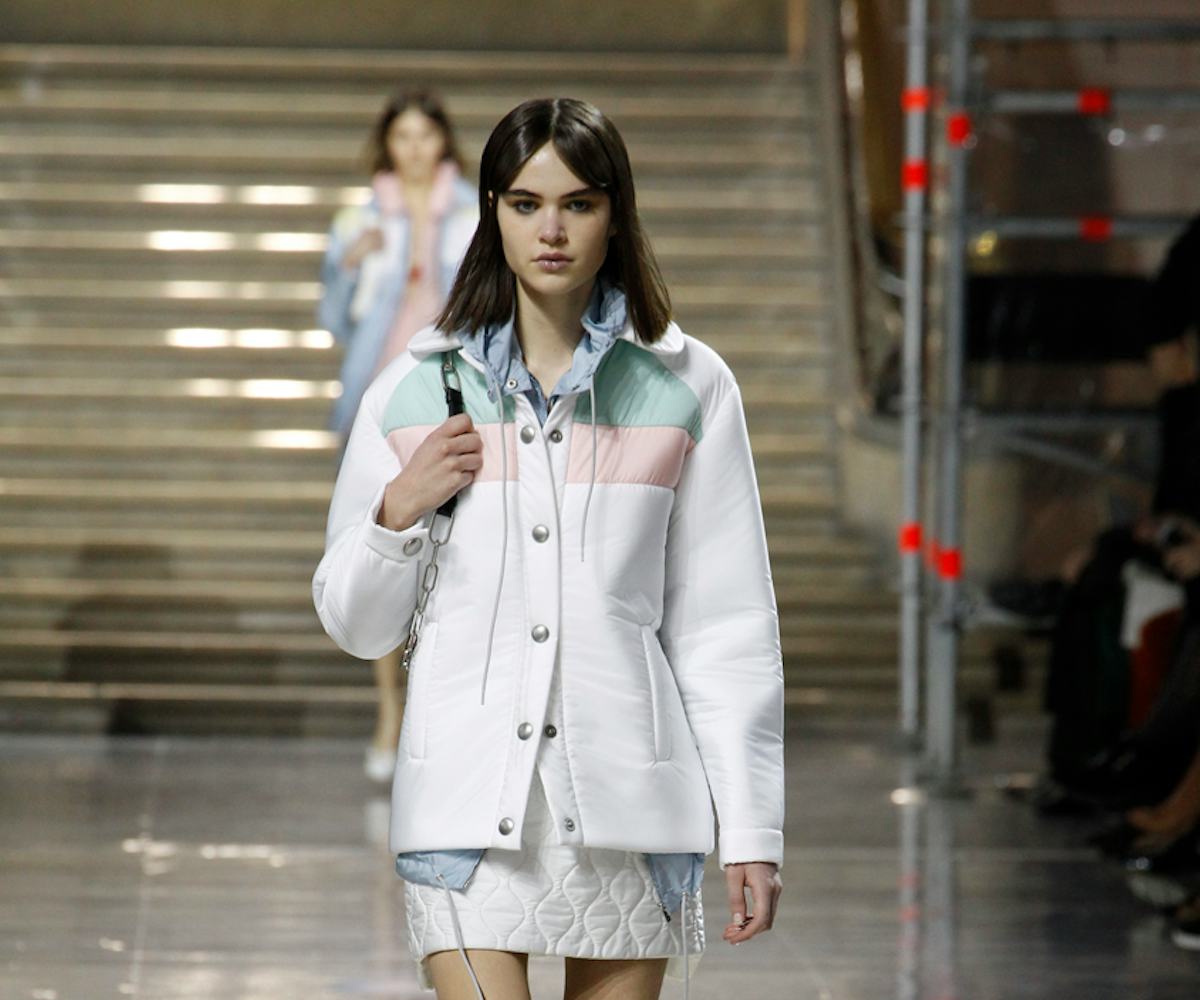 photo courtesy of miu miu
10 reasons sky ferreira should be miu miu's new campaign girl
starting with she's awesome.
If there's one thing we can say for certain about Miu Miu (other than it's awesome and we want everything they've ever made), it's that they know how to pick a muse. Just take a look at the front row of the brand's fall '14 show to see the gaggle of cool girls who serve as models, inspirations, spokespeople, and campaign stars for the label.
After clicking through the Miu Miu fall '14 show, it became apparent that Miu Miu should make room for one more in its front row, Sky Ferreira. The singer is no stranger to modeling, and it seems like the collection was practically made for her. Here's why we think Ferreira would be the perfect model for the Miu Miu fall '14 ads:
1. She has great, quirky style. This one sort of goes without saying, but Ferreira can pull off anything, from a plastic raincoat to a pump made of screws. 
2. The parka and minidress combo is sort of her thing. When Miu Miu's models stomped down the runway in pastel puffers, all we could see were images of Ferreira in almost the same outfit IRL. 
3. The model in the above image is basically her doppelganger. Right?
4. Her campaign video could be more of a music video. Which would be awesome. 
5. Her slicked black hair already seems to be the inspiration for the models' runway 'dos. 
6. She's a great spokesmodel. With a Redken contract and experience on the Marc Jacobs runway, Ferreira knows how to model like the best of them. 
7. She would fit in with the clique--the Miu Miu muse clique that is, which already includes fellow gals like Elle Fanning, Lea Seydoux, Adele Exarchopoulos, Hailee Steinfeld, Bella Heathcote, Lupita Nyong'o, Margot Robbie, Elizabeth Olsen, and Rihanna. They wear their pink cat coats on Wednesdays
8. And she knows lots of rad girls who should could probably bring along to Miu Miu parties with her, namely a Miss Miley Cyrus.
9. Imagine a Bangerz tour-inspired fashion week afterparty. Yeah, we want that.
10. After touring with Cyrus and releasing her first album, Ferreira is well-known enough to carry an ad campaign, but still just as indie cool as the day we first met her. 
Check out more pictures of the Miu Miu collection in the slideshow and tell us if you think Sky Ferreira is the perfect Miu Miu muse on Twitter!