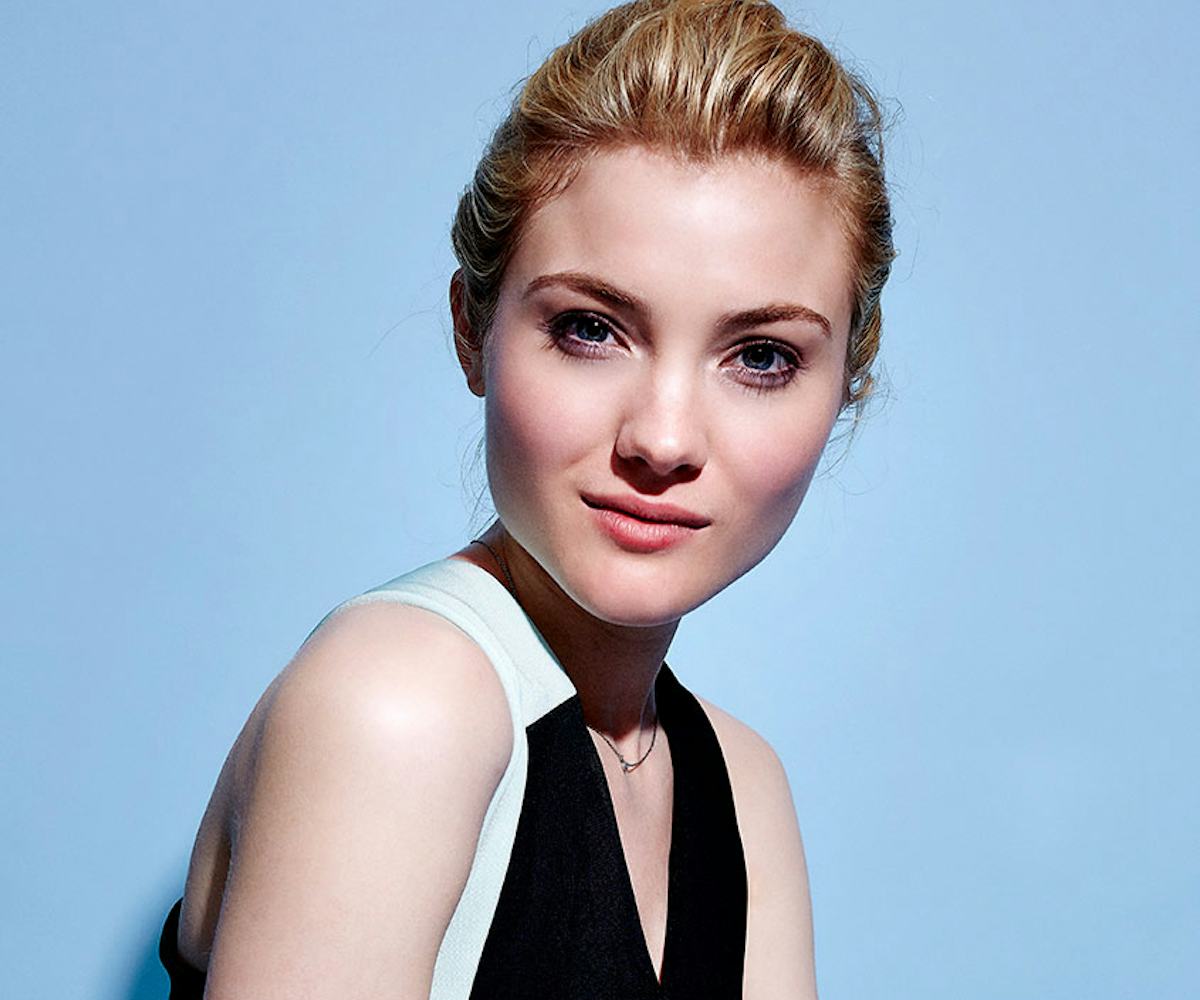 Photographed by Roman Yee
The Real Scream Queen
Move over Lea Michele and Emma Roberts. Ryan Murphy has a new ingénue stepping into the TV spotlight.
When writer-director and all-around genius Ryan Murphy calls, not even the most in-demand actors let him go to voicemail. This is the guy who got A-listers Gwyneth Paltrow and Kate Hudson to do Glee and icons Lady Gaga and Naomi Campbell on his upcoming series American Horror Story: Hotel. Now he's enlisted singing-and-dancing mega-millennials like Ariana Grande, Nick Jonas, and Lea Michele for his new Fox show Scream Queens, even though there isn't any singing and dancing to be found. Instead, the high kicks and falsettos have been replaced with bitchiness and stillettos—and, of course, murder.
The horror-comedy—an homage to all things Heathers, Clueless, Jawbreaker, Mean Girls, and Scream—is largely set at the Kappa Kappa Tau sorority house, where a serial killer has set his or her sights on them during rush week (think: The most elaborate, fashionable game of Clue, ever). We quickly meet Grace Gardner, who wants to join Kappa Kappa Tau to make her feel closer to her mom, a former Kappa who died when Grace was young. Little did Grace know, things have changed a lot since she saw those smiling retro pics of her dear, ol' mom.
Now the chapter is ran by Queen B Chanel Oberlin (played perfectly by Emma Roberts), who reigns over her scared-to-death underlings. The sorority prez, who is permanently stuck in bitchy-resting-face mode, couldn't possibly be bothered to learn their names, so she calls them Chanel #2 (Ariana Grande), Chanel #3 (Billie Lourd), and Chanel #5 (Abigail Breslin), and they all must dress in coordinating Jackie O-inspired ensembles. (Oh, and in case you were wondering what happened to Chanel #4, she couldn't take the constant belittling and overall bitchery, so she quit school and ran home to her parents.)
As Grace and fellow misfits (amongst them Lea Michele and Keke Palmer) try to pledge the Kappas, not just hazing—but homicide—awaits them with at least one murder promised per episode. The show is over-the-top, and yes, nothing is off limits, including (but not limited to) racism, fat-shaming, eating disorders, homophobia, classism, and bullying. Lines like "Good evening, idiot hookers," and "What fresh hell is this?" will no doubt be coming out of the mouths of babes soon enough, and a new fashion trend will be launched pretty much every, single episode. But among all of the stunt casting, gimmicks, fashion, and laughs, the real star of the show is Skyler Samuels (and I'm not just saying that because she sent me an adorable hand-written thank you note with EOS passionfruit lip balm and red Swedish Fish after I interviewed her).
NYLON sat down with the talented 21-year-old—and real-life sorority girl at Stanford University, where she's an intellectual property and marketing major—to talk about the sure-to-be-a-hit show, fan-girling over her castmates, and what her Theta sisters think about her being on a show that makes fun of sorority girls.
The show is being dubbed as Mean Girls meets Scream. Do you think that's accurate?I, personally, think this show reminds me of nothing—in the best way. It's its own creature. But we have the catty humor of Mean Girls. Hello, we all love Regina George, let's be honest! It's 10 years later and we're still quoting her. Then there are the crazy, borderline ridiculous, campy, horror elements like Scream. We're making fun of the horror genre while also reinventing it.
Are you a big horror fan?I love good mysteries and good storytelling, but I am such a lightweight when it comes to horror. I'm basically watching with my eyes closed. Scream Queens is the perfect fix for people like me who want a mystery and a fright, but still want to be able to sleep at night.
Did you have to train to scream?Yes! It's funny because so many of the girls on the show are singers [Lea, Keke, Abigail, Ariana], and they were telling me I had to scream from my diaphragm not my throat, because after two takes, I had no voice. So I am getting a vocal coach, not to teach me to sing, but to scream.
Let's get superficial for a minute: Were you worried about having an ugly screaming face?Ha! When you're screaming, you have wide eyes, flared nostrils, a gaping mouth—it's not pretty! But you've gotta scream big or go home. That's how we do it on Scream Queens!
There are so many celebritiess on the show. Were you starstruck at all?Are you kidding? I'm trying to play it cool, but I'm fan-girling on my own show. Jamie Lee Curtis is amazing. Of course I watched Glee, so I loved Lea Michele. Who doesn't know who Ariana Grande and Nick Jonas are? I watched Keke Palmer and Abigail Breslin on TV and movies growing up. This is a dream cast, and Ryan Murphy really is the best boss on TV. I know just how lucky I am!
The show has such a fun mix of fashion. Do you like your character's style?Yes, Grace is sort of the Kate Hudson character in Almost Famous. She's always in bell-bottoms and jeans, leather booties, and vintage jackets with a funky hat or cool sunglasses. I think there's a way to look put-together and fun, but still have jeans and a T-shirt be the base of your outfit.
How would you describe your off-screen fashion vibe?Comfortable! I love my Birkenstocks, and I have about 14 pairs of Converse. I feel like Converse are like a fine wine that gets better with age—until there's a hole in the toe, and then you have to let go. I love heels, but I don't have the balance and coordination to wear them all the time. And when I'm not working, I'm a student. So, I've tried to figure out how to look chic without getting my clothes caught in my bike spokes. That actually happened! I had to call my roommate once because I got my maxi-dress caught in my bike and I needed her to help get me unstuck in time for math class. So I keep things basic and then add pops by mixing unexpected bright colors together, funky nail polish, and edgy sneakers.
What did your sorority sisters think about you doing this show that doesn't paint the sisterhood in the best of lights?They just wanted to make sure I wasn't playing a Theta! But the truth is that with sororities, there is a lot of politics and you're trying to navigate a world with an established hierarchy. You want to be yourself but also have to do the group thing, when maybe the group thing isn't the most comfortable for you. Rushing Theta, I learned a lot about myself, and also how women should play in the sandbox with other women. Being in a sorority house—and I was in one with 59 other girls my sophomore year—can make things go to crazy places, so learning how to communicate with people is a lifesaver (on and off the show).