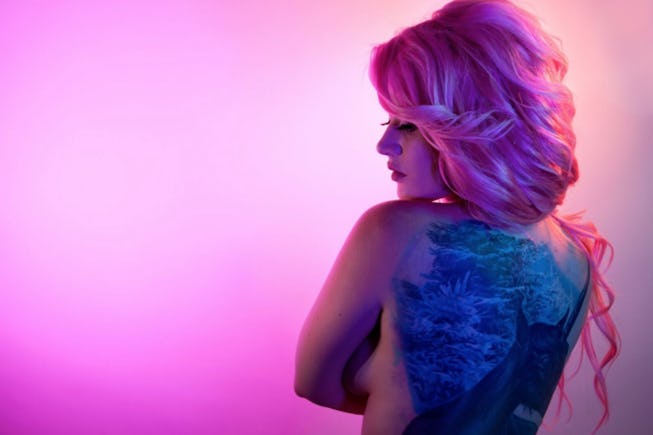 All photos by Maggie West
Look At These Gorgeous Nude Portraits Made For Slutwalk 2017
Now entering its third year, Amber Rose's Slutwalk is, at heart, a celebration. Bringing together thousands of people of different genders, sexual orientations, ages, body types, races, ethnicities, and classes, Slutwalk is a movement for people who want to dismantle the horrors of the patriarchy and white supremacy. It brings together activists and artists (though you don't need to necessarily identify as either to participate, of course), all of whom are working to end things like slut-shaming, body-shaming, rape culture, and other oppressive aspects of our culture.
This year, artist Maggie West will be creating a magnificent installation for the event, and we have a sneak peek at some of the beautiful photos of which it will be comprised. Titled "98," West's work will be akin to what she calls "an outdoor stained glass ceiling." Made from steel and plexiglass, "98" will stretch to 50 feet long and six feet wide, and will be 10 feet off the ground. On each of its triangular panels, will be the image of one of the 40 women West shot for the project. 
In her artist statement, West explains why she chose this medium and what Slutwalk means to her:
Slutwalk is a celebration of female sexuality... Throughout history, most women depicted in stained glass artwork are saints. The majority of these saints are virgins, many of whom suffered gruesome violent deaths rather than lose their "purity." 
Rather than be celebrated for their purity, this piece, titled 98, pays tribute to women's freedom to sexually express themselves and protest sexual violence. The title, 98, is taken from a Department of Justice statistic that says every 98 seconds and American is sexually assaulted. 
Diversity is a very important part of this project. All women (including queer women, trans women, sex workers, etc) have experienced the type of harassment, violence, and discrimination that Slutwalk was designed to protest. This installation brings together women of various backgrounds, ethnicities, and sexual orientations to send a message about women's right to sexual expression without experiencing threats or violence.
Below, check out West's gorgeous portraits and read what some of the models have to say about participating in this series, their thoughts on Slutwalk, and how they feel about sexuality.
Slutwalk will take place this year from September 30 to October 1, and West's work will be on view in Los Angeles.
Abella Danger, adult performer
Alaska Thunderfuck, drag artist
On participating in this series: Any opportunity for me to get naked and not get arrested, I'm there—so taking part in this project was a great honor for me.
Alexis Zall, artist
Allison Raskin, writer and actress
On participating in this series: I wanted to participate in this series to take away the shame that's often assigned to the female body. I also wanted to prove anyone can proudly pose naked, even if they have a reputation for being a prude.
Ana Foxx, adult performer
Arisce Wanzer, model
On participating in this series: I am an outspoken feminist constantly fighting the patriarchy, and I love Maggie West's work and creative direction.
Caroline Miner Smith, model
Crissy Milazzo, writer
On participating in this series: I participated in this series because I think all women should be free to show whatever body parts they want without fear of being slut-shamed. Slutwalk is important because it's a celebration of sexuality.
Daria Walder, model
Elsa Jean, adult performer
On participating in this series: I wanted to be involved because I've always admired people who stand up for what they believe in. The people who are in involved in Slutwalk are women who aren't ashamed and proud of who they are. And I want to be a part of that.
Gaby Dunn, writer and actress
On participating in this series: As someone who has the luxury of being open about her sexuality, it's imperative I use that privilege for good: ending slut-shaming and allowing everyone to feel good about their bodies and sexual lives and desires.
Gia Gunn, showgirl
On Slutwalk: It's important to visually prove a point and express yourself freely amongst others who aren't going to judge. Slutwalk is one of those things that makes an impression on people with a strong message.
Hannah Vandermolen, artist
Heather Briganti, model
Isis King, model
On sexuality: I stand as a trans woman of color, proud of my body, and feel like it shouldn't be policed without my consent. The attention is misdirected, and a victim should never be shamed because of their self-expression through clothes.
Janice Griffith, adult performer
On participating in this series: I wanted to participate in this series because I have known Maggie for a while now and her photos are always so striking. For them to be used in such an awesome installation is just a bonus.
Jazzmyne Robbins, model and body positivity activist
On participating in this series: I wanted to participate in this series to exemplify that a woman can be powerful and confident in my sexuality without "asking for it." This was solely for me and my journey.
Joanna Angel, adult performer
Keisha Grey, adult performer
Kelly Moran, model
Kelly Eden, model and vlogger
Layla Shapiro, model and DJ
Leigh Raven, adult performer
Luka Fisher, artist
On Slutwalk: Events like Slutwalk and artists like Maggie Wear help challenge these toxic forces that make women and LGBTQ-identified individuals afraid to leave their houses and live their lives and create situations for people to feel safe being themselves.
Luna Lovebad, model
Maggie West, artist
Megan Fey, model
On participating in this series: I wanted to participate in this series because I've always been insecure about being a model with big boobs. Being a 32F isn't a positive thing in my industry, and I wanted the chance to be photographed topless in a way that would make me feel beautiful and confident instead of ashamed
Megan Lytle, beauty blogger
Nikki Harts, adult performer
Parker Day, photographer
Paulina Hurtado-Aldana, model
Riley Nixon, adult performer
Sanam Sindhi, writer and DJ
Steph Stone, model
Stephanie Angulo, model
Stephanie Beatriz, actress
Stephanie Frosch, vlogger
Tanya Negin, model
Trace Lysette, actress
Whitney Bell, writer and artist
On sexuality: An unashamed woman is a mighty powerful force, but a horde of women who've taken to the streets to shed their shame—well, that's unstoppable.