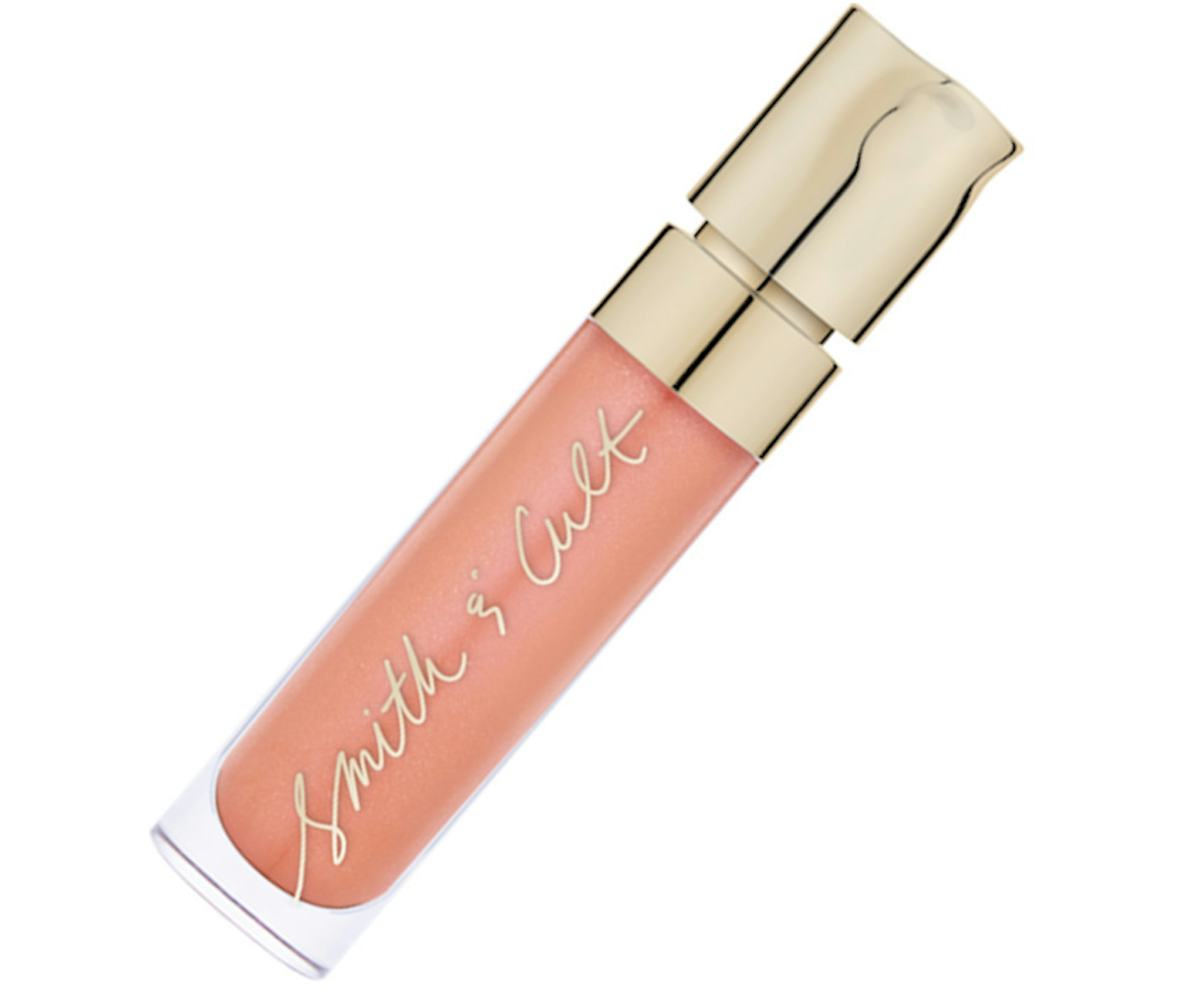 smith & cult just launched some amazing new lip glosses
and the newest lip-lacquer line, "the shining"
If you lived through the '90s, you're probably familiar with Hard Candy. After Alicia Silverstone wore the brand's iconic color "Sky" on a taping of Late Show With David Letterman, Hard Candy positively exploded into cult beauty-brand status, forever etching itself into history as we know it.
Since then, the co-founder of Hard Candy, Dineh Mohajer, has begun a new project called Smith & Cult, which started as a line of vibrant, beautifully packaged nail polishes. Now, Mohajer ventures into lip lacquers with her new line titled "The Shining Lip Lacquers," based on Stanley Kubrick's film adaptation of Stephen King's classic horror novel. The lacquers are vegan, gluten-free, and paraben-free, and formulated with ingredients like Portulaca Pilosa extract and natural coconut essence to plump and moisturize lips. 
To find out more about her inspiration behind the line, we caught up with Mohajer—now the co-founder and creative director of Smith & Cult. 
What is the process of finding something that inspires you and figuring out how to translate it into a beauty product?
I get lost for hours in design blogs, discovering new artists online, and assaulting my senses while travelling around the world. My process isn't very clear or organized. Being a highly visual person, sometimes an image will spark something. Other times, it's entirely random. Most of the time, I'm overwhelmed by the sources of inspiration flying around in my head, but then something clicks almost independently of my assistance, and I realize that I've found a way to channel all of my passions into products. Hard Candy exists because I wanted my nails to match my sky-blue shoes (thank you, '90s aesthetic). Once I see and feel that initial spark and begin to run with it, I develop tunnel vision (likely a disorder) and it becomes impossible for me to do anything else until I see it through to fruition.
What about The Shining did you feel was fitting with a line of lip glosses? Where did you make that connection?
I've been obsessed with Stanley Kubrick's film The Shining since forever ago. I quote it fairly regularly around the house, that and Mommy Dearest. After launching Smith & Cult with Nailed Lacquer, I knew I wanted to develop a lip-lacquer collection that was a "no fear of ingredients (vegan, paraben-free, and gluten-free)". I had to have a formula that had a cushion-y texture, was extremely glossy, and would stay put for as long as was scientifically feasible. Smith & Cult's shade names are the byproducts of experiences I've had, the chaos in my brain, bizarre characters in my life, and/or by something that I simply love and find inspiring. The Shining just seemed perfectly fitting, since it captured the objectives of the collection: To be shockingly shiny and scary addictive (I'm a sucker for a tag line).
Following a line of nail polish, what made you want to go into lip shimmers over any other kind of beauty product?
Lips are definitely a focal point in beauty, hence injections galore all over the world. I love how something as seemingly simple and unassuming as a pop of pink on the lip or a dab of shine can entirely elevate and transform any face. 
What lip colors do you find yourself gravitating toward? Are you partial to a certain lip lacquer in your line?
Due to my addiction to beauty products, my preferred shades and products are in constant flux, but there are two that I have been partial to recently. As far as makeup, lately a perfectly unperfect look is what I'm into, artfully unkept hair (Oribe's Dry Texturizing Spray is a godsend for this), a come-as-you-are complexion, slightly smudged, probably-slept-with-makeup-on eyeliner, and a hint of tint on the lip. I always think about something someone claimed that Bianca Jagger used to do. Allegedly, she would put her makeup on and then take it off immediately after, before going out. I tried it once with eyeliner and it looked amazing—I didn't take it all the way off, of course, because I figured that was sort of the point. Smith & Cult's The Shining Lip Lacquer in "The Queen is Dead," a sheer aubergine with a bit of shimmer, creates an oxblood-stained lip that evokes hard-edged elegance with a touch of badass. On the opposite end of the beauty spectrum, I think there's nothing sweeter or more timeless than a pale, baby-pink lip. The Shining Lip Lacquer in "Life in Photographs" is not minimal, per se, but the subtlety of this ultra-feminine shade adds a bit of baby-like softness to everything.
Click through the gallery to view all the lacquers in the line.
Smith & Cult, Fade the Sun, $22, available at Smith & Cult.
Smith & Cult, Flesh Riot, $22, available at Smith & Cult.
Smith & Cult, Her Name Bubbles, $22, available at Smith & Cult.
Smith & Cult, Hi-Speed Sonnet, $22, available at Smith & Cult.
Smith & Cult, Life in Photographs, $22, available at Smith & Cult.
Smith & Cult, The Lovers, $22, available at Smith & Cult.
Smith & Cult, The Queen Is Dead, $22, available at Smith & Cult.
Smith & Cult, The Warning, $22, available at Smith & Cult.