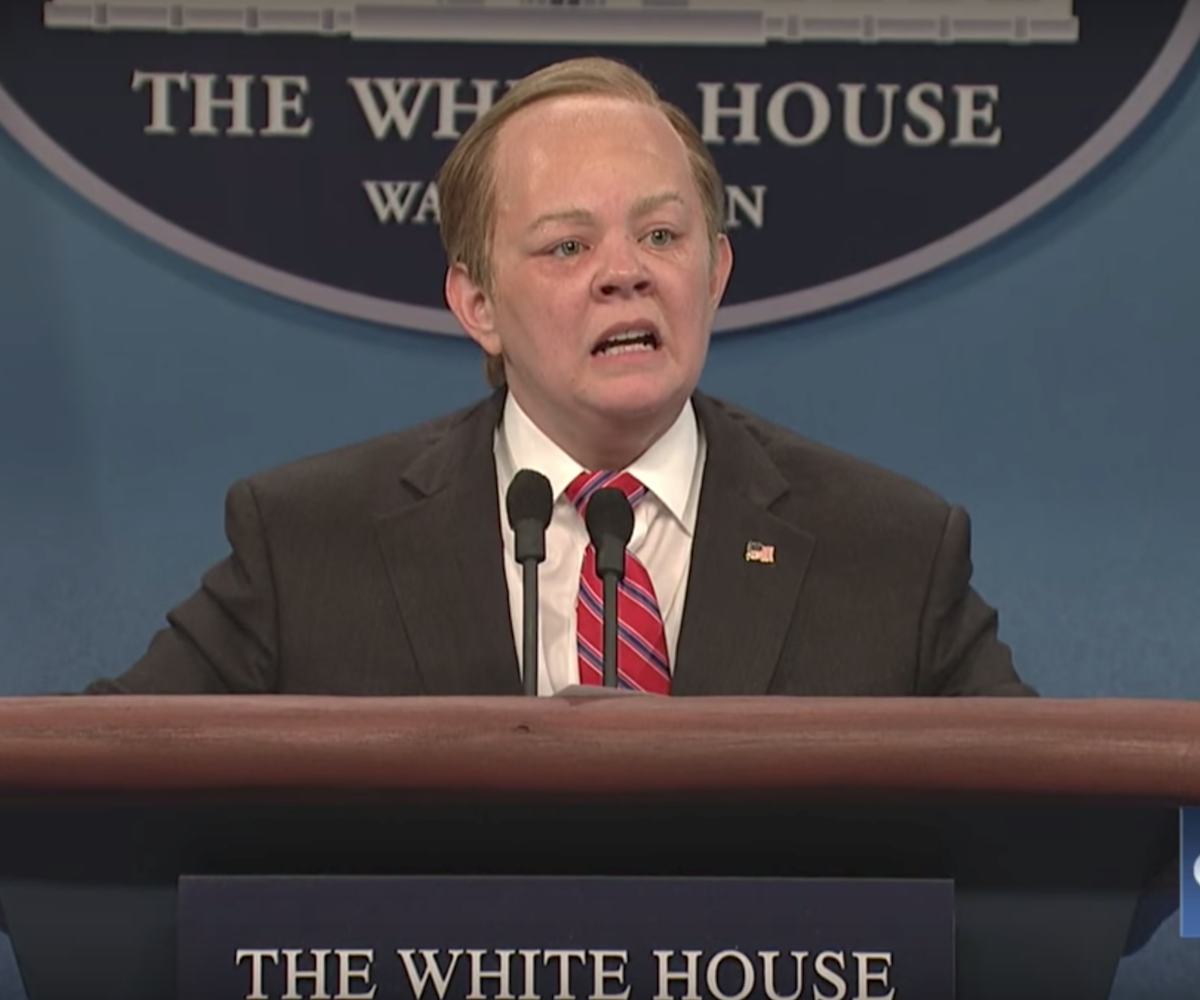 Image via YouTube/SaturdayNightLive
Melissa McCarthy's Sean Spicer Finally Emerges From The Bushes
It's truly a miracle this man still has a job
Sean Spicey Spicer has finally put on his big boy pants and returned to his podium, and naturally, so has Melissa McCarthy's Spicer on SNL. McCarthy hosted the show last night, and didn't disappoint as the aggressive White House press secretary.
In the sketch, Aidy Bryant accurately portrayed an unenthused Sarah Huckabee Sanders, who temporarily took over for Spicer while he was on Navy Reserves duty—after briefly hiding in the bushes (or "among them" if you want to be specific). When a reporter spots Spicer outside, Bryant's Sanders explains that he's doing a Naval exercise and trying to "blend in with his surroundings." 
While one reporter in the sketch is asking Sanders why she won't take over for Spicer, calling him "bullish," he's cut off by McCarthy who ambushes him with a fire extinguisher. "When you lie all the time, your pants catch on fire," she shouts, pushing Bryant out of the way. 
She then goes on to scream into the microphone about how Trump is innocent when it comes to colluding with Russia during his campaign. "How do we know?" she asks. "Because he told us. Period. And then he hired lawyers to agree with him, and they're going to prove it with a certified letter, which you know is the truth because it costs an extra $2 to certify it." When Spicer goes to give out a tracking number for the letter, he accidentally gives out his bank routing number, making fun of the time the real Spicer accidentally tweeted his password, twice in one day. It's truly a miracle this man still has a job. 
When a reporter asks him about how he possibly still has his job—"Were you surprised that [Trump] fired Comey before he fired you?"—McCarthy tears down a pillar and throws it into the crowd. "I honestly hope to God it killed her," McCarthy screams, demonstrating Spicer's signature levelheadedness. 
Once it's suggested that the president might be lying to him, Spicer decides to take his podium to New York to find Donald Trump and confront him. That's when McCarthy motors through the busy streets of Manhattan, crying and yelling, "I promise I'll talk better!" Spicer eventually finds Trump, played by Alec Baldwin, and they have a very romantic reunion. 
Watch the full sketch below.