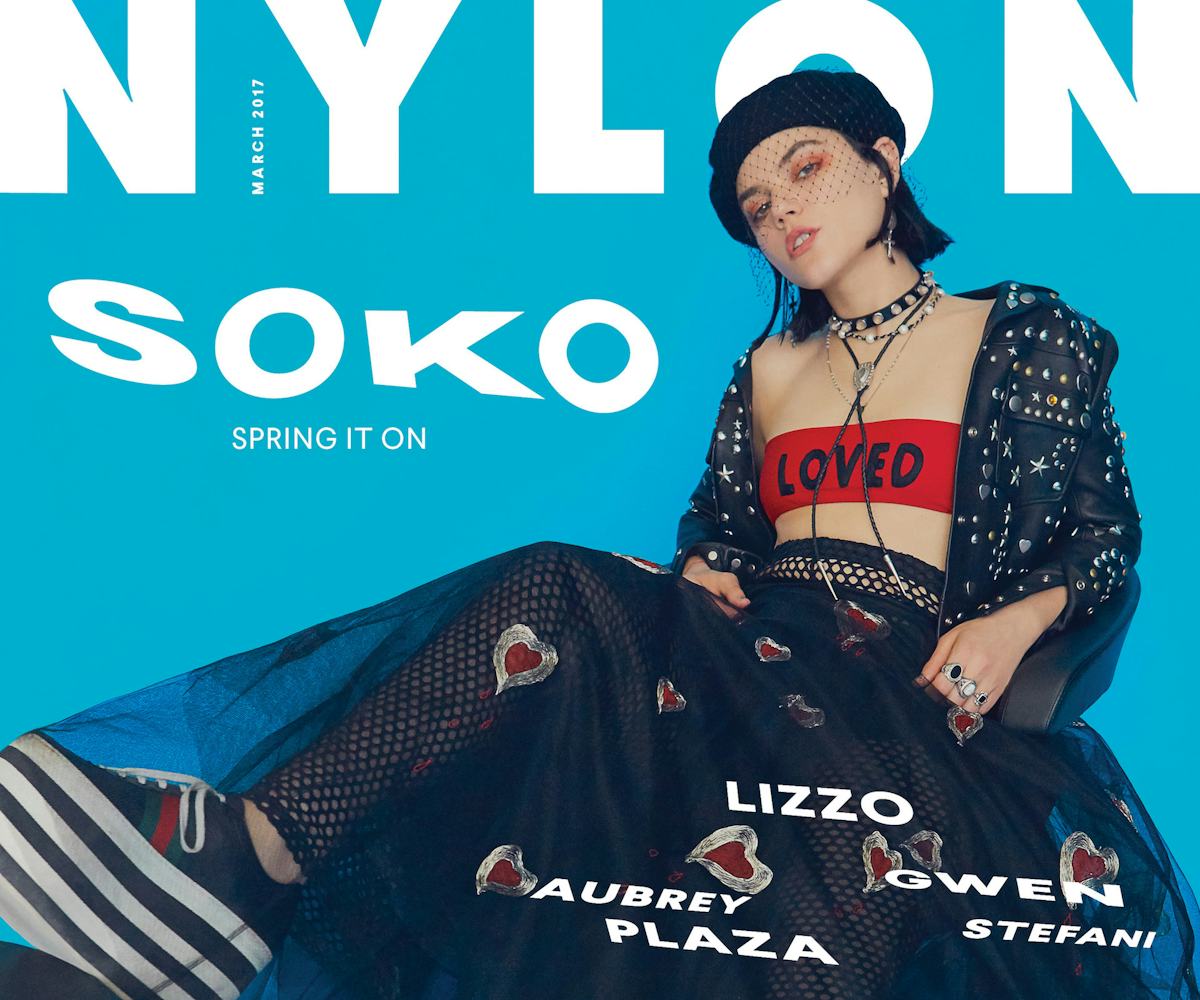 Photographed by Kai Z Feng. Styled by Daniela Jung.
Soko Is Our March Cover Star
As a new regime takes office in the U.S., French musician, actress, and style star Soko rages against the dying of the light
The following feature appears in the March 2017 issue of NYLON.
It's the week before Trump takes office, and I've been kidnapped by a sprite. Her name is Soko, and she's flitting through early morning Manhattan's downtown streets like Tinkerbell, but with Doc Martens instead of wings. "Are you ready for an adventure?" she asks with a giggle, not waiting for an answer. She's wrapped in faux-fur layers the color of Starburst candies. Her wide, darting eyes are rimmed in Lemonhead yellow shadow. She's tucked her choppy black hair under a Skittle-red hat. And as she loops her arm through mine, she proclaims with sugar-high energy, "I love adventures!" Meanwhile, I love sleep. This might not be an ideal match, but there's no time to hesitate: We've got a boat to catch. Soko wants to go to the Statue of Liberty on this snowy Sunday, five days before the inauguration of the new president, and—spoiler alert—when Soko wants something to happen, it fucking happens.
Here's where we pause to board the ferry—and unload a requisite cheat sheet on our scintillating subject for those not already in the know: Born Stéphanie Sokolinski in Bordeaux, France, the 31-year-old is a Scorpio, a vegan, and a true Renaissance femme, which means describing her in one breath is a tough job. To indie-rock addicts, she's a crafty chordsmith whose YouTube hits include "Lovetrap" and "We Might Be Dead by Tomorrow." For film buffs, she's an arresting actress from period dramas like Augustine. Fashion acolytes can track her via myriad front-row appearances. (Chanel? Check. Miu Miu? Check. Gucci? Obvs.) And tabloid junkies know her from a brief, flashbulb-flooded romance with megastar Kristen Stewart. But Soko is more direct. "I'm an artist and that's it. Everything I do is from an impulse to be creative. I have to do it. I would die if I didn't. Now let's go!" she says, bounding off the ferry and skipping ahead to Liberty Island. "Forward is the way toward. Or toward is the way forward. Come on!"
As we gambol closer to the famous statue, Soko explains why she wanted to make the pilgrimage. "Because of what we're living right now, it's important to remind ourselves that over 100 years ago, there were also people fighting for freedom and equality," she says. "And this is such a beautiful symbol. She's a woman. She's a royal presence that stands strong in the ground. She's on her own two feet. She's free from chains. She's carrying a light. She's shining a bright torch—and she came from Paris to New York! Like me!"
But while the Statue of Liberty emigrated for international friendship, Soko's in New York City for something more concrete: to make a new album. "I want to isolate myself from my routine, and focus solely on making music and art," she says. She set that intention, began talking with friends like MGMT's James Richardson and Chairlift's Patrick Wimberly, and got to work without the pressure of deadlines. "That's when I woke up and realized: When you're creating art for the right reasons, and you're grateful for it, and you're working hard at it, things will get easier."
For Soko, things have not always been easy. Her father died when she was five, sparking a lifelong battle with anxiety. "I've been doomed by knowing death at such a young age," she says. "I knew we were mortal before I could process it fully. My mom wanted to get me out of the house and be more normal, so she signed me up for music lessons. But that might have made me even more strange," she says with a laugh. In elementary school, she had one friend, an older girl who taught her about fashion and then broke her heart. "She was really rich and she had the coolest clothes. The only ones I ever had were from the supermarket, on sale. I felt very inadequate being friends with her. But when she would give me her old clothes—shit we could never afford—I felt like I was the coolest person ever. And then she betrayed me by becoming best friends with someone else. It was my very first heartbreak," she says. "I think I was 12."
I tell her that sounds intense—like, After School Special intense. "Yeah," she says with a laugh. "I'm a really hyper-sensitive being. So everything I surround myself with resonates for a long time. There's an echo pedal around all my emotions. When my dad died, it traumatized me a little into making sure that when I wake up every day, [I acknowledge that] I'm lucky to still be alive. And I need that constant adrenaline. I'm kind of childlike that way. I'm also really ADHD."
This might explain why she abandons all pretense of a proper interview and starts racing me—playground style—up the 215 steps to the Statue of Liberty's feet.
Watching Soko sprint up the twisting (and totally terrifying) staircase, I think of what Lily-Rose Depp—her co-star in the Belle Epoque movie The Dancer—told me: "Seeing Soko push herself further than I thought was possible, on things that were extremely difficult, is something I will never forget. She made me want to work twice as hard as I thought I could." Inexplicably, this French fairy princess has the same effect on me: I power up the ancient steps like I'm on The Amazing Race, determined to prove that I, too, love adventures. (Her performance in The Dancer also garnered a Best Actress nomination for les César, the Academy Awards of France.)
Soko high-fives me at the top, takes in the view, snaps a pic of the city's skyline, and then—like any good pop star with global reach—grabs her iPhone to start posting selfies. "People think because my Instagram is @SokoTheCat that I'm like this weird cat lady," she says. "I don't even have a cat! I picked it because Soko was already taken, and that's basically it." Last year, she made a zine for Autre magazine of her fans' most outrageous DMs. (Sample: a photo of a scantily clad girl with the caption, "Please find enclosed my application to have sex with you.") "Instagram is weird," she says with a sigh. "But I love it, because how else do you connect with so many people you might not know?" It's how she first caught the eye of Alessandro Michele, aka the designer who made Gucci #everything, and "it's how people around the world can connect with each other and feel less alone," she adds. "Which is so important, right?"
I agree, and she starts scrolling through my feed, "heart-ing" pictures of ballet class and melted lipstick. "This is good!" Soko exclaims, checking out backstage fashion week pictures. "And this is good…and this is so good…and… oh." She stops on a Polaroid I took with one of her ex's rumored new girlfriends. "What's this?" she asks, her eyebrows making a fierce crease across her forehead. I shrug and she hands my phone back. We hop down the Statue's steps and decide, wordlessly, that we're ready to leave Liberty Island.
Next stop: Caravan of Dreams, a vegan haven in New York's East Village with red glitter tables and coconut whipped cream. Soko stopped eating meat when her father died and only buys leather if it's vintage. "I love this restaurant, but I don't come a lot because I barely leave my apartment," she says, which is surprising considering how extroverted she seems. "I've always been a really hard worker, and each time I record an album, I totally isolate myself because I know I'm going to be completely drained. I put all of my tears and sweat and soul and highs and lows into everything I do in the studio. Then I go home. I sleep. I wake up, I do a little bit of yoga and have breakfast, and then I go back to the studio."
What about nights out?
"No."
What about love?
"Definitely no. I've been celibate since August."
What?!
"Sexual energy and creative energy are so similar," she explains, tugging on the sleeve of her vintage Mickey Mouse sweatshirt. "Each time I've almost slipped into being intimate with someone, the next day I have a really shitty day in the studio.... I just wrote a song called 'Time Waits for No One.' It's about people who say, 'Wait for me!' and make you hold onto them when really you should let go. And I have zero tolerance for bullshit, fake friends, fluff—I don't. I broke up with two friends this year. I have ex-friends now because I don't want anything or anyone to make me feel like I'm being stolen from, or lied to, or insecure. It's good to cleanse whatever is toxic in your life, especially because I've had such a tumultuous year, with putting my heart out and being completely shattered to the point that I was like, 'I don't want to do this anymore.' What really makes me happy in a stable and constant way is being creative every day. When I'm making music, that's when I feel the most whole. And music is something that is loyal. It doesn't backstab you, it doesn't humiliate you, and it doesn't cheat on you."
For a few seconds, Soko's sharp eyes look huge and hurting, like a wolf that's just stepped on a thorn, and my thoughts float back to our earlier Instagram exchange, and the heartbreak-triggering potential of a single selfie. So we do the only logical thing: order giant mugs of almond milk hot chocolate and a huge plate of pancakes.
What makes Soko happy aside from being creative every day? Fashion!
She was the kid who played dress-up in her grandmother's closet, the one who lunched with "the weird guy who had no friends" in high school because she dug his 1980s-inspired style. (Proof she's got great taste: That "weird kid" was Olivier Rousteing, Balmain's much-adored creative director. Incidentally, he now has tons of friends.)
"I've always felt that how you dress is such a reflection of who you are," she says, "and because clothes are also costumes, to me it's another form of art and creativity. How I dress dictates my mood for the day. And before I go out, I make sure I don't look too boring. I never want to look normal! What could be worse?"
Though her song "I'll Kill Her" blared during a Stella McCartney show in 2007, her sartorial breakout really came last spring, when she appeared on the Cannes red carpet in one of Gucci's brilliant, bonkers ball gowns. "I didn't realize it would become a thing," she says with a giggle. "The next day [Vogue.com] had a headline that said Soko was born to wear Gucci."
Why does she love the label's gilded snakes and trompe l'oeil bows? "Because [designer] Alessandro [Michele] is an actual genius," she says with certainty. "I see his references to the art world, to historical periods, to Elvis. When I first saw his collections, I was like, 'Shit, I can see this guy's brain on the clothes.' I felt like I already knew him even before I met him." In case you were wondering, it's a mutual admiration society. "I immediately liked her [because of] her social media and her music," Michele says of Soko. "Then when I met her [in person] in London, it was as if we were already familiar with each other. I like her freedom and her idea of being openly on the edge of everything. She is never inside anything; she is always on the border."
Soko will also appear in Dior's front row this season, and admires the French fashion house's new creative director, Maria Grazia Chiuri, the first woman to take on that role. "I love that everybody is finally embracing feminism as normal, that Maria is proudly screaming it all over her T-shirts, and that fashion is challenging people and supporting women's rights and ideas," Soko says.
When she reveals she's got a storage locker stuffed with vintage clothes, all meticulously arranged by color and print, I ask if she has any plans to begin designing herself. "I'm not going to be like, 'Oh, I'm a designer now,'" she says with a laugh. "I wouldn't want to totally shift my career. But I would do a capsule collection with whoever lets me, really. I have so many ideas. So many. Mostly, I want to do eco-friendly and faux-fur stuff, like Stella [McCartney]. And I want to reference Vivienne Westwood, because all my favorite looks are from London's punk scene. The plaids and studs, and how you're supposed to cut up your clothes and make something else with them. It's a movement of liberating people and inspiring them to be creative and express themselves. That's so important to me."
And this seems to be the crux of Soko's raison d'être: If she had a fairy wand to channel her pixie powers, she would use it to encourage her fans to make art, and to let go of idealized versions of how one should act or be. "I want girls to know that it's OK to feel awkward. It's OK to be vulnerable, and have cracks and flaws. That's what makes people beautiful. The cracks are when you see people's true nature. Not who they're trying to be. Not who they're working at becoming. But that's when you see the raw beauty. That's what I love," she says.
What will she do once the record's complete? "I want to be in a bed and do nothing for one whole week," she says without a pause. "I never get a whole week off. So my 2017 resolution is to take a real holiday, and go somewhere where the sea is turquoise, because I've never been. I want to take the dream beach holiday that people talk about their whole lives, but I don't know if I actually will."
When asked to explain why, she points to The Red Shoes. "Have you ever seen it?" she asks. "It's my favorite movie, and it's about a girl who's a dancer, and all of her life is dedicated to art. As soon as she falls in love, she's not as good anymore because she's distracted. Her lover complains she's too work-driven, and she ends up killing herself."
It might seem dramatic, and she giggles a little when I ask whether true art will destroy her. "Yes," she says with a smile. "Maybe. I don't know. But if it does, it's great! The very core of what makes us connect is kindness, love, and art. If I'm making that, it's worth it, because it's my kind of magic."
Above image: Jacket by Coach 1941, top and rings on right middle and ring finger by Gucci, skirt by Dior, beret by Graham Tyler, earrings by Chrishabana, choker by Moutton Collet, braided pearl necklace by Venessa Arizaga, bolo necklace by Vanessa Mooney, ring on left pointer finger by Avocet Jewelry, tights by Tripp NYC, all other rings and gold necklace Soko's own.
On the cover: jacket by Coach 1941, top and sneakers by Gucci, skirt by Dior, beret by Graham Tyler, earrings by Chrishabana, choker by Moutton Collet, braided pearl necklace by Venessa Arizaga, bolo necklace by Vanessa Mooney, ring on pointer finger by Avocet Jewelry, tights by Tripp NYC, Soko's own necklace and rings on left, middle, and ring finger.
Hair: David Von Cannon at The Wall Group using Oribe. Makeup: Chris Colbeck at Art Department using Chanel Rouge Coco. Manicurist: Yuko Wada at Atelier Management using Dior Vernis. Photo assistant: Isaac Bearman. Stylist's assistant: Lex Robins. Special thanks to Fast Ashleys Studios.
NYLON's March 2017 issue hits stands February 28. Buy it now or subscribe.