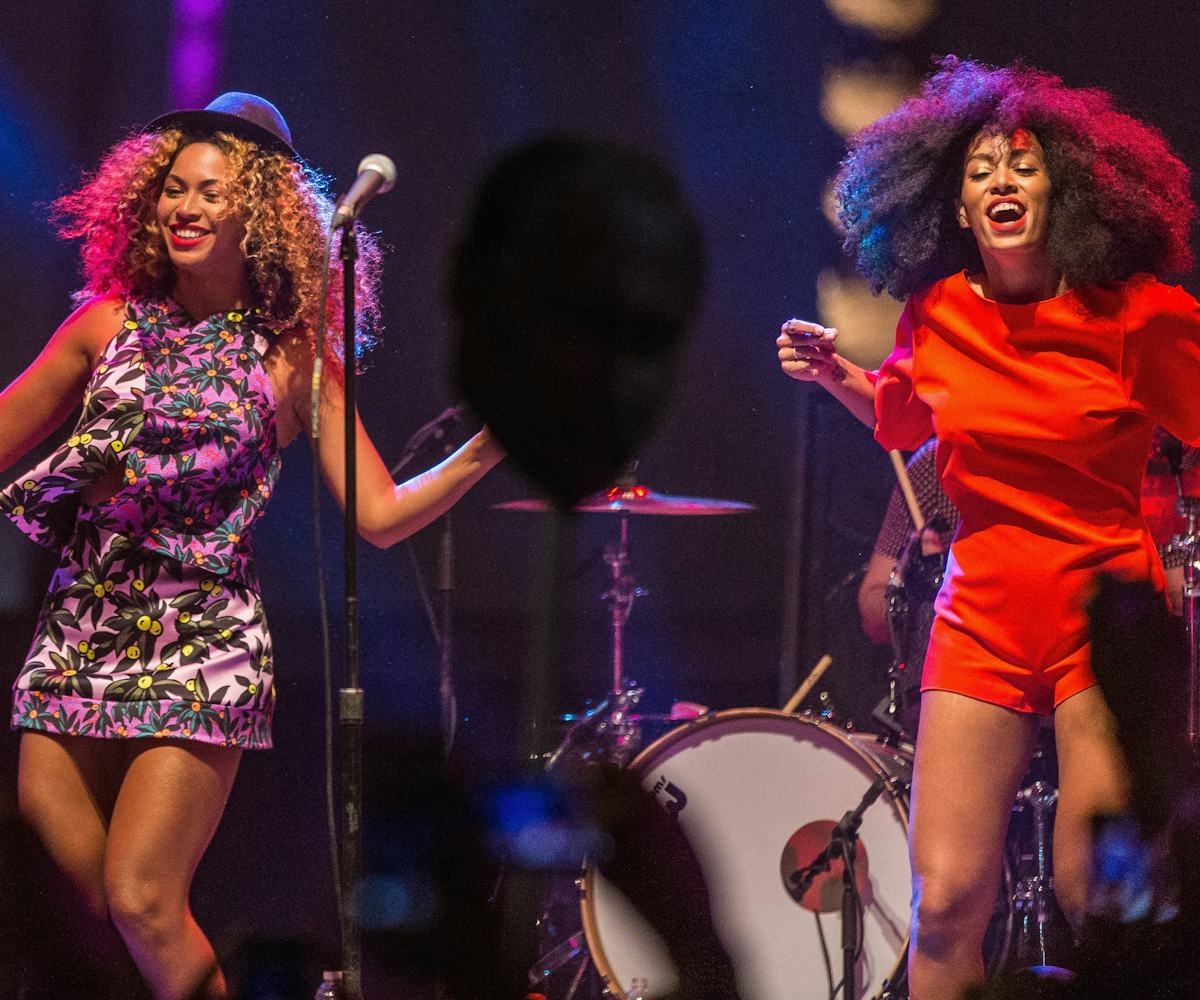 Photo by Christopher Polk/Getty Images for Coachella
Beyoncé Interviews Solange, Making You A Fly On Their Wall
"Mrs. Too-cool-for-everything"
Beyoncé rarely grants interviews, but hey, new year, new Bey. She interviewed her sister Solange for her Interview Magazine cover story. Now is your chance to be the fly on the Knowles sisters' walls. Relish in this moment.
"I went into this hole, trying to work through some of these things so that I could be a better me and be a better mom to Julez and be a better wife and a better friend and a better sister," Solange says, citing the impetus for the Solange-Beyoncé interview scenario. "Because the album [Solange's late 2016 release, A Seat at the Table] really feels like storytelling for us all and our family and our lineage." She adds, "[It] felt right that, as a family, this closed the chapter of our stories." 
The extensive conversation took place last December over the phone after Solange's parent-teacher conference. The two talk a lot about family, while Beyoncé's curiosity lies heavily in where certain parts of Solange's character come from—namely, her self-assuredness in what she wants and vocal tone on ASatT—and the misconceptions about being "a strong woman." Solange responds by saying a strong woman is often labeled a "control freak, an obsessive woman, or someone who has an inability to trust her team or to empower other people to do the work." Clearly, that is not true. Solange says her sister and mother, Tina Lawson (née Knowles), set prime examples of what it means to be a team leader, confident in their actions and drive.  
It's that kind of attitude that helped Solange have her hand in nearly every aspect of A Seat at the Table. "Mrs. Too-cool-for-everything," as Beyoncé jokingly calls her at one point, took her time with the album, ensuring its package was as poignant as its message. "The biggest reward that I could ever get is seeing women, especially black women, talk about what this album has done, the solace it has given them," Solange says. (And it has.) 
Head on over here to read Solange's full Interview Magazine cover story, which also hits stands January 17. It's a refreshing look into one of pop culture's most famous, celebrated, and sphinxlike families. Solange calls it "one of my favorites to date." Amen to that.