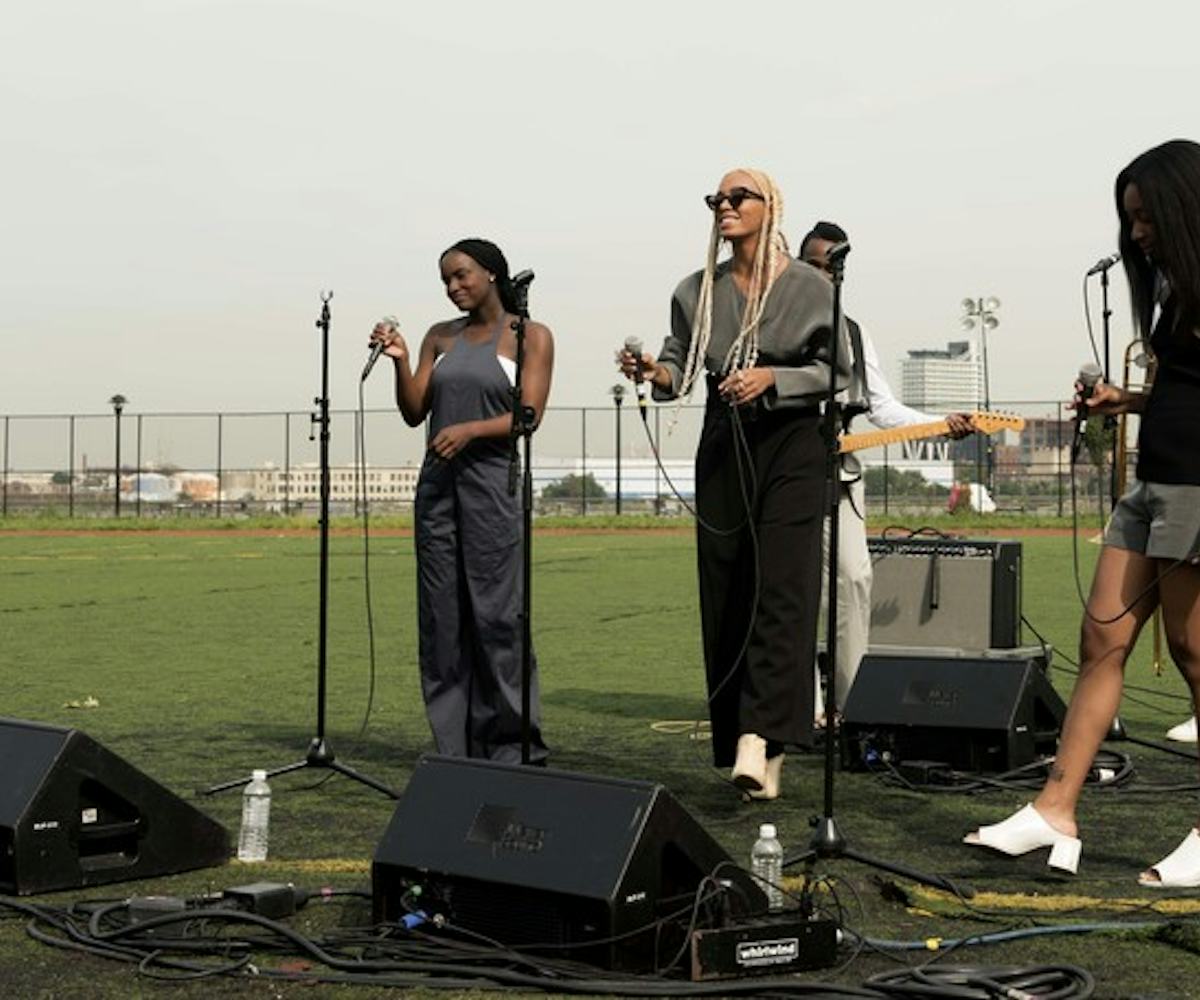 Photo by Andrew Blumenthal
Solange Just Gave A Surprise NYFW Performance, And It Was Something
She took the stage during Maryam Nassir Zadeh's runway show
Earlier this afternoon, guests gathered at Manhattan's East River Park and took seats on the bleachers to witness Maryam Nassir Zadeh's Spring 2018 collection on the runway—err, well, track. On top of a public park not being the most common setting for a runway show (though it's certainly been done before), there were rumors of a surprise guest performer also making an appearance. It's safe to say, though, no one anticipated what was about to happen next.
It all started setting in when Solange's band—all dressed in white—and backup singers came forward to begin setting up. However, even when she did walk up to the mic, sporting a new blonde 'do, the few passerby (mainly older men jogging shirtless and tweens gathering for a game of soccer) took a minute before they realized who was standing in front of them.
As she began to sing a reworked version of "Rise," models emerged through the opposite park entrance and onto the track. The collection itself was breathtaking—a beautiful display of spring trenches in neon greens and corals; florals, polka dots, and ginghams; metallic leather separates, all accessorized with Zadeh's signature bags and shoes that brought her brand to cult-favorite levels amongst fashion's elite. According to collection release, this line was especially important to the designer, showcasing work she had done by hand, something she claimed was "an important part of my life before opening my store, and something I have wanted to instill in my collection for a long time." The track, as a venue, was also symbolic: "Everyone runs independently on separate paths, but exists together," it reads.
The beauty was as fresh as ever. Models donned an effortless and light middle-parted, slept-on look created by Michael Forrey, senior creative director at Sassoon Salon, though the integrity of each model's individual natural texture was embraced and enhanced. Makeup artist Mika Ishida for Shiseido kept models essentially barefaced, with only a handful of models wearing the lightest pink-nude lip color. 7TRUE nail artist Holly Falcone painted each model's fingertips with the prettiest gold-lined spring blue tip.
All in all, it was an awe-inspiring production set on a gorgeous fall day—easily the hottest weather NYFW has seen all week—from Solange's surprise performance to Zadeh's collection itself. If you're feeling FOMO, click through the gallery, below, to check out what went down.