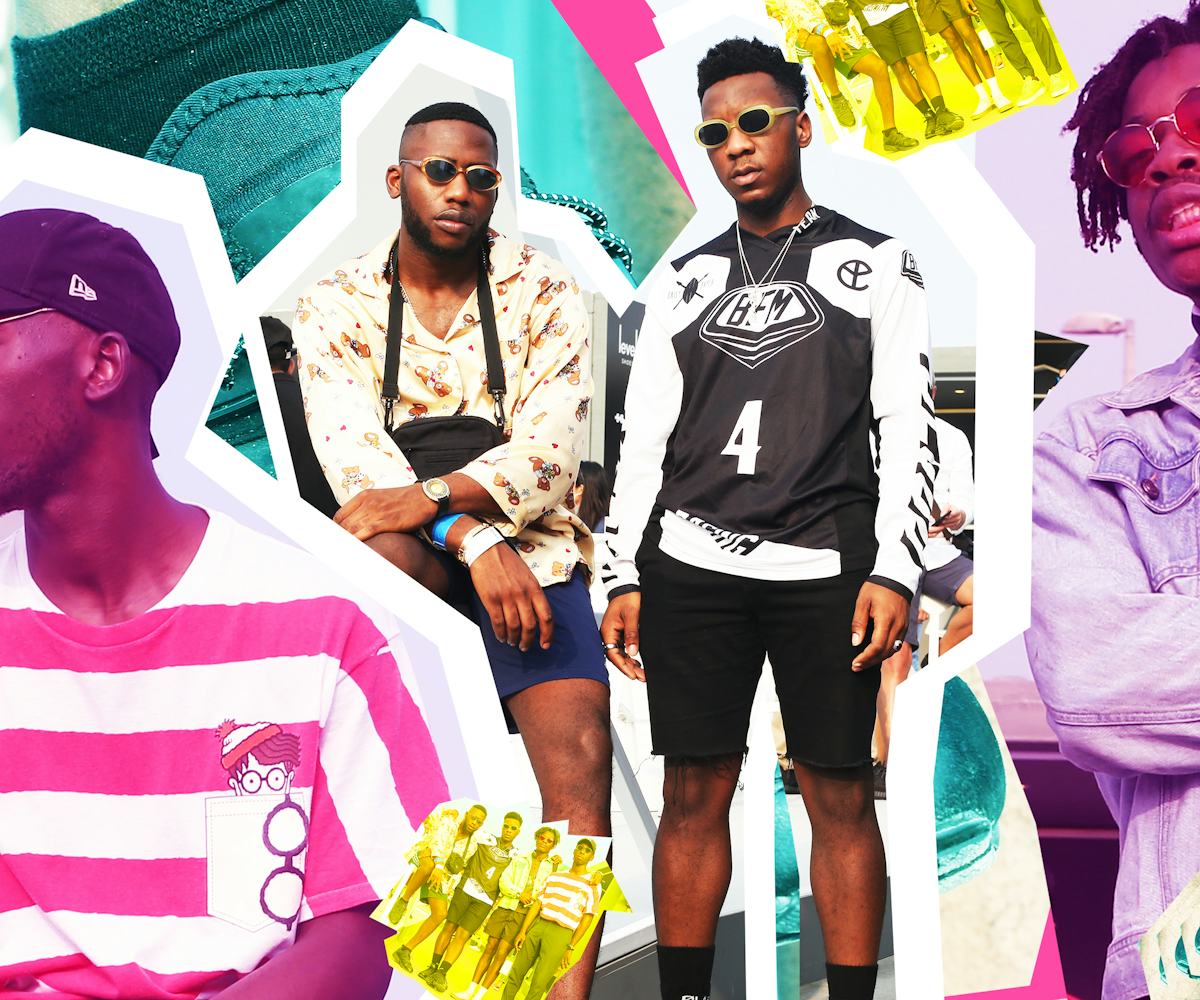 Photo by Almass Badat
This Dubai Music And Fashion Festival Is Bringing Street Culture To The Middle East
Influenced by U.S. and U.K. Street Culture, Dubai's Sole DXB is a music and fashion festival which collaborates with creatives from the global hip-hop and grime networks to break through barriers in the United Arab Emirates. Dubai is officially home to the busiest airport in the world, and global cultural interaction is higher there than it's ever been.
"I found myself at Sole DXB last year and got caught in the contagious momentum," explains festivalgoer Titchiang Mai, who's flown in from Australia. Titchiang stumbled across the festival last year and is back this time with her sister Dijok in tow. As I talk to the siblings, I am particularly interested in how they navigate spaces like Dubai, where colorism plays a major factor in how you are treated. Directly pushing back on these types of constructed limitations is the freedom and uncensored expression that has always been a key part of street culture, where simply speaking against the institution is radical.
"You can take risks at Sole and try things you wouldn't normally," says Titchiang. "That said, there is a clear indication of preference toward people of fairer skin and what you may call Eurocentric features in Dubai. I would have thought this wouldn't be as potent here as it is in the West because of our shared struggles, religions, and traditions; however, throughout the city, the laborers are African, Yemeni, and South Asian. This speaks directly to me on the status of darker skin in the region; although, if events like Sole are accepting and allow us to express ourselves, we can help break the cycle of prejudice. The East has the potential to lead new thought by breaking out of the hierarchy of colorism."
Speaking to Titchiang and Dijok spurs me to document radicalism through style at Sole. This stems from my curiosity to discover how female and femme voices thrive in environments that are not typically nurturing of us. On one level, religion here is an unavoidable factor, so that as well as the frequent dissonance of femininity within street culture is what I'm interested in. Hip-hop and grime are dominated by our male counterparts, and generally speaking, I still can't get a U.K. size 4 (U.S. 6) in the latest sneaker drop. (Since when are feet gendered?) The wider issues of sexism manifest most explicitly on the ground, where at Sole, women can't trade as freely with the sneaker sellers, the music lineup is man-heavy, and, from my experience, I didn't meet any other photographers that weren't cis men.
So, how do we thrive? As I look around, I see that every element of femme expression in a place like this becomes radical. It exists in women like Kristyna Poliček, who flew in to play basketball; acts like Bibi Bourelly and headliner Little Simz, who smashed their live performances; and the femmes of the U.A.E., who create stunning hybrids of street style and Eastern dress. All of this speaks to the need for the creation of more space to find balance for gender and otherwise. While most people I spoke with believed that women shouldn't be booked or placed in spaces just because they're women—in short, no one's gender should override talent—the problem is that, despite women taking up more than half of the population, we don't receive even a quarter of the acknowledgment. We evidently have the ability and influence, so drop the phantom theory that women and femmes lack the skill—we just need the opportunities.
The disconnect in representation is happening amongst the shot-callers, bookers, and CEOs of the industry, and Dijok, who DJs in Melbourne, agrees. "This is a great opportunity for the festival," she says. "I would love to see more women in all aspects—the DJ lineup, headline acts, designers, and even the basketball games. There isn't a shortage of female artists, but the recognition just isn't there. This is an area I am passionate about making change in, and I look forward to seeing Sole take this on as well."
As it stands, Sole DXB is a unique and promising backdrop for nurturing the future generations of global creativity. With an audience unlike any other, and with the festival in its formative years, Sole has the potential to initiate progress and truly inhibit the fearlessness of street culture.
Below, check out some of the street style spotted at Sole DXB.
Ade and Alex
A.J. Adams, Elvis, Nathan, Nnamdi
Hadia Ghaleb
Kristyna Policek
Little Simz
Maria Sihaloho
Skepta, Shorty, Chipmunk
Slocal
Titchiang and Dijok
Anonymous