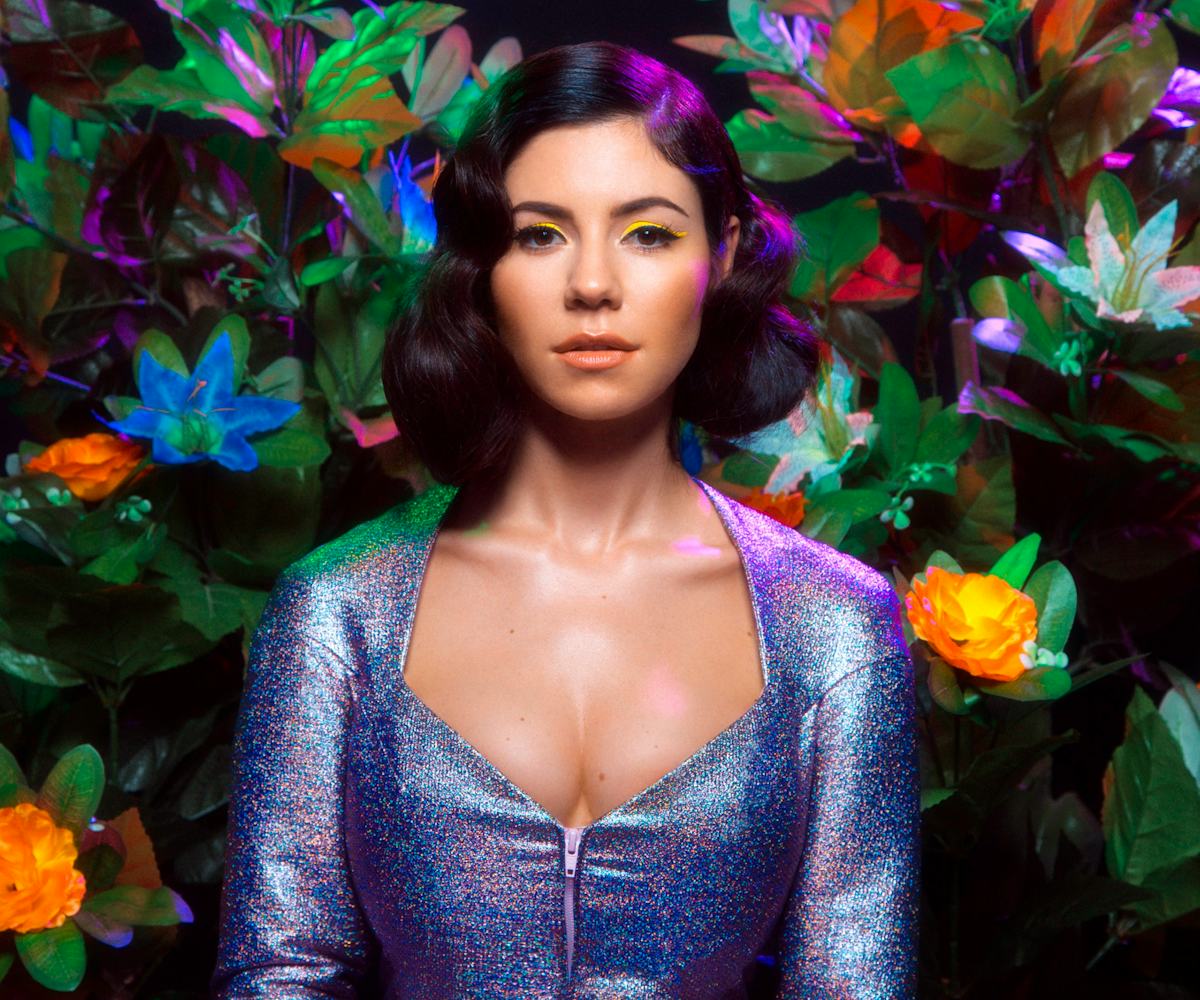 Photo by Charlotte Rutherford, courtesy of Atlantic Records
song premiere: marina and the diamonds "forget"
marina is back with a new sound.
Attention all Tumblr kids: Marina and the Diamonds is back. Pull out your star decals and blush-pink satin ribbons; then, grab your suede dancing shoes—because although her new single "Forget" is overtly dark, it will inspire you to recreate one of those quintessential high school bleacher dance routines (you know, the ones seemingly created for a John Hughes film). 
Like the rest of her upcoming album, FROOT, "Forget" displays an entirely different sound from the Welsh singer's last album, 2012's Electra Heart. "As soon as I'd finished the record and 'Primadonna' came out, I already knew what I wanted to do with my third record. I knew it was going to be completely different," Marina said. "I was really grateful for the experiences and opportunities that Electra Heart gave me, but I will never do it again. It was very early on that I understood that." Instead of focusing on pop-oriented electro hits, her latest work is an homage to the singer's early sound—it's overwhelmingly indie, displaying a fresh sound that nobody other than Marina has attempted to create. "Forget" almost sounds like a more mature mashup of "Rootless" and "Hollywood"—its lyrics are introspective and its sound is dominated by drum samples and chord progressions, sans synth. 
FROOT will be released April 6. Until then, play "Forget," exclusively premiering here, on loop. 
Related Articles:
5 Bands That Are Going To Rule Your 2015
HAIM And M83 Team Up To Create A Magical Song For 'Divergent: Insurgent'
Marina and the Diamonds Spring 2015 Tour
March 26 – New York City – Bowery Ballroom
April 12 – Indio, Calif. – Coachella Music and Arts Festival
April 13 – Las Vegas – The Pool @ The Cosmopolitan
April 17 – San Francisco – Warfield
April 18 – San Diego – Northpark Theater
April 19 – Indio, Calif. – Coachella Music and Arts Festival
May 22 – Boston – Boston Calling Music Festival
May 26 – Pittsburgh, Pa. – Stage AE
May 27 – Indianapolis, Ind. – Deluxe
May 29 – Cincinnati – Bogarts
May 30 – Cleveland – House of Blues
June 2 – Detroit – St. Andrews Hall
June 5-7 – New York City – Governors Ball Music Festival