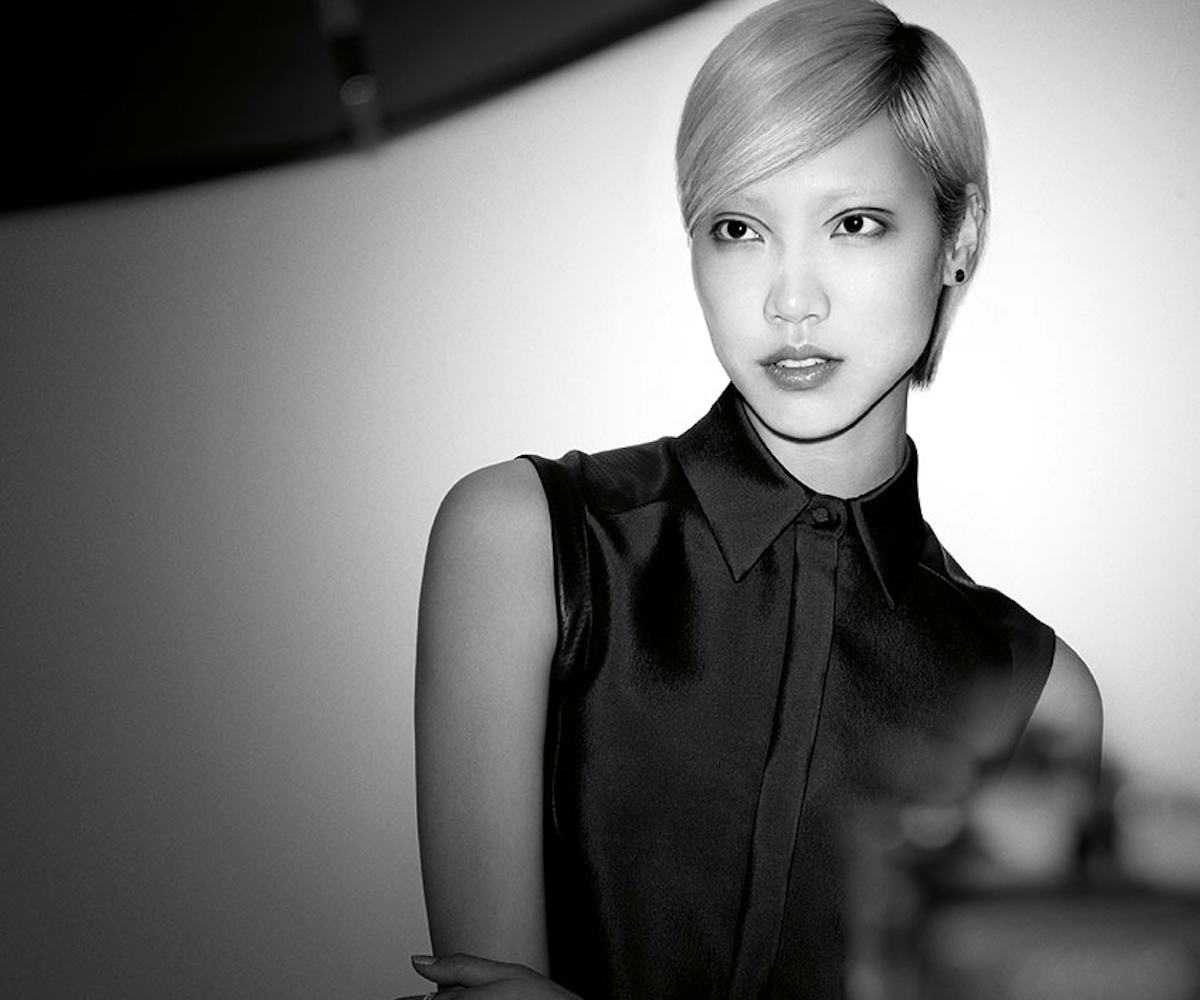 photo courtesy of redken
how soo joo park is repairing her bleached hair
as the new face of redken.
by yasmeen gharnit & gabrielle korn
As any girl knows, bleaching your hair and undergoing a severe hair color transformation can cause some serious damage to tresses, penetrating deep beneath the cuticle. Despite the misleading name, it turns out supermodels aren't immune to this. In fact, they're even more prone to hair damage, subjecting their mane to multiple on-set blowouts and heat-styling treatments on a daily basis.
If anyone knows this, it's Soo Joo Park. After bleaching her black hair to an icy blonde two years ago, the Seoul-born model and UC Berkeley alum has constantly reinvented her beauty look, toying with lengthy extensions and blunt bobs to combat her severely broken hair. But as the new face of Redken, Park is repairing, strengthening, and growing out her tresses. "I have always admired the brand's unique and forward approach to beauty and adventurous attitude," she says. "Hair has been such a big and transformative part of my career. I feel incredibly lucky to be included among the other faces and talents of the brand [Lea T, Sky Ferreira, Chiara Ferragni]. I am very excited to start this journey with them."
The bulk of the journey, so far, has been in establishing a hair care routine. "The best thing is treatments. Always use treatments!" she urges. "Redken Extreme is my favorite and really helps keep my hair healthy. Fashion life can be very chaotic but if you have a system down it makes it so much easier to always maintain and care for my hair." And with such a hectic schedule, Park has found different, creative ways to factor in these treatments: "One of my favorite tricks is instead of using gel to style my hair, I use deep conditioning treatments. I use the conditioning treatment on damp hair and make a very sleek, side part and then comb my hair over. It's perfect for going out or for an event when you want a cool, polished look. I will sometimes use an oil and mix it in to give my hair a glossy texture. It's so easy and then you don't have to use gel!"
In addition to those treatments, Park uses the Redken Blonde Idol sulfate-free shampoo and custom-tone conditioner to maintain her platinum locks. So far, she's been able to grow her hair to shoulder length. "I can finally tie it back into a pony!" she laughs. "I'm not afraid of change."
Follow @soojmooj on Instagram to follow her hair transformation.