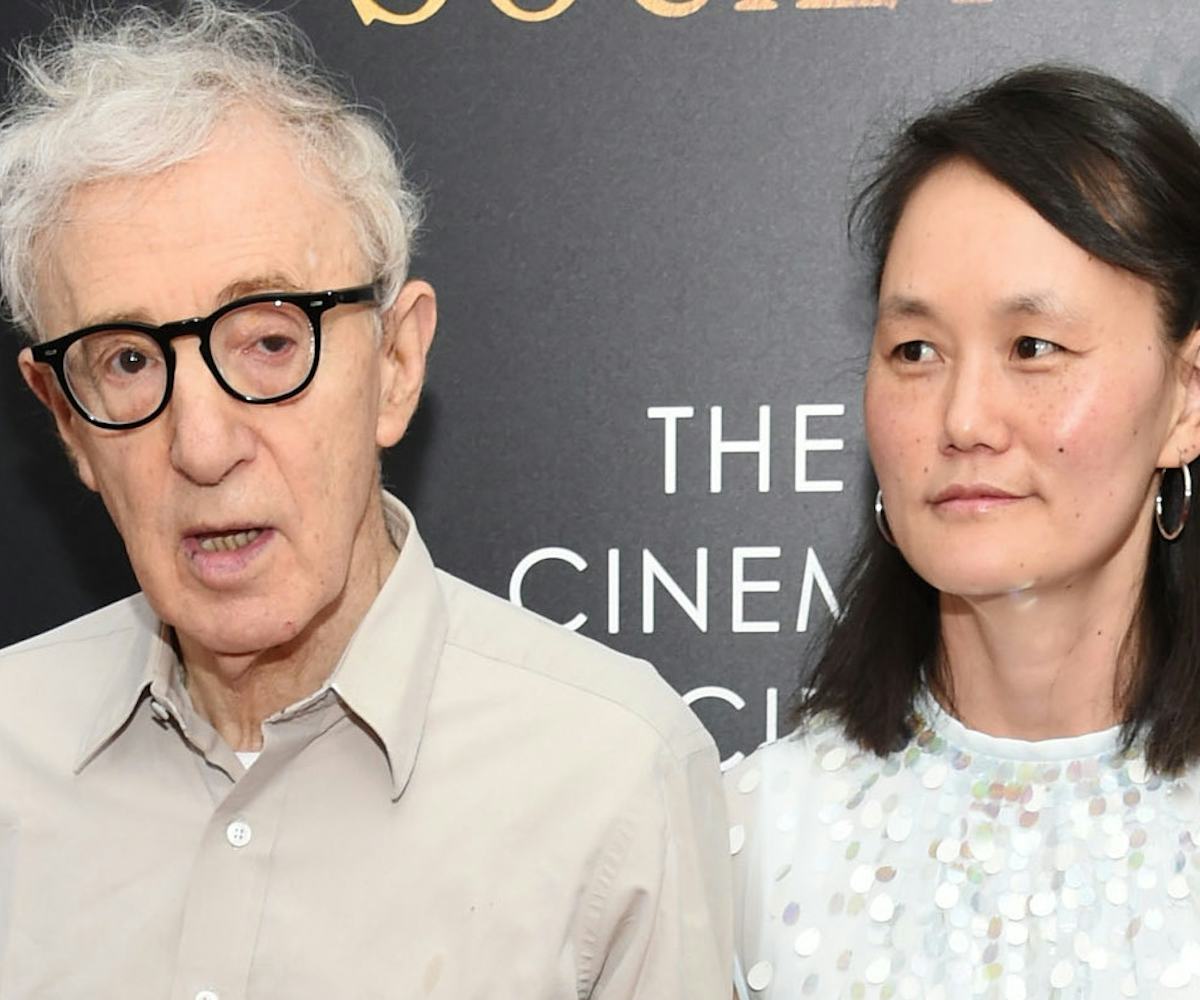 Photo By Jamie McCarthy/Getty Images.
Soon-Yi Previn's Defense Of Woody Allen Draws Mixed Reactions
"don't be so hard on Soon-Yi, she was groomed from childhood"
Soon-Yi Previn's defense of husband Woody Allen has drawn mixed reactions from the Internet.
Over the weekend, Vulture published a story by Daphne Merkin—a longtime friend of Allen's—in which she talked to Previn about Dylan Farrow's allegations against Allen.
"I was never interested in writing a Mommie Dearest, getting even with Mia—none of that," Previn said. "But what's happened to Woody is so upsetting, so unjust. [Mia] has taken advantage of the #MeToo movement and paraded Dylan as a victim. And a whole new generation is hearing about it when they shouldn't." In the story, Previn also alleges that she and Mia were "like oil and water," and that Mia "wasn't maternal to me from the get-go." Previn added that there was a "hierarchy" amongst Mia's children and that "she didn't try to hide it."
"Fletcher was the star, the golden child. Mia always valued intelligence and also looks, blond hair and blue eyes," Previn told Merkin, before alleging that Mia was physically and emotionally abusive toward her adoptive children—claiming that she and her adopted sisters were the ones forced to clean, iron, and do other domestic chores. Previn's allegations echo those of her brother, Moses, who was also adopted by Mia. In May, Moses defended Allen by writing a disturbing blog in which he claims Dylan was coached from a young age to make these allegations. He also accused Mia of being physically and emotionally abusive.
Dylan—the daughter of Allen's ex-partner, Mia Farrow—has claimed that Allen, her adoptive father, sexually molested her when she was a child. In a statement to Vulture, Dylan dubbed the insinuation that she was manipulated by Mia "offensive."
"This only serves to revictimize me," Dylan said. "Thanks to my mother, I grew up in a wonderful home." Dylan also posted another statement via her Twitter, criticizing the piece for "letting a friend of an alleged predator write a one-sided piece attacking the credibility of his victim." Claiming the publication described "multiple obvious falsehoods when they contacted her, Dylan continued, "No one is 'parading me around as a victim'—I continue to be an adult woman making a credible allegation unchanged by two decades, backed up by evidence. My only hesitation has been the way my mother is targeted as a result, as is the case here."
In the wake of the story's publication, Dylan's brother, Ronan, also criticized Vulture's parent company, New York Magazine, of participating "in this kind of a hit job, written by a longtime admirer and friend of Woody Allen's."
"I owe everything I am to Mia Farrow. She is a devoted mom who went through hell for her family all while creating a loving home for us," he wrote. "But that has never stopped Woody Allen and his allies from planting stories that attack and vilify my mother to deflect from my sister's credible allegation of abuse."
Online, many echoed Dylan and Ronan's statements, criticizingVulture's decision to allow Merkin to write the story.
Previn's description of her romance with Allen also raised a few eyebrows, with many expressing skepticism that Previn was groomed by Allen and, therefore, may not be the "best character witness." 
Others noted that Allen was also in the room during the interview, interrupting Previn, and criticized Merkin for attempting to paint Previn's rebukes as evidence that she was "strong! quirky! smart! and def NOT suffering from Stockholm Syndrome."
However, there was also a strong online response calling for people to believe both Dylan and Previn's allegations of abuse against Mia. 
"Can't we believe Dylan Farrow but also believe that Moses and Soon-Yi were abused by Mia Farrow as well?" Nakkiah Lui wrote on Twitter. "The total dismissal of the testimonies of the people of colour abused by Mia Farrow seem to be completely forgotten because it doesn't centre a white woman as the victim."
According to The Hollywood Reporter, in the wake of the backlash, New York Magazine spokesperson Lauren Starke defended the piece as Previn's way of "telling her story for the first time."
"This is a story about Soon-Yi Previn, and puts forward her perspective on what happened in her family," Starke later added. "We believe she is entitled to be heard. Daphne Merkin's relationship to Woody Allen is disclosed and is a part of the story, as is Soon-Yi's reason for speaking out now. We hope people will read it for themselves."