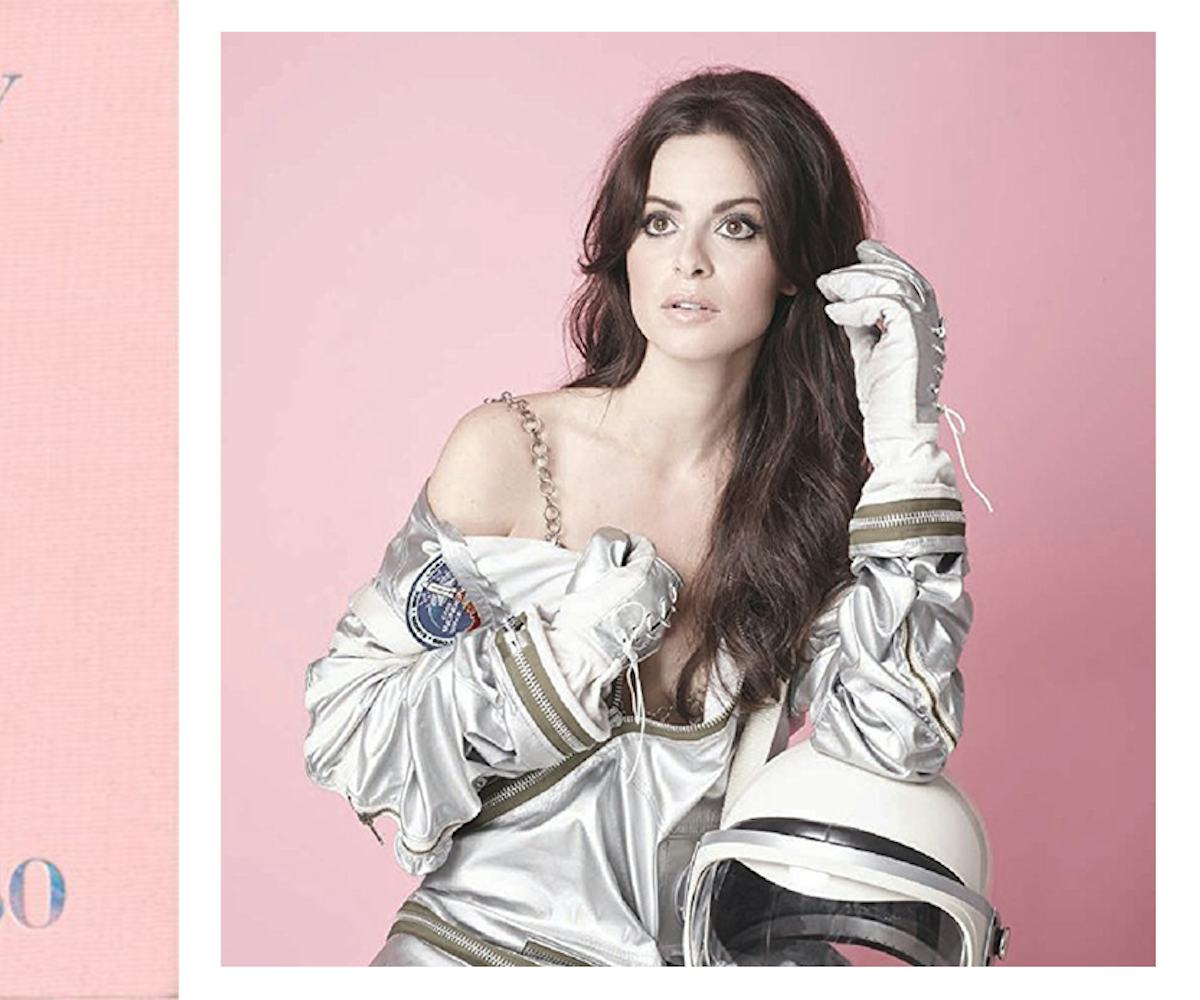 Photos via Portfolio and G.P. Putnam's Sons
Nasty Gal's Sophia Amoruso Takes Us To A Different 'Galaxy' With Her New Release
It's her galaxy, and we're just living in it
When Sophia Amoruso, founder and executive chairman of Nasty Gal, set out to write her 2014 book #Girlboss, it was to share her rags-to-riches story and encourage other women to walk to the beat of their own drum and find their unique path to entrepreneurial success. "#Girlboss inspired a lot of people, but it was not a book that I really got to be creative with beyond the writing," says Amoruso. Enter: Nasty Galaxy which hit bookshelves yesterday.
If #Girlboss was a manual to making it as a self-made business woman, Nasty Galaxy is part coffee table book, part mood board of Amoruso's inspirations. "I built a very visual brand, so it needed to be articulated visually," says Amoruso of the more image-driven direction of her sophomore title. But don't be mistaken, Nasty Galaxy is not deprived of Amoruso's and Nasty Gal's signature voice. Featuring quirky illustrations, a collection of eclectic photos, advice (ranging from comical "How to Go Commando" to more consequential "Tips on Negotiating"), interviews or "Portraits of a Girlboss," and a look at Amoruso's California home, the book is not without the same trademarks that turned Amoruso's devoted fan base into a sprawling empire, an eBay page into a multimillion dollar retail business, and a mega-successful autobiography (#Girlboss spent almost 20 weeks on the New York Times' Best Seller list) into a Netflix series, set to come out next year, that will focus on Amoruso's scrappy beginnings, with Amoruso, Charlize Theron, and Pitch Perfect's Kay Cannon at the helm.
We caught up with multihyphenate when she stopped by our offices this week to give us a sneak peek of Nasty Galaxy ahead of its release. Read below to hear Amoruso's thoughts on the new book, show, and the pressure of winning.
What inspired you to go in a visual direction for this book?
#Girlboss was a book that was kind of like the foundation of what was my story. It was all the things I had to share at that time. And I just think there is so much you can do with a book beyond the writing. And to be able to curate photography and illustration and archival images and shoot original photography was just so exciting.
And I think there is just as much inspiration in this book as there was in #Girlboss, it's just packaged differently. There is still lots to read and little essays that I've written and interviews with different women, but also really big graphic quotes and how-tos that are illustrated, so it's a really eclectic book and kind of like a stream of consciousness. I think that none of us are just into fashion or just into interiors or just into music. I think we all are a little bit of a connoisseur of everything today, and this book is a very eclectic mix. These are just things that left an imprint in my development. 
How did you go about picking which women to interview and include in the book? 
I chose women who I know, who inspire me, who are doing interesting things. And it's just a really wide range. There is a stylist, a director. I guess a lot of them are creatives. But it's just women who I love.
I noticed that in the book there is also a focus on music. What is currently on your playlist?
I am really into the new Young Thug, believe it or not. Which the book would not tip you off to. I like the new Frank Ocean—it's so good. And then other stuff, just a totally endless spectrum. 
Would you say there is a lot of pressure on you with Nasty Galaxy since your first book did so well? 
Yeah, absolutely. Thank god, it's a really different book because they can't really be compared in any way. I hope this book is as successful as #Girlboss. I hope people enjoy it as much and are as inspired. It's going to sit on different shelves; you're not going to find it in an airport. It's just a different book. But definitely following the success of anything is terrifying. It's a lot of pressure to keep winning, and that's just not how life works. But I am happy with this, and at the end of the day, it's just something I want to have, and I just hope it's something that other people will enjoy too.
You have a show, Girlboss, that's coming out next year, can you tell me a little bit about that?
I'm an executive producer on it, and Charlize Theron is also an executive producer along with Kay Cannon, who is the creator and who also wrote Pitch Perfect and Pitch Perfect 2. She's just incredibly talented. Britt Robertson plays me. She's so good. It's a 30-minute scripted comedy that's basically based on my life, starting from the eBay days. It's kind of trippy to watch your life replay itself in front of your eyes in comedy form. But if you're going to do it, you might as well laugh at it. So I am happy I get to laugh at myself. 
What's the process been like for you since it's a different medium than what you're used to?
It's so different. Having front row access to seeing what producing a Netflix series with this level of talent is like is such a privilege. The most exciting thing about it is that I get to learn, honestly. It's a very rare thing to be able to do. I advise them on the wardrobe and the decor of my apartment on the show, and I want it to feel as genuine as possible. We have really talented wardrobe designer, Audrey Fisher, who is doing an amazing job, though. I can really only provide the inspiration. It's nice to check in and have them ask for my opinion because they don't have to. 
How do you find the balance between everything that you do? The book, the podcast, the show... It seems like a lot.
There is no balance and it is a lot. But I would just say I have a really strong team surrounding me and I don't have to be in every single detail. Even when I want to be, I know that I shouldn't be. So I try to delegate and let people who are great at what they do be great at what they do. In terms of balancing, I try and take little trips here and there. I just went to the south of France with my boyfriend, and it was so beautiful. Even a weekend trip can feel like a week. And sometimes just watching bad reality TV is a nice vacation for an hour.
You have a very strong social media presence. Why do you think it's important for a business nowadays?
Nasty Gal was basically born off of MySpace. So that was really important to our beginning, and I have just always been on social; it's a great way to communicate with people and it's very transparent. You can get a pulse really quickly on what people are thinking and feeling. Especially with Instagram, I am a visual person, it's a visual world, we are a visual brand, and so it's super natural. It's kind of like a "Why wouldn't you?" kind of thing, and if you are going to do it, you should try and do your best. I finally got a test account, so I can load images and make sure they look good on my [Instagram] grid. Which is like, "Yes, I am an adult... and I do that." But it totally helps. I think that people just become very sophisticated users of [social media platforms] over time. It's really interesting.
How do you feel when somebody asks you what it's like to be a "female entrepreneur" instead of just an "entrepreneur"?
I think I have been overly celebrated because I'm a girl and I accomplished what I did, but I'm also taking advantage of it. And there is going to be a day where it is not a big deal. Until then, there is an important conversation that is happening, and I think it's okay to talk about the disparity. But I definitely don't sit in a room with people and think, "Oh my god, I'm the only girl in the room." I'm just at the table. I think if you do that, you can sit around and be like, "I'm the only person with hair down to my waist or..." We are all an only something. I just don't think it's healthy to do that to yourself. I try not to, but it's so natural, everyone does it. 
What is the best piece of advice you have every been given?
Life is a marathon and not a race. In your 20s, you want everything to happen now, and I was really impatient. Things take time to get really great, and there are ups and downs. I think it's easy to lose sight of that and not realize that it's normal. Once you tell yourself that that is normal, it takes a little bit of the sting away when things don't go your way.
What item of clothing or beauty makes you feel most like a girl boss?
I would say my brows. I use the Anastasia [Beverly Hills] brow gel. I think just having a strong brow is like architecture for your face.
What motivates you every single day?
Sometimes it's just keeping my commitments; my calendar runs my life. Other times I am actually inspired. Also, the fact that I meet these incredible girls that read my book or know something about me and they look at me and think that they can do something amazing because I did something. I'm just this mirror for other people to project their dreams on. And they are going to be the ones who achieve them; I actually have nothing to do with it. But they are just picking me to ping their dreams off of, and to represent that is just a huge responsibility but also something that is really special.
What do you then hope these girls reading your new book will get out of it?
I hope that they'll just see things—whether it's a quote or a Q&A with another woman—that they'll find some inspiration in. The best thing is to be the spark and just let other people take your contribution and spin it into really great things for themselves. Hopefully, they'll be inspired and feel that they can accomplish anything that they want and live a beautiful life doing it.