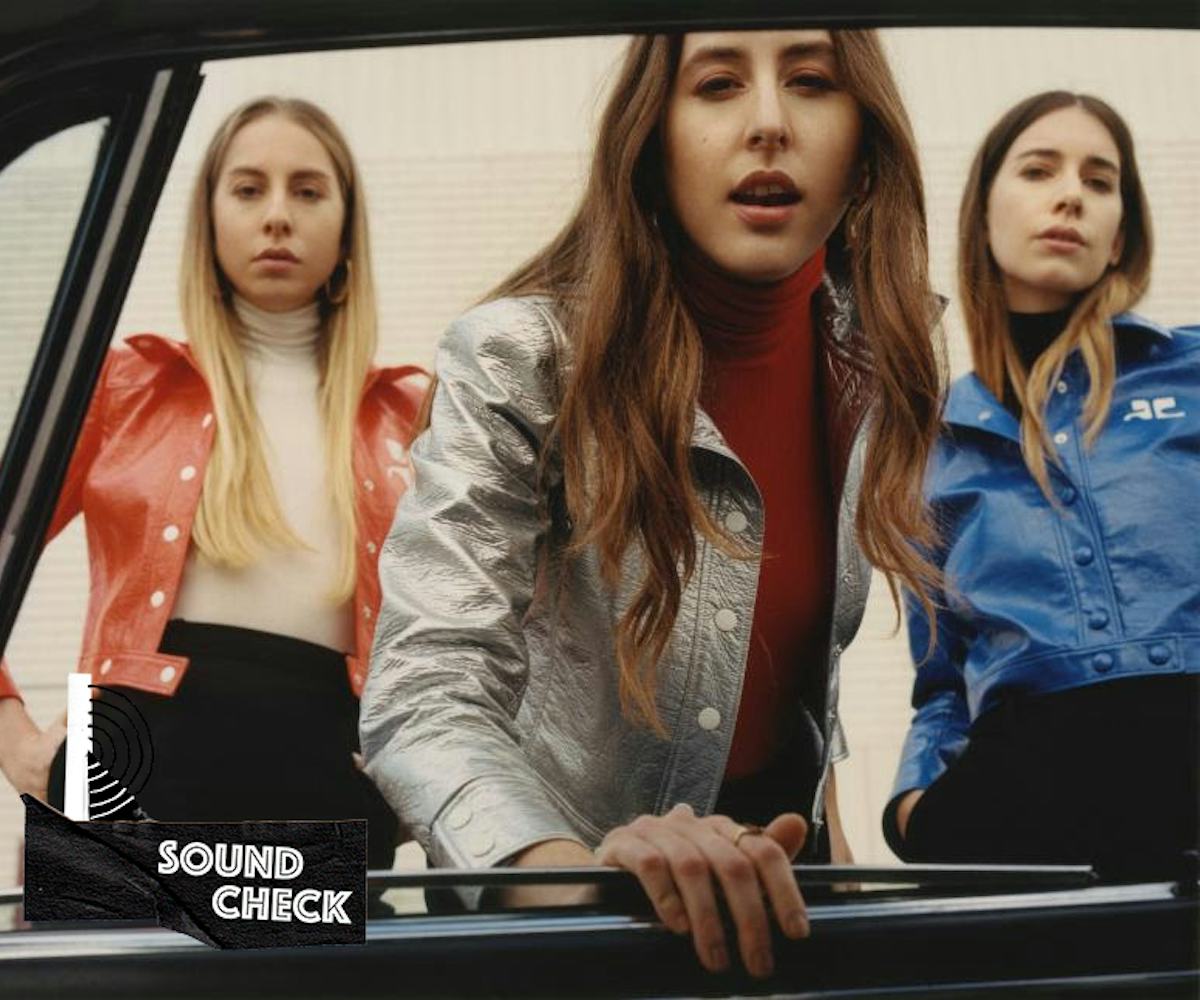 Soundcheck: The 38 Best Music Releases Of The Week
Haim, SZA, Frank Ocean + more
Every weekend, we're bringing you #SOUNDCHECK—your new destination for the best of the best new music that hit the web over the course of the week. Because you should always be prepared when someone passes you that aux cord. This week's round features 38 of our favorite emerging and established artists including Haim, SZA, Frank Ocean, and so many more. Turn up, tune in, and tune out.
"Right Now"— Haim
Our bodies are ready for HAIM at all times and when this single premiered we convulsed all over the place. Something to Tell You drops on July 7 via Columbia Records.
"Love Galore"— SZA feat. Travis Scott
Still no confirmation on when CTRL will be released, but SZA wants us to know that she's not going anywhere. This lusty duet will be your new "boy bye" anthem oneso crank it up this weekend. Bless you for these gifts, Solana.
"Lens"— Frank Ocean feat. Travis Scott
Seriously, what did we do to deserve all of this generosity? Frank Ocean transitioned from being in hiding for four years to dropping a new single every week. No complaints here though!
"I'm the One"— DJ Khaled feat. Justin Bieber, Quavo, Chance the Rapper, Lil Wayne
One word: YUM.
"Watch Urself (prod. hi tom)"— Killavesi
This video is the latest from Killavesi's Run & Hide Mixtape. Basically it's cool, chilled, and so badass... like pretty much everything she does. 
"Roseland Baby"— Adamn Killa
Adamn Killa's new catchy track is giving us a taste of what's to come before his debut album I AM ADAMN drops next month. 
"9 (After Coachella)"— Chasmere Cat feat. MØ, SOPHIE
This is the cutest video we have ever seen. Congrats to Cashmere Cat for the release of his debut album, 9. The wait was totally worth it.
"Is It Too Much to Ask"— Faye Webster
Webster makes throwback folk jams that don't make you feel like you were digging through grandma's records. 
"Boo You Know"— FALCONS feat. GoldLink
Boo you know you gotta love this. 
"A Ok"— Kodie Shane
The Sailing Team's first female member ain't playing around. Kodie Shane's newest track is straight fire. 
"Gatekeeper"— Jessie Reyez
Jessie Reyez is the voice the industry needs. "Gatekeeper" holds absolutely nothing back, and her sheer talent shines through it all.
"Tropicao"— Synead
Um, tropical vacation anyone? 
"Saw You In A Dream"- The Japanese House
Here's a brightly-hued song for your TLC needs, care of the perrenially cool The Japanese House.
"Celebrate"— Little Dragon
Don't worry, you're not tripping on acid, it's just Little Dragon's new video.
"love gang"— Whethan feat. Charli XCX
We may have discovered this year's song of the summer a few months early. 
"Calm Down"— Skip Marley
The beat is awesome, the lyrics are timely, and the whole song is just so powerful. It gets deep. 
"Young and Menace"— Fall Out Boy
So this video may or may not involve a little girl running away from her parents... who appear to be giant fuzzy troll creatures, but I mean who doesn't love FOB? 
"Magazine"— SLØTFACE
The anthem that every high school girl needs to listen to. This song is everything. 
"S.H.C."— Foster The People
After dropping three songs on Thursday, Foster The People are back in action. If you missed their EDM magnificence then you have to listen to "S.H.C." 
"Swimming on Me"— Rainy Milo
Rainy Milo is giving us all the feels with this new breakup track. 
"Stoned"— BLONDAGE
Missing 4/20? No worries, you can still get "stoned" with BLONDAGE.
Grey EP— Kweku Collins
After the success of last year's Nat Love, Kweku Collins has decided to bless us with nine new songs. 
"Say My Name"— Tove Stryke
This song is super cute and totally embodies everything good about young love. 
"Nobody"— NIIA
This sultry track is just what we need as the weather starts to warm up. 
Whatever Makes U Happy— JMSN
JMSN is here with his fifth album and we're going to be jamming to it all weekend long. 
Humanz— Gorillaz
Did you miss Gorillaz? Cause we sure did. After being pretty quiet since 2010, they're back with 26 new tracks for us to obsess over. After all, no other band can do edgy, moody, raw animation quite like them. 
"Kites"— Anik Khan
This soft, melodic song is perfect for a weekend of relaxation. You can hear what Anik Khan himself had to say about the song in his interview with Ebro Darden. 
"48"— Moss Kena feat. Jay Prince
"There's 24 hours in a day, can we make it 48?" Literally, same.
"Mercury"— Sufjan Stevens, Bryce Dessner, Nico Muhly, James McAlister
Gemini season isn't for another month or so, but its ruling planet got itself a truly transcendent song. Sufjan Stevens, Bryce Dessner, Nico Muhly, and James McAlister's collaborative effort Planetarium (out June 9) is about to take you places.
"Systemagic"— Goldfrapp
Goldfrapp's Silver Eye album is truly a return to form, pushing the British electro duo to new, mystical heights. "Systemagic" is one of the standouts and Alison Goldfrapp's directorial debut with the video is otherworldly. 
"Paper Love"— Allie X
C'mon, pop princess! Allie X's latest will have you whistling while you werk, even when you know you shouldn't.
"First Time"— Kygo feat. Ellie Goulding
Oh, how we missed the sweet, sweet vocals of Ellie Goulding. Here's the song you'll be hearing all summer.
Cinematography 2: Back In The Habit— Bright Light Bright Light
Bright Light Bright Light puts his ever-positive spin on some of cinema's most beloved cult favorites. This is pure bliss.
"Loyal"— CROOX
Who knew the world was missing a '90s R&B ballad-inspired belter? CROOX did and delivered it with "Loyal." 
"Celebrate"— Ingrid Michaelson 7 AJR
Ingrid Michaelson's infectiously happy 2016 song "Celebrate" gets remixed into ever more of a bop with AJR's help. Throw it back, bbs. This is music that heals.
"So Much Better"— Sandro Cavazza
As if the other singles weren't any indication, Sandro Cavazza's forthcoming self-titled EP (out now) will sweep you off your feet.
"Godzilla"— Anna Lunoe
Anna Lunoe's first track on her own label, HYPERHOUSE, lives up to the label's name. This will leave you shaken, stirred, and turnt.
"Land of the Living"— Plain White T's
Long live pop-punk. Plain White T's return is most welcome.