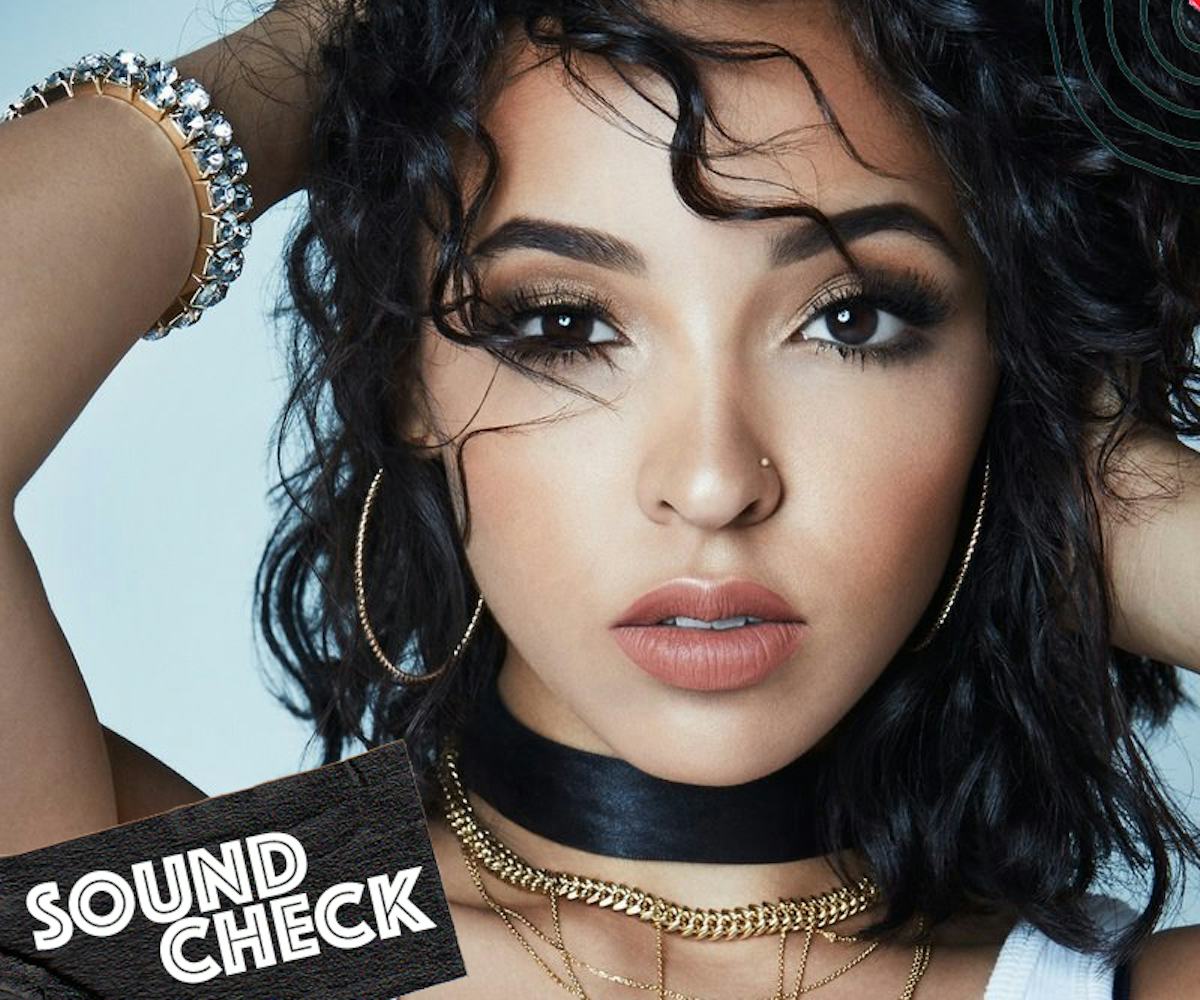 Photo via Tinashe
Soundcheck: The 12 Best Music Releases Of The Week
Tinashe, Danny L Harle, James Vincent McMorrow + more!
Every weekend, we're bringing you #SOUNDCHECK—your new destination for the best of the best new music that hit the web over the course of the week. Because you should always be prepared when someone passes you that aux cord. This week's round features 12 of our favorite emerging and established artists including Tinashe, Danny L Harle, James Vincent McMorrow, and so many more. Turn up, tune in, and tune out.  
"Superlove" - Tinashe
Tinashe is serving some serious "bae watch" vibes in her latest video. The bouncy track features the R&B singer rescuing a variety of men pretending to drown in the ocean. (Honestly, we'd do the same if Tinashe was our lifeguard). Synchronized dance numbers, slow-running sequences, and colorful costume changes inspired by chic early '00s vibes make "Superlove" a contender as one of the songs of summer. 
"Super Natural" - Danny L Harle feat. Carly Rae Jepsen
Pop's most underrated chanteuse makes her grand entrance to PC Music with
's high-octane orchestration. Jepsen's wide-eyed optimism is amplified to cosmic heights as Harle's synths bounce around her. She sounds right at home within Harle's universe. Ride this high for as long as you possibly can.
"Rising Water" - James Vincent McMorrow
As per usual, this Dublin-bred singer-songwriter has us clutching our hearts as every beat flutters in our chest. The visual for his latest single isn't your typical beach day as lovers convey their feelings through the art of dance. In a 
, McMorrow said that it captures "the things we will do in order to move through loss." His forthcoming album, 
We Move
,
drops on September 2.
"Come On" - Sunflower Bean
Julia Cumming's vocals practically float straight to heaven, or whatever place is reserved for the pure. This song is truly a pleasure to listen to, period.
"Free Lunch" - Isaiah Rashad
So smooth, so fresh, so clean. This is the perfect song to have playing in the background if you have company over to set the mood for a chill evening.
"Set The Roof" - Rae Sremmurd feat. Lil' Jon
That pink fur coat is everything. The song is also pretty fly too. Definitely a roof raiser.
"Heaven" - Alpines
The atmospheric sound, R&B melodies, and African-inspired beat make this track a subtle banger. 
"How You Want It" - Kamaiyah
If you need a new song for all your bottle-popping activities, this is it. Pour one out before summer sixteen is over for good.
"The Season / Carry Me / The Waters" - Anderson .Paak
Feed your soul with this song that's rich with flavor and flow. This dope visual looks like a collage, cut and pasted from a family scrapbook.
"Round Whippin'" - A.CHAL 
This dizzying, monochromatic visual pairs perfectly with A.CHAL's slow-winding, hypnotic R&B single. 
"Feel Me" - et aliae feat. Cuushe
Singaporean pianist and producer et aliae brings in the whispery vocals of Japanese pop singer Cuushe for "Feel Me." The resulting collaboration from these two female artists will send you into a late-summer dream state. 
"Broken" - Tritonal & Jenaux feat. Adam Lambert
After an outstanding Chainsmokers feature, Tritonal continues to put out stellar electronic music. This time, the American duo teamed up with Jenaux and got Adam Lambert to lend his vocal talents to a buzzy dance song. It's not often you come across a song as perfectly mixed as this. Go cry on the dance floor, it's okay.