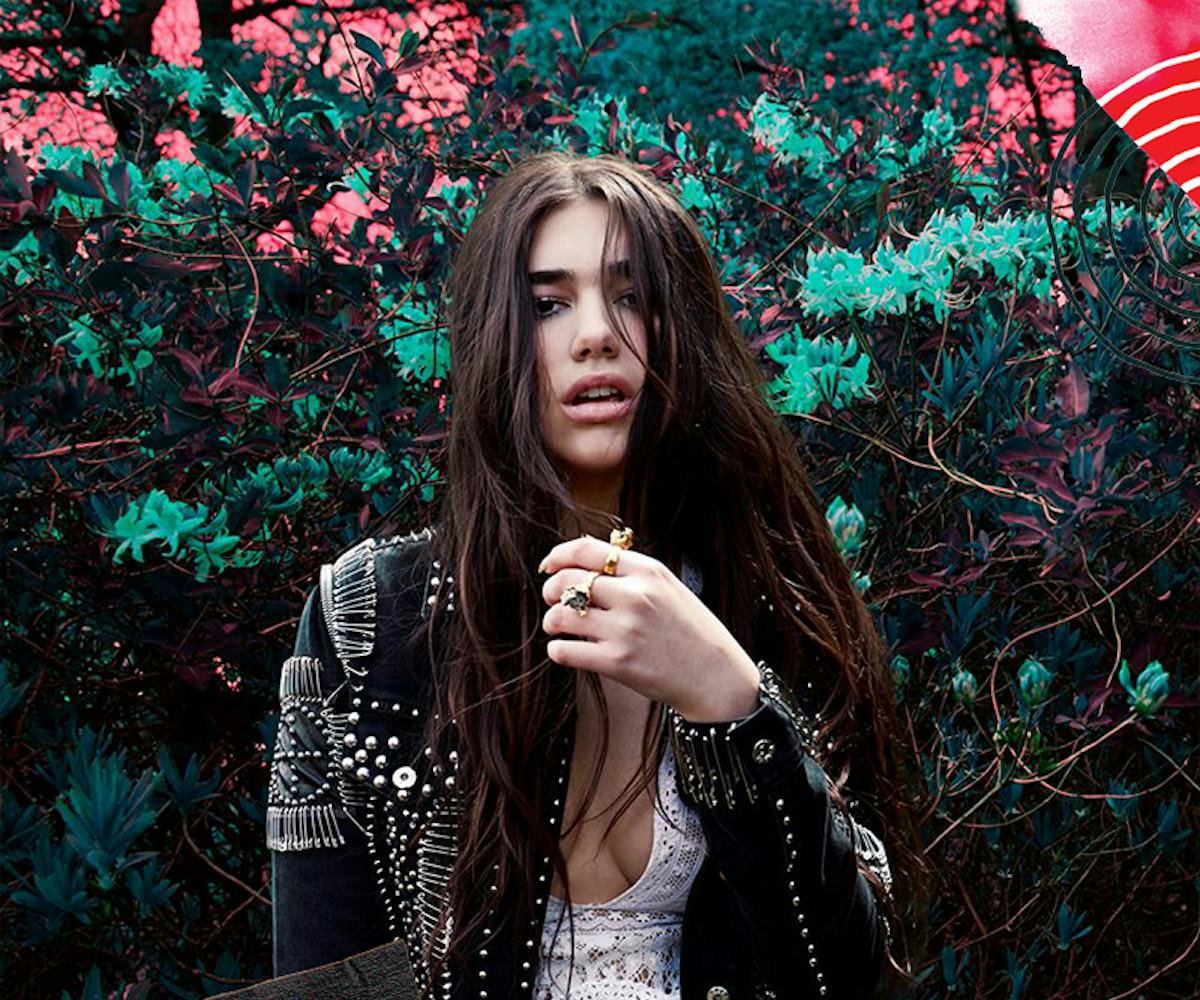 Photo by Nicole Nodland
Soundcheck: The 17 Best Music Releases Of The Week
Dua Lipa, Local Natives, Leikeli47 + more
Every weekend, we're bringing you #SOUNDCHECK—your new destination for the best of the best new music that hit the web over the course of the week. Because you should always be prepared when someone passes you that aux cord. This week's round features 17 of our favorite emerging and established artists including Dua Lipa, Local Natives, Leikeli47, and so many more. Turn up, tune in, and tune out.
"Blow Your Mind (Mwah)" - Dua Lipa
Dua Lipa's confidence is as infectious as ever in her latest single. The track is fresh off her upcoming debut album, due out in early 2017. "Blow Your Mind (Mwah)" is an ode of self-proclamation, which can easily be heard in the super catchy lyrics: "Tell me I'm too crazy, you can't tame me, can't tame me/ Tell me I have changed but I'm the same me, the same me." The fact that this message comes gift wrapped by the London-based singer-songwriter with irresistibly upbeat synths and toe-tapping beats makes it worthy of hitting repeat. Make way for the alt-pop princess, and learn more about her majesty here.
"Coins" - Local Natives
All you really need to know is that this song was inspired by D'Angelo, and it will take your mind to a better place. Don't fight the groove—feel it all around. Sunlit Youth drops on September 9, and your life will be changed forever. To get the full backstory, revisit our interview with the founding members of the band here.
"Money" - Leikeli47
If you don't crank this when the direct deposit hits, what are you doing? Leikeli47 has hit us with another banger, and it's absolutely sensational. Get it, girl. And please, keep giving us more.
Prima Donna EP - Vince Staples
Our favorite rapper reppin' Long Beach, California, has gifted us with a dope EP. We know that everyone is busy with Frank Ocean's album(s), but this is definitely a contender for best release of the month.
"Wild Love" - Cashmere Cat feat. The Weeknd & Francis and the Lights
Could this be the collab of the century? OK, maybe that was a bit of a stretch, but it's definitely a combination that we feel like we dreamed up. Let these dazzling synths and ringing vocals take you to church.
"Burnin' Up" - Mozado feat. Mike TD
To sum it up, this song is the perfect kiss goodbye to the summer. The Pittsburgh-based producer combines elements of energetic guitar, pop undertones, and an infectious house beat that'll have you dancing all the way into autumn. Throw this all in with Mike TD's seductive, raspy vocals, and you've got the recipe for a club banger. 
"Get Right" - Jimmy Eat World
Even though our emo days are long gone, we can't help but miss that familiar feeling of unadulterated teen angst. Luckily, Jimmy Eat World has revived our inner 16-year-old grief with fiery new track, "Get Right." This single is the band's latest in three years, and the first off of their new album dropping on October 21. 
"I've Been So Lost For So Long" - American Football
It's been a long time since anyone has heard anything new from this staple emo band—17 years have passed since they released their beloved debut album. Now, the band is back with the first single off their long awaited, self-titled sophomore album. It's an American Football classic with sincere lyrics, expansive guitar, and a song structure that travels on a lovely winding path of its own. 
Water EP - Porches
Earlier this year, synthpop band Porches released their sophomore album Pools, and now the brains behind the band Aaron Maine is revisiting some of the tracks by releasing his original demos. The production of the tracks feels ambient, giving us insight into Maine's mindset when he first set out to record the album. In addition to the release of the demos, the EP also contains two new songs, relaxing "Black Dress," and the brief, guitar-driven "Black Budweiser T-Shirt." Be sure to check out their new tracks and drown out in the sound. 
"Simultaneous Contrasts" - Warehouse
This past year, Atlanta-based rock band Warehouse set out on tour with indie darling Frankie Cosmos. As one can imagine, fun tour antics and hilarity ensured. Directed by Greta Kline (aka Frankie Cosmos), this music video illustrates the humanity and playfulness of Warehouse with intimate footage taken during the tour, both on and off stage. As the band's fluid riff plays below gritty vocals and we catch clips of them jumping off a waterfall or exploring New York City, it's hard not to fall in love with Warehouse. 
"Tag You're It / Milk and Cookies" - Melanie Martinez
To accompany the eerie, modern lullabies that are "Tag, You're It" and "Milk and Cookies," Melanie Martinez has released a double feature music video, (which she directed!). The video conveys a twisted fairy tale that falls into the big bad wolf meets innocent woman camp, so you can only guess the inevitable fate of Martinez. Nevertheless, Martinez's obvious wit and strong girl power certainly does come in handy. The video may be a bit of a disturbing nursery rhyme, but it perfectly illustrates Martinez's burgeoning creativity and definite vision.
"Not Myself" - Sharon Van Etten
This powerful song was written to honor victims of the Orlando shooting earlier this year, as well as to show support for the Everytown for Gun Safety Support Fund. With its simplicity and striking vocals, the track truly illuminates what she (and so many others) felt following the tragedy.  
"Figures" - Jessie Reyez
Jessie Reyez wears heartache on her sleeve like a badge of strength. Aching, pleading vocals over guitar as minimal as the video itself is the recipe for a raw, real, and relatable single. 
"Run Ricky Run x Higher" - DJ Sliink
Getting signed to a major label is a huge turning point in an artist's career, and with major milestones come major celebrations. In this case, DJ Sliink commemorated his recent signing to OSWLA by getting the label's logo tatted on his forearm. But the party doesn't stop there, as the Jersey club DJ and his Cartel Music crew take Newark by storm, motorbiking and milly rocking to those bass-heavy beats. 
"Dimensions" - Computer Magic
Computer Magic's latest tune sounds like a literal daydream. As the song's lyricism conveys the sentiment of feeling lost in a secret world with a lover, its intricate production and breathy, romantic vocals beautifully convey this sentiment and sweep the listener away to a sweet, relaxing world. 
"Atlantis (feat. Kaiydo)" - Bridgit Mendler
It's been four years since we've received new music from Bridgit Mendler. Since the release of her debut album, Hello, My Name Is..., Mendler has been teasing tidbits of new music to come, and finally, it has arrived. "Atlantis" is a complete 180 stylistically in comparison to the sugary sweet, upbeat songs from her debut album. Now, she's diving head-first into a new sound, immersing herself in hip-hop, electronic, and alt R&B influences that have us floating along with her. 
"Stars" - Project 46 feat. Haley
Euphoria takes a musical form in Project 46's latest single, "Stars."  The song already feels nostalgic to us, as we can see ourselves grooving to this ethereal tune when the weather begins to turn cold. But when that happens, we have confidence that this song will warm us up better than any blanket ever could.