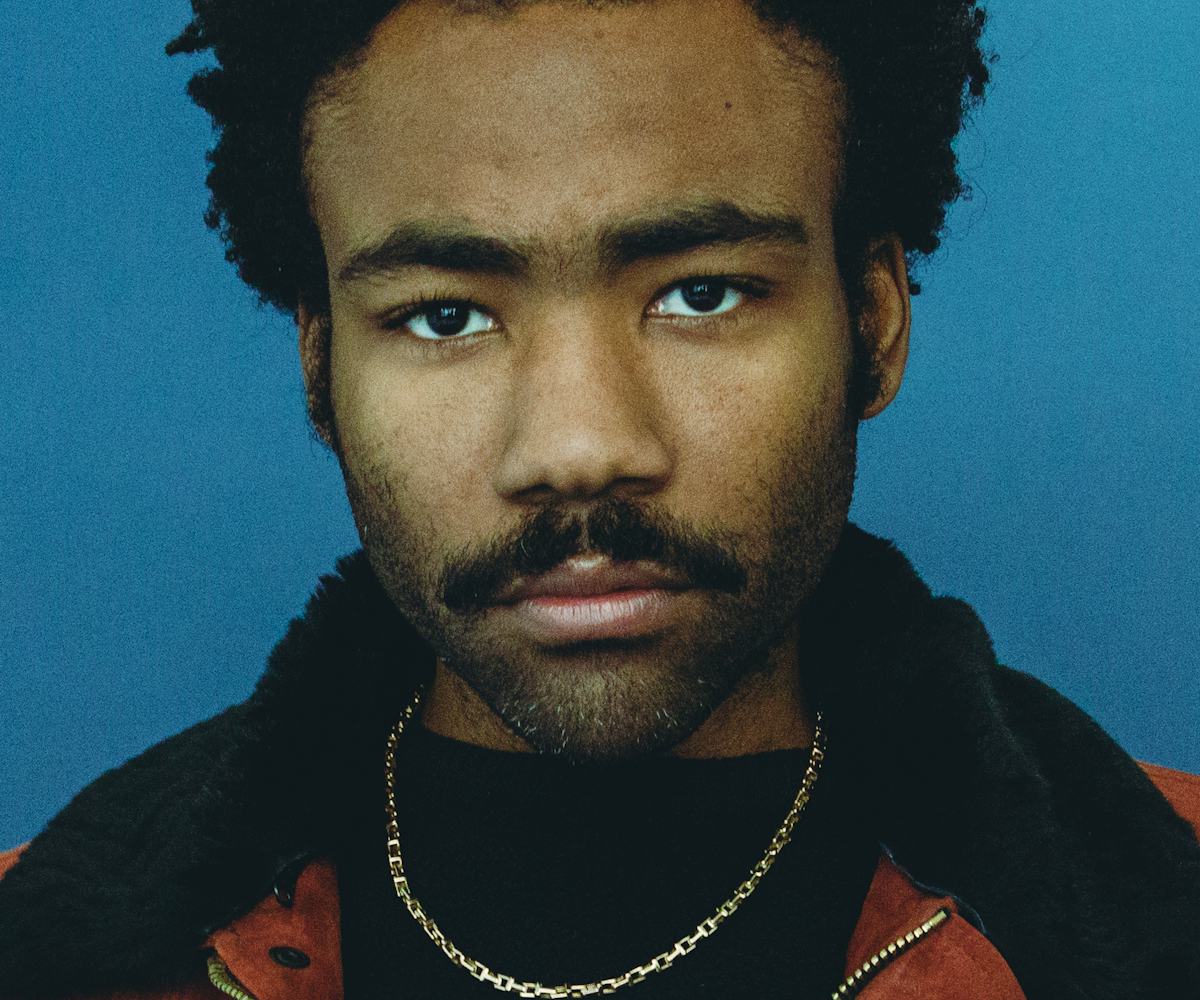 Photo via @donaldglover Facebook
Soundcheck: The 33 Best Music Releases Of The Week
Childish Gambino, Tkay Maidza, Loyle Carner + more
Every weekend, we're bringing you #SOUNDCHECK—your new destination for the best of the best new music that hit the web over the course of the week. Because you should always be prepared when someone passes you that aux cord. This week's round features 33 of our favorite emerging and established artists including Childish Gambino, Tkay Maidza, Loyle Carner, and so many more. Turn up, tune in, and tune out.
Awaken, My Love!— Childish Gambino
For his third studio album some may have thought Childish Gambino would have stuck to the rap genre he began his musical career with, but this time he has taken on a completely different realm of music, creating a funk album inspired by the sincerity of expression that the genre allows for.
"Simulation"— Tkay Maidza 
The Australian rapper released a carefree visual for her new single "Simulation" off her upcoming album, TKAY, due out January 20. Watch as Maidza tries to bring authenticity to a superficial scenario. 
"The Isle of Arran"— Loyle Carner
Spoiler: The image of Loyle Carner holding a newborn baby might fill you with feelings you've never felt before. The video is creepy and charming at the same time, and is a beautiful depiction of the circle of life. The British emcee's debut album Yesterday's Gone drops at the top of next year on January 17.
"YOUNG DEATH / NIGHTMARKET"— Burial 
In his first release in almost three years, U.K. electronic artist Burial has gone almost entirely ambient, and we're loving it. Both tracks, entitled "Young Death" and Nightmarket," sound like the start of something new for Burial as an artist, although they still maintain the darker overtones present in his earlier work. The two tracks leave us in a shroud of mystery and we just can't wait for more.
"On Hold"— The xx
The xx have put out a video for their song "On Hold," and it's a '90s-drenched visual of rural teenage life. It was filmed in the small town of Marfa, Texas, where they recorded some of their album, and directed by the wonderful Alasdair McLellan. It's a picture of love and heartbreak in the Texan heat, and any teenager (or ex-teenager) will find something relatable in its combination of drama and whimsy.
"500 days"— zack villere
The soft electronic pop of zack villere (fka froyo ma) is the perfect soundtrack for days off, so whether you're taking time for the holidays, or just want to feel a little bit of relief in your midday routine, this track is a perfect addition to your playlist. 
"Soothing"— Laura Marling 
Along with the announcement of her new album, Semper Femina, Laura Marling has made her directorial debut with the latex-laden video for her cut, "Soothing." It's a beautiful, perfectly choreographed exploration of the ways two bodies can connect intimately without being particularly or overtly sexual. That being said, it's also distinctly creepy and animalistic—the movements too perfect, the people too still when they are. There's so much about the video that is wonderful, but it may leave you in a different head space than when you started.
"MINT"— KAMAU feat. Talibah Safiya
"MINT" is described by the artist as "a song about romance born naked amongst adversity," something completely apparent given the sultry and romantic nature of the song. It's a simple and loving duet, one not to miss out on.
"Who That Be"— Rich Chigga
Rich Chigga co-directed and wrote this hilarious visual for "Who That Be." The rapper finds himself on a couch with a dog in his lap and other scenarios in this entertaining visual. 
"Azure"— James Scott
This track will definitely have you in your feelings all week. James Scott delves into the realization of morality, a second chance at love, and growth in this taste of his upcoming project, Moon Child. 
"Hoop Nose Ring"— GETOVERHER
Ahead of the release of his debut EP, BLACKWATCHSAD, GETOVERHER released the visual for this song about the diverse women of New York City. Check it out above. 
"Glad We Found It"— GAIKA
GAIKA gets baptised by a female cult in the middle of a forest in this Father-directed video. You have to see it for yourself! 
"Open Your Eyes"— Liv Dawson
Zone out to Liv Dawson's angelic vocals as you travel though her hometown of Shepperton. This chill visual will be the perfect way to end your weekend. 
Home— Obongjayar
The rising artist's debut EP is a combination of spoken word, blues, soul, and hip-hop. The five-track body of work is an eclectic mix of Obongjayar introducing himself to the world as a person and as an artist. Listen to his debut above!
"Doppelgänger"— Ro Ransom
Ro Ransom returns with a track that highlights his versatility as an artist. The catchy tune offers a unique spin on the dancehall beats that have been taking over the radio recently and the ever-changing production will keep you up for days. 
"Evelyn"— Hannah Georgas
Fillmed at Toronto's TIFF Lightbox, an army of Hannah Georgas clones are taking over the world in this Sammy Rawal-directed visual. "Evelyn" is the latest single from her criticially-acclaimed album For Evelyn.
"FAB."— JoJo feat. Remy Ma
JoJo premiered the video for "FAB.," the second single off her recently released album Mad Love, and it shows deep affection for New York's realness. If you're looking for more of JoJo, be sure to catch her on her Mad Love tour starting January 15.   
"Move Together"— Somewhere Else feat. Majid Jordan
Mystery shrouds both the new act Somewhere Else and the surreal visuals accompanying this hypnotizing track. The video, laced in saturated colored lighting, plays with notions of reality as what's thought to be Majid Al Maskati's voice flits between dreamy high notes. If you're looking for a rave-like experience accompanied with Grammy-worthy notions, tune in to this video ASAP.
"Dirty Dirty"— Charlotte Cardin
Take ethereal raw vocals, reverberating beats, and the soul of Amy Winehouse, and combine them. The addicting result of this heavenly combination is "Dirty Dirty." Sung by Cardin, a stunning modern clone of Jane Birkin, the song is sure to be floating throughout your head for days to come.
"Marrow"— Anohni
Politicized Anohni's back, and she's taking no prisoners. In "Marrow," the prolific artist tackles heavy topics like identity, autonomy, and capitalism, chronicling the extremely relevant topics of American patriotism and violence. Seeking to make the lyrics more poignant, the artist cast ultra-feminist Lorraine O'Grady in her video. Not only visually appealing, the song's slow tempo drives home the artist's words. Listen to this masterpiece only when done grieving about November's election—any sooner and you'll be facing an existential crisis.
"Fire"— Justice
Justice broke five years of radio silence with the release of "Fire," a pop ballad infused with layers of '80s synths and nostalgic vibes. The fun song makes us crave the carelessness and warmth that comes along with the summer and its endless beach days. Snagging Susan Sarandon for the video accompanying the track, the four-minute long masterpiece captures the aesthetic of an '80s teen movie, focusing on an epic roadtrip with a hot Sarandon at the wheel.
"Get The Cash"— Sasha Go Hard feat. DJ Rashad
This will be the high-energy banger that gets you through the weekend! The track was recorded before DJ Rashad's death and features a clip of an interview with the producer at the end. Take a listen above. 
"Bad Things"— Machine Gun Kelly feat. Camilla Cabello
The rapper unveiled the video for "Bad Things" alongside Fifth Harmony's Camilla Cabello this week. The duo finds themselves in the middle of a dangerous love affair in a classic bad boy/good girl storyline directed by none other than Hannah Lux Davis. 
"Advice"— Kehlani 
After revealing the title and cover art for her debut album SweetSexySavage, out January 27, Kehlani surprised fans with the release of her latest single. "Advice" follows "CRZY" and "Distraction" in a bevy of releases that do not disappoint. The 21 year old struggles to take her own advice in the Pop & Oak-produced ballad.
"Meant To Be"— Shorty feat. Skepta 
Shorty and Skepta team up for the "Meant To Be" visual. Just like the beach they dance in front of, life brings metaphorical waves into your life and this song is all about going with the flow.
"I Know a Place"— MUNA
The feel-good vibes of your favorite '80s teen movie have been mastered in MUNA's latest single. Beyond the upbeat tempo, the meaning of the song pays homage to struggle for acceptance for every walk of life.
"Been Dat Did Dat"— Cakes Da Killa
Cakes Da Killa is putting all the receipts on the table and telling the world not to disrespect the credentials. "Been Dat Did Dat" is all about not letting others discredit you after having put in the work to warrant your greatness.
"False Prophets (Be Like This)"— J. Cole
J. Cole is paving the way for his upcoming album, 4 Your Eyez Only, with his lead single and visual "False Prophets (Be Like This)." Already, the internet is en route to break. J. Cole probably calls out about 30 fellow rappers in this track but most noteably, Kanye West.
"To Swim"— Petrie
This one's for all those folks who'd rather spend their time with their lover than doing everyday responsibilities. The beat is enough to make you ignore them all.
"Caves (Samuraii Remix)"— Haux
Haux's melancholy gets turned up just enough to vibe out to thanks to Samuraii. The atmosphere is sublime and hauntingly intimate.
"Home Tonight"— Marie Dahlstrøm
Marie Dahlstrøm first caught our attention with "
" a minimalist R&B track that evokes the laid-back soundtrack of the early aughts. "Home 
Tonight
," which premiered last Friday along with her debut EP, 
0.0
, establishes this sound as her signature (this time with a beat that incorporates more contemporary electronic accents) while sensually suggesting that a special someone is going to keep her from going home 
tonight
, and she's not all that mad. Frankly, neither are we.​
"Good Die Young"— Molly Kate Kestner
Life is fragile, and sometimes those living their best are taken away too soon. Kestner has caught attention for her soulfulness at such a young age and released a song to ensure that everyone lives to their fullest potential, especially when tragedy could lie at your next turn. 
"True Disaster"— Tove Lo 
The second single from Tove Lo's latest album, Lady Wood, finally got a visual and it was worth the wait. Directed by Tim Erem, the fiery video sees Tove Lo fighting a destructive battle within herself.