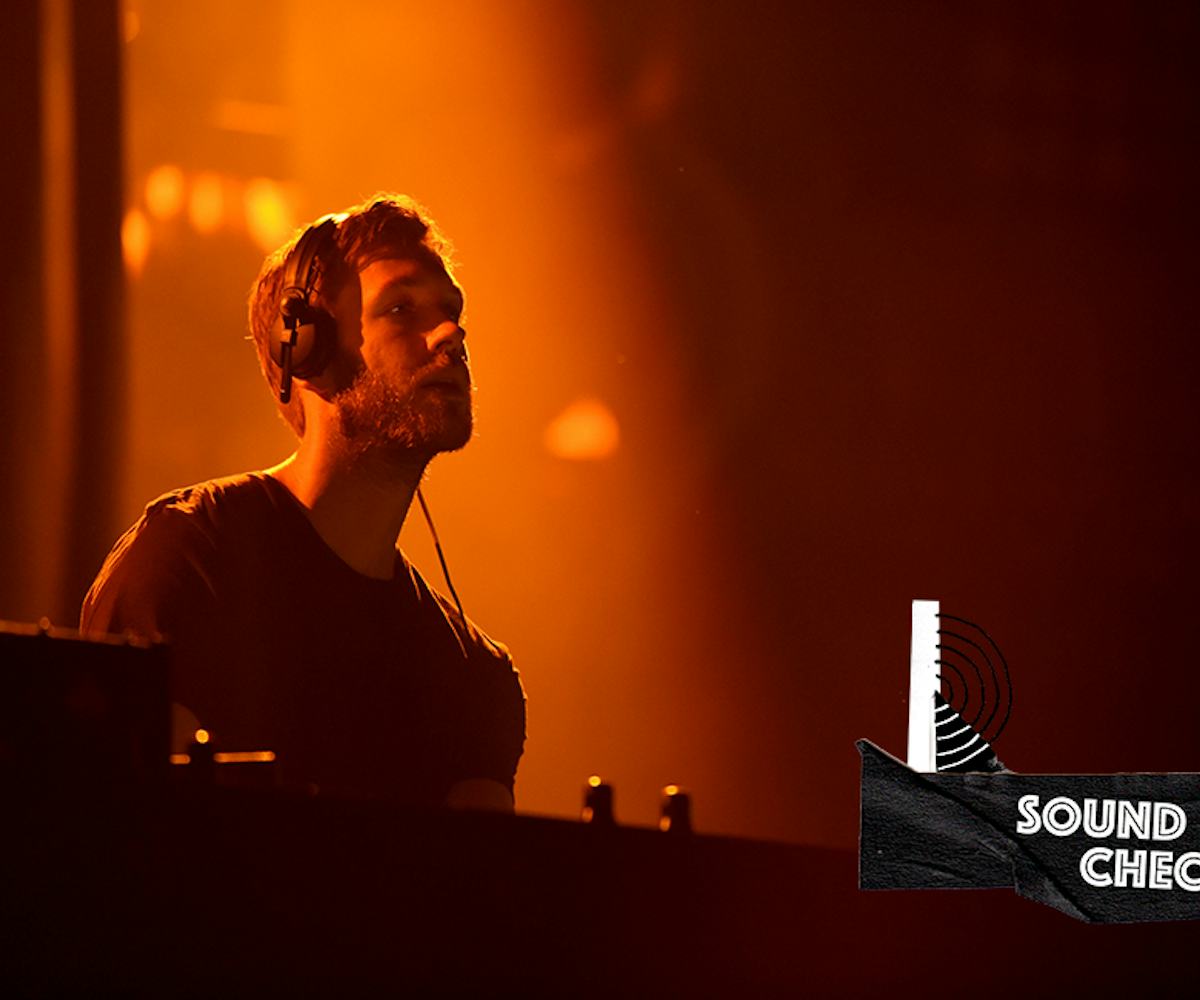 Photo by Cooper Neill/Getty Images
Soundcheck: The 27 Best Music Releases Of The Week
Calvin Harris, Princess Nokia, Kendrick Lamar, + many more
Every weekend, we're bringing you #SOUNDCHECK—your new destination for the best of the best new music that hit the web over the course of the week. Because you should always be prepared when someone passes you that aux cord. This week's round features 27 of our favorite emerging and established artists including Calvin Harris, Princess Nokia, Kendrick Lamar, and so many more. Turn up, tune in, and tune out.
Funk Wav Bounces Vol. 1 - Calvin Harris
Fully equipped with heavy bass lines, bright synths, and star-studded features, Harris' funky new feel-good record is an unforgettable breath of fresh air in the electro-house realm. We'll definitely be sliding and rollin' to your function with this joint all summer long.
LANY - LANY
It's here. LANY's self-titled debut album is finally out, in all its romantic, woeful glory. It's a sincere portrait of we relate to one another in our 20s: messy, thrilling, maddening, saddening, but always hopeful. (You can thank the synth elements for that.)
"G.O.A.T." - Princess Nokia
As if we didn't already know, Princess Nokia proves she really is the G.O.A.T. in this trippy new visual. 
"You and I" - Toro y Moi
Get groovy atop a piano with Chaz in his latest release off his forthcoming record, Boo Boo. 
"ELEMENT." - Kendrick Lamar
Lamar's gorgeous new visual is a colorful, haunting, and honest depiction of violence. 
"Guilty Party" - The National
The sadness is certainly palpable in this new track from The National. But even misery needs a good beat. 
"911 / Mr. Lonely (feat. Frank Ocean)" - Tyler, The Creator
This groovy, toe-tapping new track from Tyler and Frank serves as a reminder that they need to collab more often. 
"watch" - Billie Eilish
Billie Eilish will to give you the strength to move on from a toxic relationship (and light their car on fire) in this bubbling new single. 
"Has To Be Better" - Goldmyth
A classically trained harpist who makes dreamy synth-pop music? Yes please!
"Second 2 None (feat. Christine and the Queens)" - Mura Masa
Christine and the Queens' ethereal vocals on this airy Mura Masa track is perfect for your weekend shindig playlist. 
"Paid" - Sudan Archives
Sudan Archives' fresh vocals over this tribal beat will have us dancing all weekend long. 
Like A Woman - Kacy Hill
Kacy Hill's debut record is a polished, synth-pop masterpiece. Let the waves of her voice wash over you—and try not to drown in all her glory. 
"New York" - St. Vincent
St. Vincent's love/hate relationship with NYC is so relatable it hurts. 
Unplug The Delusional - KISSEY
You might have heard KISSEY's single, "Forget," on the soundtrack to Netflix's hit series, "Dear White People." Now, the Fool's Gold electro-pop artist continues to kick ass and take names in her eclectic new EP. 
"RX" - Grieves
Grieves is gearing up to release his fifth studio album— but not before dropping off this vulnerable new track first. 
"Versace On The Floor" - Bruno Mars vs David Guetta
This funky rework of Mars' dreamy synth pop echoes serious Daft Punk vibes, guaranteed to get you lucky. 
"Back To What I Know" - Neil Frances 
Neil Frances' new single is just what you've been missing. Stream "Back To What I Know," above.
"Masquerade" - Umii
This colorful visual paired with Umii's soft vocals will have you swooning to the snappy beat. 
"Shallow Digger" - Siv Jakobsen
This brooding track from Norwegian songwriter Siv Jakobsen is just like the ocean—constantly rising, swelling, and falling.
"Hunter" - Galantis
Galantis' takes us to where the wild things are for their soft-drop ode to wild nighttime love of a video. 
"Corners Of The Earth (feat. RY X)" - ODESZA
This is some spiritual ish, y'all. A Moment Apart (out September 8) is going to rock your world, physically and metaphysically. 
"Ordinary Madness (RAC Mix)"- Joe Goddard
RAC transforms Joe Goddard's Electric Lines track into a slick warm, whiskey-tinged evening bop. This is what summer should sound like, always. 
Kaleidoscopes EP- Transviolet
Is this one of the lushest electro-pop EPs to come out of the year? It is. "The Hamptons" is brilliant; "Astronaut" is your new anthem for reckless abandon.
"I Dare You" - The xx
We dare you not to get lost in this dreamy visual by The xx. 
"AAA" - The AAA Girls feat. Alaska Thunderfuck, Willam and Courtney Act
Three international drag superstars joining forces for a new musical act? Honestly, say no more. Hang on to your wigs, ladies; these queens are comin' for the charts with Access All Areas (out July 7). 
"Blinds" - Aminé
Take it nice and slow with the Banana Boy in his synth-heavy new track.
"I'll Make My Money Dreaming" - Moons of Mars
Los Angeles indie pop group Moons of Mars brings you the perfect summer single. Treat your ears with "I'll Make My Money Dreaming."