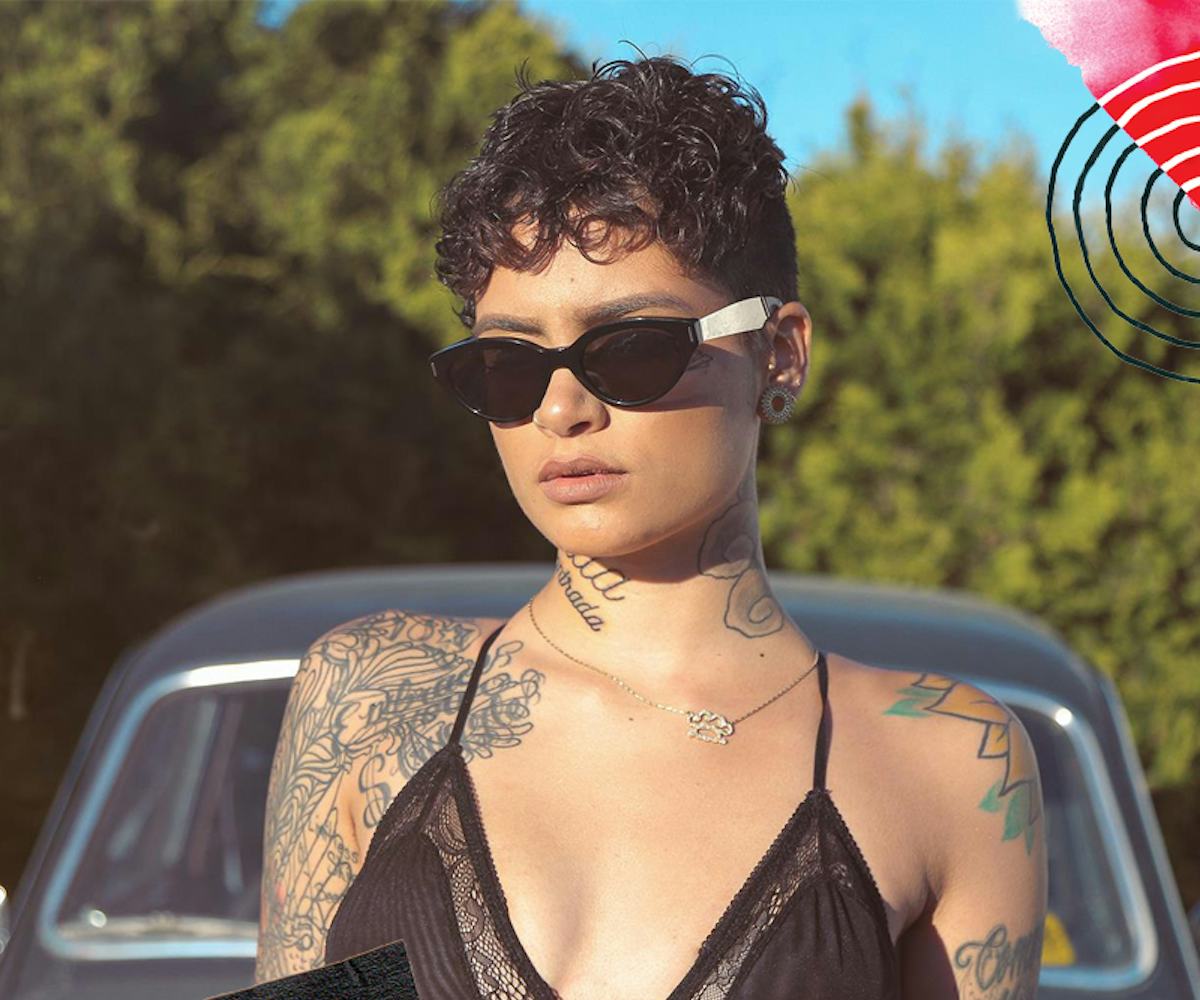 Photo via Kehlani
Soundcheck: The 20 Best Music Releases Of The Week
Kehlani, Lolawolf, Chairlift + more
Every weekend, we're bringing you #SOUNDCHECK—your new destination for the best of the best new music that hit the web over the course of the week. Because you should always be prepared when someone passes you that aux cord. This week's round features 20 of our favorite emerging and established artists including Kehlani, Lolawolf, Chairlift, and so many more. Turn up, tune in, and tune out.
"Distraction" - Kehlani 
Time is winding down before Kehlani's first album drops (finally!), so she's teasing us in the meantime with a follow-up to last week's "CRZY." It stays true to her R&B roots, and could easily hold its weight in rotation with divas from the early aughts. If "Distraction" is any indication, her full-length debut is sure to have us hooked. 
"Teardrop" - Lolawolf feat. Miley Cyrus
For their first single of the year, Lolawolf takes on a signature easygoing vibe to warn a fling that they shouldn't get their hopes too high. "I won't tell you one more time / I'm not trying to make you mine," she sings, assisted by Miley Cyrus, who waxes poetic about the social constructs of relationships (or something like that). Plus, the cover art for the single 
features Jeremy "Prison Bae" Meeks
—so no complaints there.
"Get Real" - Chairlift
Surprise! Your favorite electro-duo is back with a new song to get you in the mood. We don't know if the R&B track is part of a bigger project, but we're here for it. Caroline Polachek slays throughout with lyrics that tug on the heartstrings. "Do you believe in mercy / Then forgive me for being me / And though I don't deserve it / When you hold me I'm free," she sings. If you want to hear more, revisit their Moth LP.
"Perfect" - Bibi Bourelly & Earl St. Clair
Contrary to the track's title, this collab is more about imperfections. In the visual, the artists sing about "brows on fleek" and "eight-inch heels" while lounging in a pristine, all-white room. But as the two point out the cracks in the seemingly perfect picture—a shattered iPhone, chipped nails, even "black" lungs—the room begins to disintigrate until even the two singers are tearing off their own skin.
"1 Thing" - BASECAMP feat. Hoodlem
What do Amerie's "1 Thing" and Shaggy's "It Wasn't Me" have in common? Aside from sharing radio hit status in the '00s, both tracks are featured in BASECAMP's newest single—a smooth, acoustic mash-up of the two classics. The result is a glimmering track that lends a curious sense of deja vu: you'll find yourself knowing every word to the BASECAMP version, yet it sounds like nothing you've ever heard before. In the throwback cover, R&B vibes, whispery vocals, and tropical-sounding guitar strums accompany the track's original lyrics.
"Help Me Find A Way" - Dave B. & Sango
Dave B. and Sango just released the most laid-back album of this summer. Tomorrow is a 12-track album that features smooth production from Sango, while Dave B. effortlessly weaves in and out of his quick-witted rhymes. The next time someone passes you the aux cord, you'll be prepared. 
"It Girl" - Mister Wallace
With '90s dance synths, back-to-back punchlines, death drops, and thigh-high latex boots—Mister Wallace proves he is the It Girl. Bow down.
"Cold Water" - Major Lazer feat. Justin Bieber & MØ
After teasing us by DMing random lyrics to fans on Twitter, the Biebs finally released his new single, "Cold Water." No doubt in our minds that this epic collaboration will be one of the summer's biggest hits. Another success for team Diplo.
"Not Nice" - PartyNextDoor
Rihanna's "Work" may have reignited a reggae influence in Top 40, but we can't exactly give her all of the credit, considering the song was written by Drake accomplice PartyNextDoor. The 'Sauga city crooner is back to assert his authority on "Not Nice," an icy, dancehall-inflected track that chastises a girl who looks nice, but doesn't quite act that way. Complete with a Vybz Kartel sample, this track is bashment ready. 
"Why" - Rooney feat. Soko
Allow Robert Schwartzman to reintroduce himself. Rooney, the band that brought angsty indie hits like "When Did Your Heart Go Missing" to your high school iPod, has emerged from a six-year hiatus to release Washed Away on July 29. In the music video for their latest single, Schwartzman and Soko play a couple on the verge of a breakup. While the visual shows romantic footage of the duo splitting ice cream, dancing, and snapping photos on Venice Beach, the lyrics reveal a bittersweet undertone.
"Hyper Dark" - Sleigh Bells
This badass Brooklyn-based duo is back with their second song of the summer. "Hyper Dark" is a grungy and glitchy track paired with fuzzy guitar riffs, chilling vocals, and twinkling electronica.
"Celestial Creatures" - Wild Beasts
It's been a while since we've caught up with these British rockers, but they've been pretty busy. Their latest single features soft, synth-driven chord progressions, broken guitar riffs, and a steady bassline. Boy King is out on August 5 via Domino Records.
"Bleeding Heart" - Regina Spektor
It's refreshing to hear a song that's not driven by a bassline and synths. Regina Spektor's first new track in what feels like forever finds indie pop's eccentric at her very best. It's a cinematic four minutes with roller coaster highs and lows and is also the first song off her forthcoming album Remember Us To Life (out September 30). Someone get Shonda Rhimes because we found her next emotional drama's theme song.
"What Chaos Is Imaginary" - Harmony Tividad
This single marks the first solo release from one half of the band Girlpool. The synth-driven tune will wind you down as Tividad sings about everything being overrated. 
"Spectrum" - Goldlink
If you've been itching to watch a dance battle, look no further. Your favorite D.C.-based rapper aims to entertain, but this competition is deadly. Directed by Adrian Pereyra, the visual takes us out into the streets where crews are literally dancing for their lives.
"Nada" - Leaf feat. Lil Yachty
In the event that you've been wanting to cut someone loose, this song will rev you up so that you follow through 100 percent. Bye, haters.
"Fantasy" - Kari Faux
We've had our eyes on this rapper since last year, and she continues to deliver dope material. Her latest offering is a cinematic escape with a visual that takes us into her "heratbreak hotel," so to speak. The love beats on.
"Deep End" - THEY.
Fresh off the heels of their debut EP release, this California-based producer/singer duo is keeping the momentum going on their freshest track. "Deep End" is sultry, metaphoric, and hypnotic with raspy vocals that keep us wanting more. 
"Miss Primetime" - Big Gigantic feat. Pell
Saxophone, clean beats, and Pell's sultry vocals. Prepare to melt into a puddle. 
"Lean"- Blonder
New York-based band Blonder brings us a 2016 reincarnation of our early '00s summertime soundtrack with their newest single, Mixing smooth alternative-pop melodies with electronic beats, this song is perfect jamfor long days and nights spent away from all your weekly responsibilities. Viva la weekend!