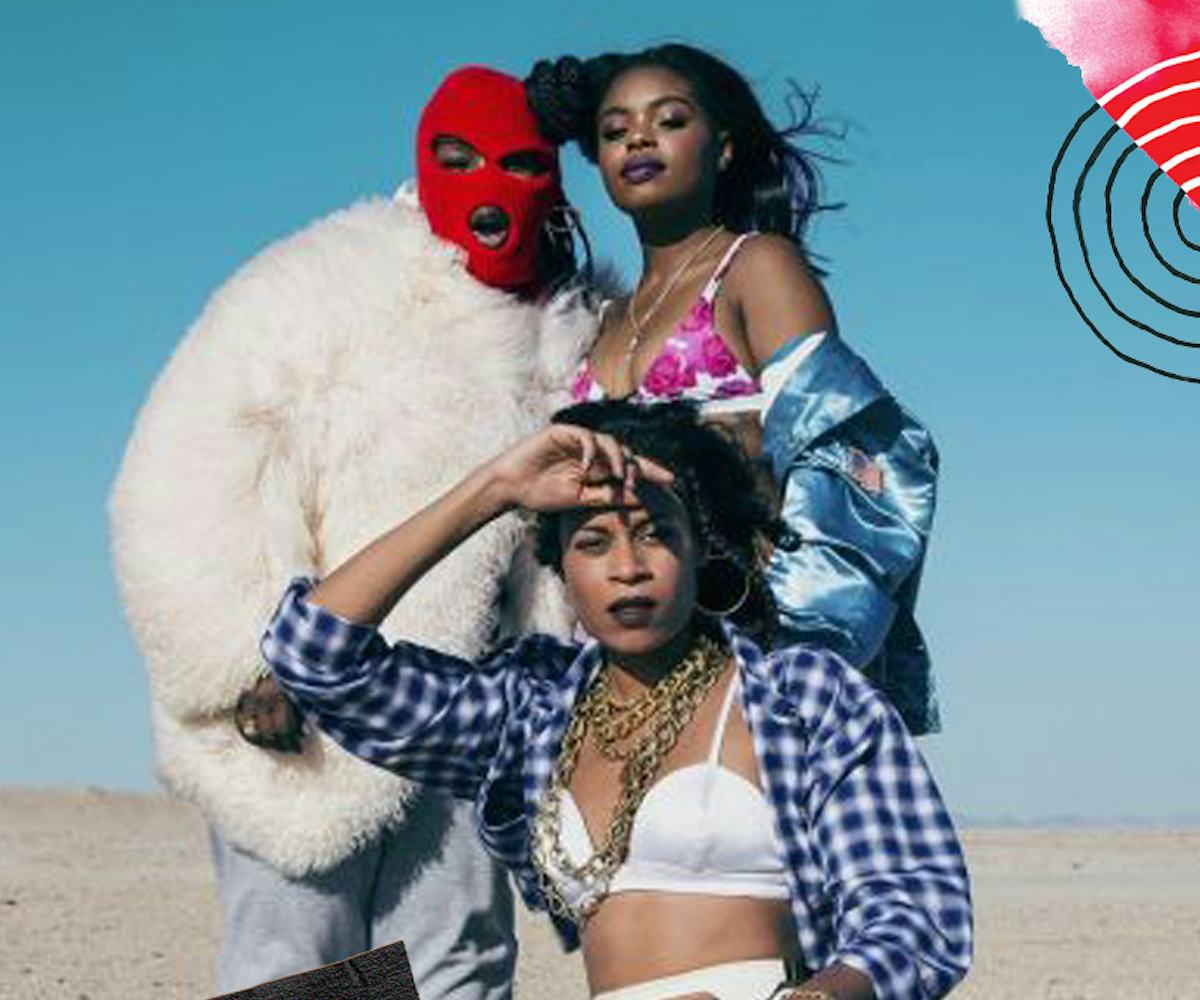 Photo via @alunageorge / Twitter
Soundcheck: The 14 Best Music Releases Of The Week
AlunaGeorge, How To Dress Well, Okay Kaya + more
Every weekend, we're bringing you #SOUNDCHECK—your new destination for the best of the best new music that hit the web over the course of the week. Because you should always be prepared when someone passes you that aux cord. This week's round features 14 of our favorite emerging and established artists including AlunaGeorge, How To Dress Well, Okay Kaya, and so many more. Turn up, tune in, and tune out. 
"Mean What I Mean" - AlunaGeorge feat. Leikeli47 & Dreezy
So much girl power in one place, we can barely contain ourselves.
"Lost Youth / Lost You" - How To Dress Well
We've missed the angelic voice that belongs to Tom Krell. At last, he has returned and will be gracing our ears with Care on September 23 via Weird World/Domino Record Co. 
"Durer" - Okay Kaya
This Norwegian singer-songwriter has treated us to an artful release that reaches past language barriers. The video pits her angelic vocals against striking visuals. The singer takes the stage in the center of a support group, intertwined with Serbian dance segments throughout. 
"The Legend Of" - Diana Gordon
In case you're confused, this is the same person as Wynter Gordon. With this new single, she's leaving her moniker behind and re-introducing herself with her birth-given name. The line "I just got a fat check from Beyoncé" refers to her compensation for coming up with the ever-so-controversial "Becky with the good hair" phrase. Infected with her no-nonsense attitude, Gordon's vocals overlay a trap beat and electric violin arpeggios for a debut that's sure to make it on your list of summer bangers.
"This Bitter Land"- Nas & Erykah Badu
When two Grammy-nominated artists join forces, the product is bound to be stellar. Together, Nas and Erykah Badu have created a slow, symphonic rap ballad titled "This Bitter Land." The track will be featured on the soundtrack for independent film The Land, directed by Nas and Machine Gun Kelly (who also stars in it alongside Badu).
"Projection" - PWR BTTM
This queer punk band has delivered a mellow track infected with Weezer-quality guitar riffs. The band leads into an impressive sequence of guitar arpeggios in the song's breakdown, building up to a garage-rock outro. The solid alt-rock cut is fresh off their debut album, Ugly Cherries.
"Wolf" - SKOTT
After stunning listeners with her brilliant debut single "Porcelain" last month, Scandinavian pop artist Skott is back for seconds. Her follow-up, "Wolf," is equally electric, and features the singer literally howling at her lover's doorstep in a wild, gorgeous anthem. The track has got the same sharp edge that often comes with Scandinavian pop (think Sophia Somajo or Seinabo Sey), and we're into it. It's no wonder the singer-songwriter has nabbed Lorde's seal of approval.
"F*** Apologies" - JoJo feat. feat. Wiz Khalifa
What does JoJo skinny dipping and Wiz Khalifa smoking have to do with each other? We're not sure, but we're totally ok with this combo. This is essentially the entire premise of their joint track, and that's all you really need to know. JoJo's long-awaited album Mad Love is slated to drop on October 14.
"Work" - Rainbow Chan
Clean white kicks, bold red lips, and leather harnesses, oh my. Prepare to be lured in immediately by this Sydney, Australia-based artist. The visuals are brilliantly minimal and feature Rainbow Chan and two dancers moving like serpents from the underground, juxtaposed between striking shots of Chan and company serving face and daring you to turn away. The song itself tips its hat to house, offering a steady beat to groove to, with Chan's voice weaving its way around the rhythm as she croons "You've got to work harder for my love." After this video is over, that's all you'll want to do. 
"The Game" - Oscar & the Wolf
Oscar & the Wolf makes his presence known in his debut song. Dark, yet equally melodic, the Belgian singer's breakout song proves he isn't playing around. With a Neon Gold Records deal, singer Max Colombie's voice will have you hooked on this catchy single.
"Hometown Girl" - ZHU
This soulful cut comes from the producer's just-released album GENERATIONWHY. The subtly groovy track is about nostalgia for an old flame—ideal for those end-of-summer romance vibes.  
"Dang! (Feat. Anderson .Paak)" - Mac Miller
If this single is just a taste of what we can expect from Mac Miller's forthcoming album, The Divine Feminine, we're so ready for the whole meal. The Pittsburgh rapper's slick one-liners complemented by .Paak's raspy vocals over a smooth production really have us feeling the groove. 
"Faint of Heart" - Tegan and Sara
Tegan and Sara have undoubtedly mastered the art of charm, playfulness, and creativity in their music videos. So, it comes as no surprise that they have embodied these wonderful qualities yet again, in the video for "Faint of Heart." And though both sisters usually can be found starring in many of their videos, they sit this one out (literally). Watch above as some famous faces come out and lip-sync to the duo's electric single.  
"Wolves" - Kanye West
Kanye West surprised everyone by unexpectedly dropping the video for "Wolves." The seven-minute black-and-white video was directed by Steven Klein and features famous models, lots of tears, and enough Balmain to the point of it almost reading as a campaign ad. Sia and Vic Mensa also appear in the video, along with Kim Kardashian West and Olivier Rousteing. Find yourself surrounded by the wolves, above.