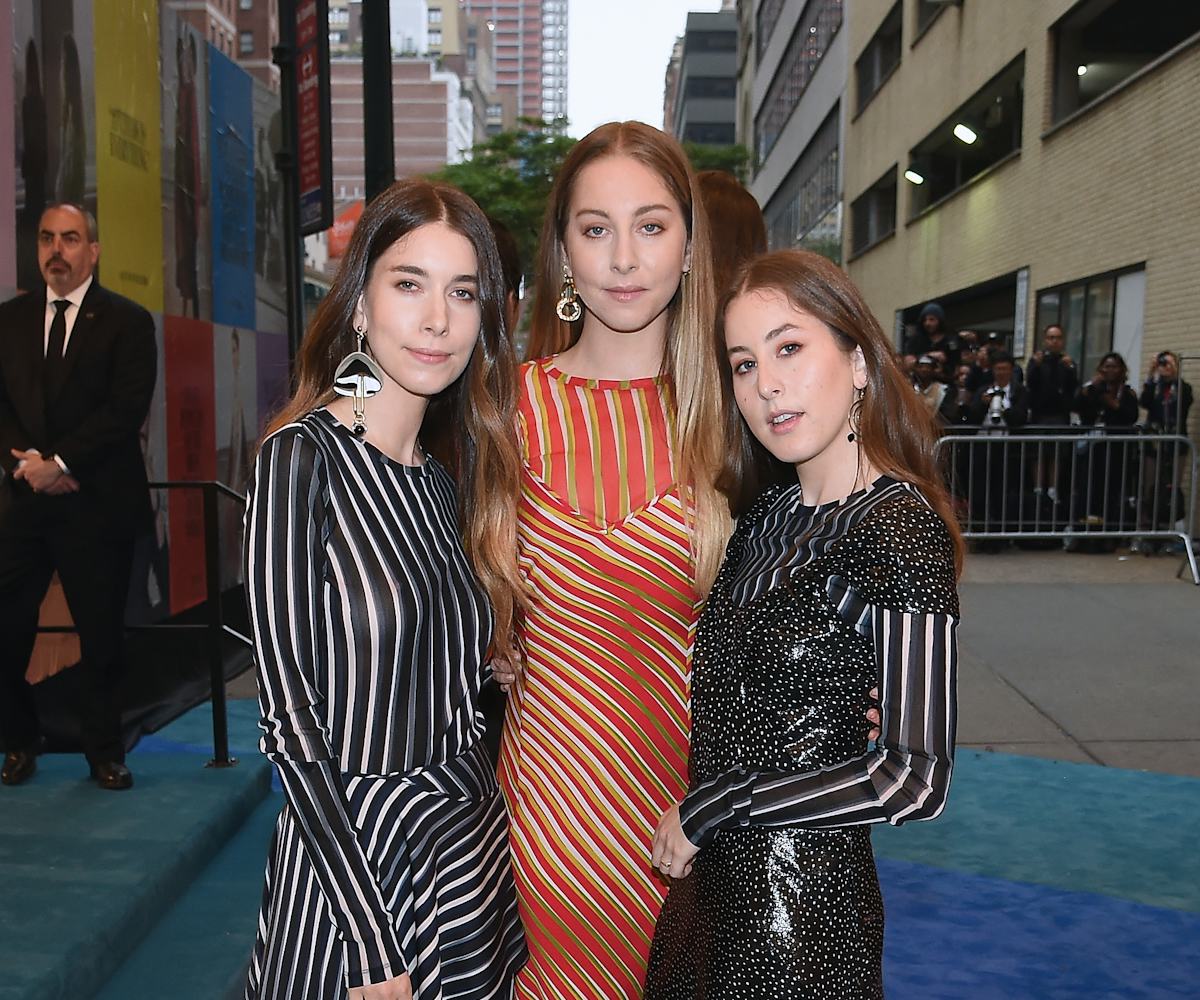 Photo by Nicholas Hunt/Getty Images
Soundcheck: The 28 Best Music Releases Of The Week
HAIM, Toro y Moi, JAY-Z, + many more
Every weekend, we're bringing you #SOUNDCHECK—your new destination for the best of the best new music that hit the web over the course of the week. Because you should always be prepared when someone passes you that AUX cord. This week's round features 28 of our favorite emerging and established artists including HAIM, Toro y Moi, JAY-Z, and so many more. Turn up, tune in, and tune out.
Something To Tell You - HAIM
Well, they did it. HAIM went and dodged the sophomore slump with an album that's rife with heartbreak and self-assurance. HAIM is cool and listening to this makes you feel just like that.
Boo Boo - Toro y Moi
In his dazzling new release, Chaz Bear steps away from the hazy realm of chillwave and immerses himself deep into a bass-driven, synth-pop domain. So, what are you waiting for? Round up your best friends and embark on an impromptu road trip with this record on repeat. Thank us later. 
"Million Miles Away" - Washed Out
This track from Washed Out's third studio album, Mister Mellow, is exactly how the album title implies it might be. Kick back, and enjoy the groove. 
"Can You Hear Me Now" - UPSAHL
18-year-old artist UPSAHL shows off her vocal range in this upbeat, catchy tune about refusing to settle. It's a girl-power anthem you'll want to play on repeat all summer long.
"Literope" - Willow Smith & Telana
This new moody, experimental track is the latest from Willow Smith and Telana, who have been singing and posting videos on YouTube together since 2012. This song proves the duo is all grown up and tapped into something special. 
"Real Life (feat. NAATIONS)" - Duke Dumont x Gorgon City
This collab between dance music favorites Duke Dumont and Gorgon City in collaboration Australian duo NAATIONS, proves that sometimes the more artists on a track, the better. The party jam is an ode to embracing real life over social media, the fun video echoing that powerful statement.
"Blu (feat. Damon Albarn)" - Mura Masa
You'll want to play this soothing Mura Masa tune on repeat as soon as you come home after a long day.  
"Love Is Only A Feeling" - Joey Bada$$
Joey Bada$$ professes his feelings for that special someone over a deliciously smooth beat. 
"The Story of O.J." - JAY-Z
JAY-Z's take on racist cartoons is as brilliant as it is unnerving. 
"Get Low" - Liam Payne and Zedd
Everyone's still wondering what the official "song of the summer" will be, and after listening to Liam Payne and Zedd's new single, we might have found a winner. Whether you're listening to it at the club or alone in your room, you'll be dancing in no time.
"Praying" - Kesha
After a four-year hiatus, Kesha is back and better than ever. With one listen, it's clear her "TiK ToK" days are in the past—her new release is passionate and reflective of finding peace during dark times. We're glad to celebrate her progress and the amazing song that came out of it.
"Airborne" - Cut Copy
Cut Copy returns to music after a four-year absence with this fun synth-pop track.  
"Road Head" - Japanese Breakfast
Michelle Zauner of Japanese Breakfast is tiding us over with this new single while we await her sophomore album. The dreamy indie-pop track is made even better with the strange, sci-fi visual to accompany the tune. 
"Turn Up The Love" - AlunaGeorge
Needless to say, you'll need to turn up this tropical earworm from AlunaGeorge all weekend long. 
"New Rules" - Dua Lipa
Kiss the fuccbois goodbye with Dua Lipa + friends in this charming new visual. 
"Don't Delete The Kisses" - Wolf Alice
"Don't Delete The Kisses" is the second release off Wolf Alice's upcoming album Visions of a Life.  Stream the soft track above.
"Offering" - Cults
Cults have returned to music after a four-year absence, offering this deliciously warm synth-pop ditty. Offering is due out October 6.  
"Summer Days" - Rhye
Planning to stay in all day and dream? Rhye's got the perfect song for that. 
"Plot Twist" - Sigrid
C'mon, redemption! Sigrid's post-breakup middle finger gets itself a triumphant video. 
"Miss Me" - Leikeli47
This bouncing tune is definitely one you scream at the top of your lungs while drunk in the club. Cheers to those unforgettable nights and all the ones to come.  
"Detroit" - Blood Cultures
Rising New Jersey artist Blood Cultures drops off this dark new track ahead of the weekend, and we couldn't be more grateful. 
"Eye To Eye" - Moonrise Nation
Indie folk-pop trio Moonrise Nation is Chicago's best-kept secret, but not for long. Stream their airy new track, above.  
"Knots (feat. klei)" - Filous
Viennese producer Filous and rising pop newcomer klei are a match made in synth-pop heaven. You won't be able to get this dreamy track out your head all week. 
"ASTROLOMIX SERIES: CANCER"- Dylan The Gypsy
Introducing Dylan The Gypsy's monthly mix series based on astrological signs. Since it's Cancer season, this one's filled with vibes made by Cancerians. Let that sink in.
"Iditarod"- Cape Francis
Cape Francis is the former frontman of Stone Cold Fox. Now he's making transformative music rooted in the sublime. This is going to be fun.
"Cannonball (feat. Fantastic Negrito)"- ZZ Ward
The blues are alive and well with ZZ Ward.
"School Girls"- L Devine
You never really escape high school drama and L Devine's new single wastes no time cutting to that chase. The real world is messy, y'all.
"Better By Now"- RITUAL
The latest visual from RITUAL's "No Escape Out of Time" series is its most somber. Part ode to self-destruction and part self-loathing, RITUAL continue to bring true heart to the electronic music scene.