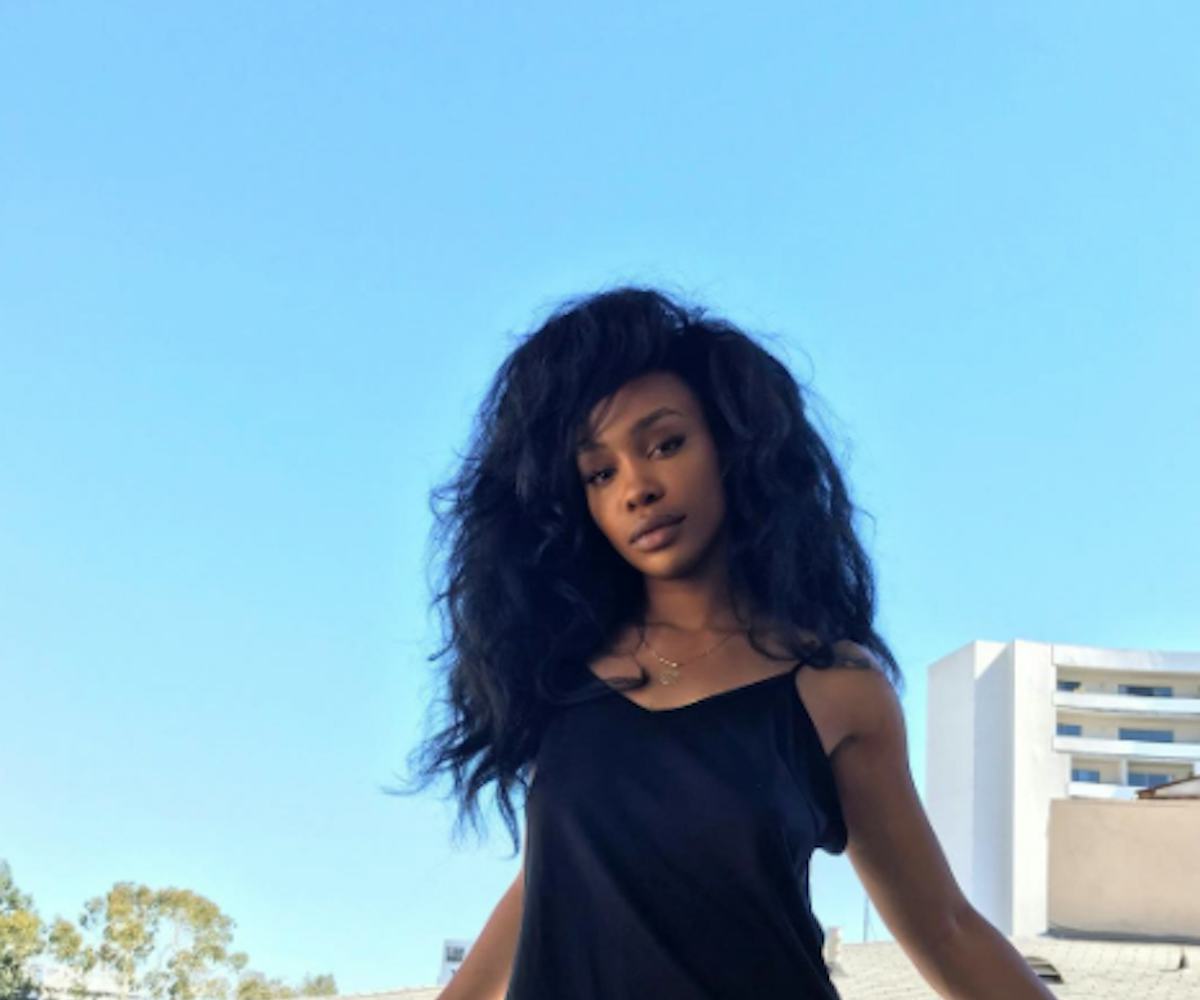 Soundcheck: The 51 Best Music Releases Of The Week
SZA, Kacy Hill, Jorja Smith + many more
Every weekend, we're bringing you #SOUNDCHECK—your new destination for the best of the best new music that hit the web over the course of the week. Because you should always be prepared when someone passes you that aux cord. This week's round features TK of our favorite emerging and established artists including SZA, Kacy Hill, Jorja Smith, and so many more. Turn up, tune in, and tune out.
CTRL - SZA
On this stellar debut album, SZA provides the soundtrack for the struggles of being a 20-something. (Don't let the ghosts of fuccboi's past keep you up all night.) It will fill and break your heart at the same time, but is a remedy to all the pain. The wait was worth it, as if you needed to ask us. 
"We Find Love" and "Blessed" - Daniel Caesar
Let this Canadian singer-songwriter uplift you with double doses of moody inspiration. Both of these singles will have you all up in your feelings. Someone once said "be hungry, not thirsty," and Daniel Caesar certainly follows that rule here. (Highly RIYL Nick Hakim, Rex Orange County, and Jamie Isaac.)
"Teenage Fantasy" - Jorja Smith
Jorja Smith knows how to hit us right in the feels. This cool neo-soul track will take you on a nostalgic trip back to high school. 
"Sober" - Lorde 
Lorde continues to dominate your weekend playlists, this time, with a bouncing, anthemic new track off her highly-anticipated release, Melodrama. 
it
"To the Max (feat. Drake)" - DJ Khaled
The Drake vocals finally came in. Now all we need is Khaled's forthcoming star-studded album to drop. 
Planetarium - Sufjan Stevens, Bryce Dessner, Nico Muhly, and James McAlister
Still wondering about the meaning of life and what your purpose is in this crazy world? Press play and let your mind run free to the sounds of this beautiful masterpiece.
"Hard To Love" - Kacy Hill
The G.O.O.D. Music artist is anything but hard to love in this lyrical new video. Get lost in the creative visual, above. 
"Rain Come Down" - Vince Staples
Vince Staples is back at it again with another banger for your weekend playlist. 
"One Another" - Mac DeMarco
Get really weird and really old with Mac DeMarco in his latest video. 
"Inspired" - Miley Cyrus
Miley's new country-tinged track is dedicated "in celebration of [Pride Month] and the desperate cry for more love in this world." Get inspired by the touching single, above. 
"Unforgettable (J Hus Remix)" - French Montana, Swae Lee, and J Hus
J Hus put a fresh, tropical spin on this summer banger and we honestly can't get enough. 
Saturation - Brockhampton
Brockhampton have been teasing the release of their debut by dropping a new single nearly every week. Finally we've got our hands on the eclectic group's new LP. Kick back and vibe out to the extensive 17-track album.  
"Heaven" - liv
Lykke Li's liv is inspiring us to dream more with this airy new track. 
"Away Away" - Ibeyi
The French-Cuban duo hits the studio pairs their ethereal vocals with Auto-Tune and a heavy electronic production. 
"Girl Like You" - Toro y Moi
Toro y Moi makes his return with a bass-heavy track, "Girl Like You." This new single is the first off up his forthcoming album, Boo Boo, out July 7. 
"While We're Young" - Jhene Aiko
Aiko makes a blissful return to solo music in her latest single, "While We're Young."  We can't stop swaying to this breezy, neo-soul single.
"Not Enough (Feat. THEY.)" - Lido
This new track from Lido and THEY. will make you feel like you're in a cool house party from the '90s. 
"Oh Woman Oh Man" - London Grammar
Our obsession with London Grammar has reached a fever-pitch. This dramatic, grand number seals the deal.
"True" - Jacques Greene
Montreal's very own returns with a Mauries Matos-directed visual for his latest How To Dress Well collab. Can we bring back karaoke and chill? Also, let's make love in the club again.
"Wrong (Feat. A$AP Rocky & A$AP Ferg)" - A$AP Mob
This cool new visual from Rocky and Ferg feels like a presentation straight out of fashion week.
"Together We Can Conquer Whatever" - Diet Cig
Diet Cig just released this empowering track as part of the forthcoming American Girl – Summer Camp, Friends for Life soundtrack, proving that friendship is forever. 
"Exposed (Feat. Nelly Furtado)" - Tangina Stone
Tangina Stone and Nelly Furtado just dropped the ultimate anti-fuccboi anthem. Kiss those toxic relationships goodbye. 
"I Promise" - Radiohead
We were satisfied with just having this unreleased Radiohead track brought to light, but to be blessed with an official music video? We feel truly blessed. 
"Glory" - Bastille
Bastille is back with an anthemic new single that will take you the adventure of a lifetime. 
"Right Now (feat. ELHAE, D.R.A.M., and H.E.R.)" - Snakehips
Snakehips, D.R.A.M., H.E.R., and ELHAE all in one track? We must be dreaming, because this club banger is too good for words. 
"The Gold" - Manchester Orchestra
Manchester Orchestra finally made their return to music after a four-year break. Their new album, A Black Mile to the Surface, is due out July 28. 
"Bourbon (Feat. Saba & Lophiile)" - Gallant
Gallant's soulful, soaring voice is perfectly juxtaposed with a trippy, bouncing production in his latest single. 
Night Time Therapy EP - Ruby Francis
Ruby Francis just released her Night Time Therapy EP, and it provides just that. Kick back and relax with this four-track gem. 
"Lagniappe (Spring Hate)" - Suicideyear
Suicideyear just signed to LuckyMe Records, and lucky for us, that means more music from the Louisiana native. 
"Boyish" - Japanese Breakfast
Japanese Breakfast's dreamy new single will have you in trance all weekend long. 
"BODY" - Luna Aura
"'Body' is about knowing who you are, knowing your inner strength, and knowing you can handle anything that is thrown your way," says L.A. songstress/producer Luna Aura. "The opinions and perception of others will never control you, and you will always come out on top." Now this is a message we can totally get behind. 
"Barf Day" - Diet Cig
Let Diet Cig show you the right way to turn a bad birthday on its head. 
"Fear & Force" - Vagabon
Vagabon's Laetitia Tamko gentle vocals will have you questioning why she wasn't on your radar before. 
"Good Sign" - Charlotte Dos Santos
Charlotte Dos Santos' knack for combining soul-pop, R&B, and jazz will leave you reeling all weekend. Her debut EP, Cleo is due out via Fresh Selects June 21.
"Little Ones" - KWAYE
You can always count on KWAYE to take you on an an '80s synth-pop journey. Be whisked away in his fluid moves, above. 
"Wearing Nothing" - Dagny
Dagny's toe-tapping production is blissfully cheerful.
"Doing Me" - RAY BLK
RAY BLK's new bubbling anthem will have you sashaying away from the haters. 
"devotion." - James Scott
Scott lays it all on the line in this honest new electro-ballad. 
"It'll Cost You" - House of Feelings
House of Feelings brings you an electric and hypnotic production, mixed with  Kristen Yoonsoo Kim's robotic vocals. 
Record Time! EP - Lexie
Greta Kline of Frankie Cosmos teamed up with members of Warehouse to create Lexie. Listen to their new EP, above. 
"Dipped" - Black Fly
Hit a mean two step to this new electro-house track from Black Fly. 
"Others" - Gussie 
Gussie is new to the music scene, but is making major waves with her first single, "Others." Become familiar with the artist in her bouncing first single, above. 
The Manuscript - Vic Mensa
Vic Mensa's new EP was well worth the wait. And featuring heavy-hitters like Pharrell and Pusha T, we know we'll be bumping this all weekend. 
"June" - Tigers Jaw
Tigers Jaw ventures into the wild outdoors in this new video for their catchy single, "June". 
I AM SAM PT. 1 - Sam Bruno
There is not one bad song or beat on Sam Bruno's new EP. Turn it up and walk with an extra bounce in your step.
"All I Got"- Oliver Tree
C'mon, everybody! Let's get weird to the sweet, sweet sounds of Oliver Tree.
"Second Chances" - Rooney
Rooney is the sound of summer. Here's your season.
"Fire With Fire"- FEMME
There's a fury pulsing in FEMME's latest pop confection and it's got danger written all over it. Let's dance.
"New York Pretty" - Bright Light Bright Light
"New York Pretty" is the best kind of pretty and Bright Light Bright Light's penned an anthem for making it in the greatest city on earth. How very... pretty.
"Burn It Down" - Siobhan Sainte
Can't wait for Lana Del Rey's new album? Whet your appetite with Siobhan Sainte's take on moody romance in the meantime. She's got soul to spare.
"Swerlk" - MNDR and Scissor Sisters
To honor the one-year anniversary of the Pulse massacre in Orlando, MNDR and the Scissor Sisters teamed up for a gargantuan benefit song called "Swerlk." What's "swerlk"? It's the work, serve, twirl, swerve, and twerk of life, honey. All proceeds of the song's purchase will benefit the Contigo Fund, a grassroots organization dedicated to supporting and empowering the LGBTQ and Latinx communities in the Central Florida area.