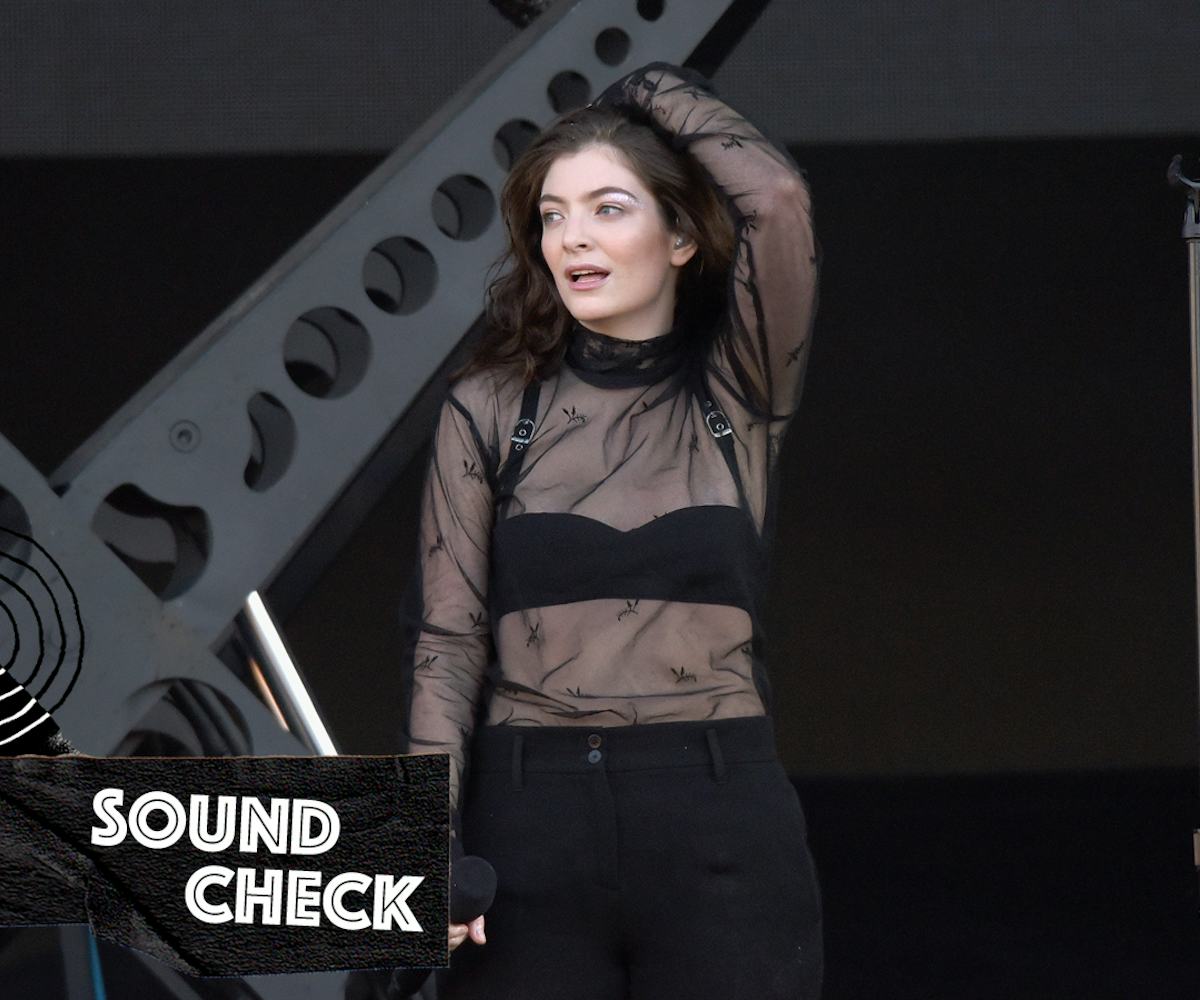 Noam Galai / Getty Images
Soundcheck: The 32 Best Music Releases Of The Week
Lorde, The Killers, Selena Gomez, + many more
Every weekend, we're bringing you #SOUNDCHECK—your new destination for the best of the best new music that hit the web over the course of the week. Because you should always be prepared when someone passes you that aux cord. This week's round features 32 of our favorite emerging and established artists including Lorde, The Killers, Selena Gomez, and so many more. Turn up, tune in, and tune out.
Melodrama - Lorde
Lorde's musical evolution is evident in this stunning sophomore release. Melodrama is a sincere, introspective look into growing up, as she bids adieu to painful memories and searches for pieces of herself that she's left behind. This record was certainly worth the wait. 
BOP CITY 2: TerroRising - Terror Jr
The mysterious electronic trio have taken their stellar debut project and triumphed over it. BOP CITY 2: TerroRising is the future of pop music. It's dark, sinister, sweet, and, like a major theme in all their lyrics, addictive. Welcome to the city where dreams are born, die, and reborn again. 
"Bad Liar" - Selena Gomez
This '70s-style video features Selena as several different characters caught in a strange love triangle, in a way that only Selena could pull off. 
"Feels (feat. Pharrell Williams, Katy Perry, Big Sean)" - Calvin Harris 
Another bubbling, star-studded pop banger from Calvin Harris? Yes, please.
"The Man" - The Killers
In their first single released in the last five years, The Killers tries their hand at funk. Despite the single's name of "The Man," the band is deliberately boyish in their bass-driven single that attempts to answer the question on everyone's mind: "Who's the man with the plan?"
"Teenage Fantasy" - Jorja Smith
The U.K. singer's latest track is sultry and soulful, with a dreamy black-and-white video to match. 
"Hit the Ceiling" - Lion Babe
The New York duo teamed up with Polaroid Eyewear for this video to "Hit the Ceiling," the first track from their upcoming EP. The electro soul song reflects positivity and lots of good vibes.
"Secrets" - The Weeknd
This wine-stained, Kubrick-inspired visual from the Weeknd will leave you in a trance.
"Congratulations (Future Remix) [feat. Quavo and Future]" - Post Malone
This Future remix of this Post Malone banger goes harder than the original.
"DIY" - PONY
This Toronto band gives off major '90s vibes, complete with old-school telephones and overalls, in the music video for "DIY." It's a feminist anthem that won't leave your head all day.
"Westermarck" - Charly Bliss
Charly Bliss, a power pop band from Brooklyn, is on our radar this week for its nostalgic camp-inspired video to "Westermarck" from debut album Guppy.
"Batman" - Jaden
Jaden Smith sports full Batman gear in this elaborate video directed by Moises Arias.
"Wild Thoughts (feat. Rihanna and Bryson Tiller)" - DJ Khaled
Rih, Tiller, and Khaled all over a Carlos Santana sample. Need we say more?
"3/3" - The Japanese House
The Japanese House keeps blessing us with a slick production and dreamy vocals. We could listen to this for hours. 
"Creature Comfort" - Arcade Fire
Arcade Fire released their third single as the countdown to the release of their fifth studio album continues. Strap on your roller-skates and plug in your strobe lights because this one's an '80s throwback! The smooth synthesizers and shouting back-up vocals will surely you grooving.
"No Fear" - Dej Loaf
Dej Loaf's bouncing new single will make you want to take your relationship to the next level.
"Instruction (feat. Demi Lovato, Stefflon Don)" - Jax Jones
Don't let Demi tell you twice! Follow her instruction and blast this energetic dance track all night long.
"Night Call (feat. Lil Yachty and Migos)" - Steve Aoki
Aoki puts his trap music chops to work on this banging new track with Migos and Lil Yachty.
"OMG (feat. Pusha T) - Vic Mensa
This Pharrell-produced single from Vic Mensa is everything a summer rap track should be and more.
"Fuck With You" - Cardiknox
"Fuck With You" is the latest indie pop single from Los Angeles duo Cardiknox. It's pretty much guaranteed to bring everyone to the dance floor at any party.
"western kids" - Hippo Campus
Hippo Campus worked with former Pixar Technical Director, Najeeb Tarazi, to create this virtual reality playground for their catchy new single, "western kids." Embark on the trippy adventure, above.
"Fire Dancing" - Holy Oysters
French psych-rockers Holy Oysters' latest track is a catchy ode to those frustrating moments when you find yourself back at square one.
"All I Can Think About Is You" - Coldplay
Dreamy and atmospheric, Coldplay's romantic new single is perfect for late-night walks with that special someone.
Fake Sugar - Beth Ditto
Beth Ditto's savory new solo album will make you want to dance around your house, Risky Business style. Fake Sugar is the edgy, '00s-style indie record we haven't heard in a long time, and desperately needed.
"Don't Call Me (feat. Yuna)" - TOKiMONSTA
TOKiMONSTA elists Yuna for her haunting pop single, perfect for days that you just want be left alone. Kissing fuccbois goodbye never sounded so good.
"One I Want (feat. PARTYNEXTDOOR)" - Majid Jordan
OVO Sound labelmates Majid Jordan and PARTYNEXTDOOR come together on this bouncing new track. 
GOODPAIN - Yoke Lore
Yoke Lore merges musicality and storytelling in his sophomore release, as made evident by his name. We'll be bound to this EP all weekend long. 
"REDEMPTION"- EZI
Say hello to EZI, the first artist to be signed to Steve Madden's (yep, the guy behind your favorite shoes) new record label, 5 Towns Records. "REDEMPTION" is playful, sad, and made for warm summer nights. Press play and twirl to your own broken-hearted fantasy.
"Paranoid" - Ruby Francis
We can't get enough of Ruby Francis. The way the U.K. neo-soul singer's silky voice pairs with this piano-driven production is something close to perfection. 
"Painkiller" - DREAMERS
DREAMERS delivers a punchy track that'll make you fall back in love with indie music. The swinging beat that drives the song is guaranteed to get you jamming this weekend.
"Out of Love"- INDIIA
Meet Stockholm duo Indiia. Their debut single, above, is about to be your new beachside anthem.
"Good Days" - Smoke Season
Smoke Season is serving serious summertime vibes in their new single.