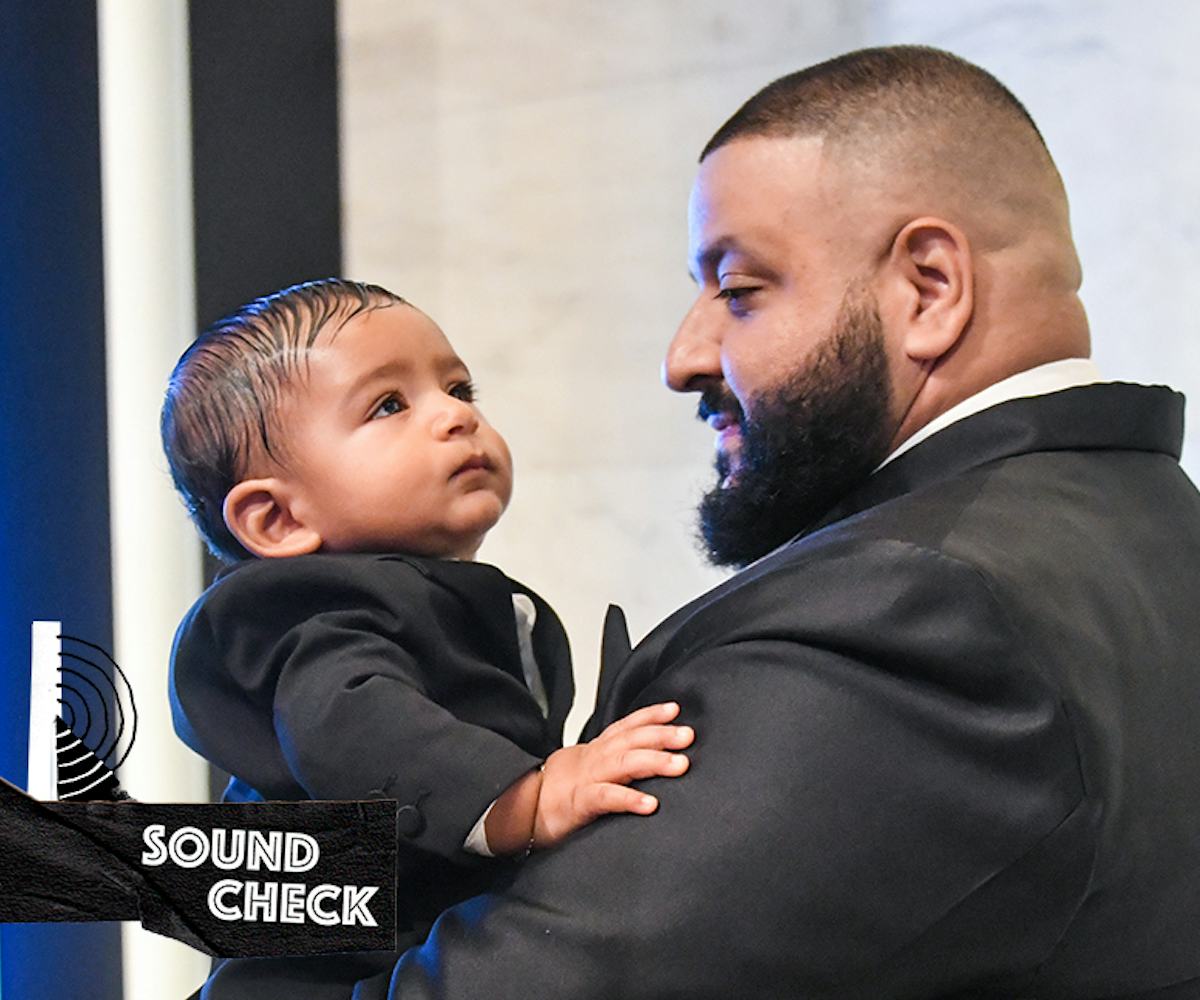 Photo by Mike Coppola/Getty Images
Soundcheck: The 37 Best Music Releases Of The Week
DJ Khaled, HAIM, Radiohead, + many more
Every weekend, we're bringing you #SOUNDCHECK—your new destination for the best of the best new music that hit the web over the course of the week. Because you should always be prepared when someone passes you that aux cord. This week's round features 37 of our favorite emerging and established artists including DJ Khaled, HAIM, Radiohead, and so many more. Turn up, tune in, and tune out.
Grateful - DJ Khaled 
The world has yet to fully digest his star-studded 2016 release, Major Key, but that won't stop Khaled from feeding the people. He's back again with more No. 1 singles, more A-list artists, and a single that's already gone platinum—we're looking at you, "I'm the One." It would be cliché to say we're grateful for this jam-packed record (and we are), so we won't. Instead, let's toast to Asahd Khaled's first executive produced album. Bless up. 
"Drew Barrymore" - SZA
#SZARRYMORE is real and we absolutely need more of it. 
"Little Of Your Love" - HAIM
As if we couldn't be anymore in love with HAIM. Groove to their warm new single, "Little of Your Love."
"Finally" - M.I.A.
M.I.A. presents your new favorite power anthem. You're welcome.
"Don't Stop" - Wu-Tang Clan
Wu-Tang Clan go bar for bar, bringing back '90s-era R&B in this fire new track. 
"Hands" - Father
Get down and dirty in the heat of a moshpit in Father's latest video. 
"All Stars (feat. ALMA)" - Martin Solveig
French DJ Martin Solveig teams up with ALMA to bring you the newest addition to your summer party playlist. 
"Man of War" - Radiohead
This new Radiohead visual will have you checking over your shoulder anywhere you go. 
"Naughty Ride" - WizKid & Major Lazer
WizKid enlists Major Lazer to deliver a bright and sunny feel-good record.
"Disconnect (feat. Marina and the Diamonds)" - Clean Bandit
Marina's voice never sounded so cleaner on Clean Bandit's buzzy new track. 
"Lovers" - Anna of the North
Anna of the North pours out her soul in this new track with blazing visuals to match.
"Cares" - Willow Smith + SZA
Willow Smith and SZA combine their piercing vocals for a short and sweet percussive single. 
"Another Weekend" - Ariel Pink
Ariel Pink takes you on a soft, psychedelic adventure through a strange bar in their latest visual.
"Brave For You (Marfa Demo Version)" - The xx
This homey acoustic tune from The xx is giving us all of the feels. 
"Don't Choose" - dvsn
Satisfy your chill R&B cravings with dvsn's "Don't Choose."
Big Fish Theory - Vince Staples
Fresh off of his the Life Aquatic tour, Long Beach native Vince Staples has arrived with his much-awaited album.
"Trouble" - PARTYNEXTDOOR
PARTYNEXTDOOR makes being bad sound so good. 
"Don't Call Me (feat. Yuna)" - TOKiMONSTA
This effortlessly clean visual of TOKiMONSTA and Yuna has us wishing they collaborated more often. 
"Tremble" - LPX
The visual for LPX's "Tremble" is a colorful whirlwind of expression and vulnerability.
"Don't Need Permission" - Meg Mac
Meg Mac wants you to know that neither she, nor you, need permission to do what you want to do. Now that's a message we can get behind!
"Stuck With Me" - Joël Lobban
Toronto-based alt R&B artist Joël Lobban lays down a slick earworm for you to vibe out to for the weekend. 
Prologue (EP) - Emmit Fenn
L.A.-based singer/songwriter and producer Emmit Fenn's 23 million Spotify streams proves that he is one to watch this summer. And with artists like NYLO and Yuna by his side on this stylish new EP, Fenn certainly is gearing up for electro-pop domination. 
"Your Song" - Rita Ora
Warning: You will fall more in love Rita Ora after watching this quirky, romantic visual for her new single.  
"Champion" - Fall Out Boy
A dose of Fall Out Boy a day keeps the negative energy away!
Universal (EP) - Kintaro
Kintaro's Universal (EP) is a breath of fresh air. Formerly of The Internet, Kintaro's solo endeavor oozes originality. We don't like to play favorites, but one stellar track on this EP is "Mk," partially due to Anderson .Paak's soulful feature. 
"Pulling Me Under" - Kevin Garrett
This stylish new video from rising singer/songwriter Kevin Garrett will get you all the way in your feelings, all weekend long. 
"For Tha Summer (Vol. XXVII)" - Shlohmo
Shlohmo teamed up with Sneeze magazine to create this trippy 25-minute visual, chock-full of mixes with some of raps heavy hitters. Especially dig into these mixes of Mobb Deep (RIP, Prodigy), Rae Sremmurd, 21 Savage, Migos, Young Thug, and more. 
"Coming Back Around" - Tayla
Rising Birmingham act Tayla follows her buzzy 2016 debut, "Call Me Danger," with this gritty new track. Embark on a wild ride with the artist, above. 
Hope For Something (EP) - Panama
Panama's lively new EP is bursting with anthemic, electro-pop tunes that'll make you want to take an impromptu road trip with some of your best pals. Fans of Bastille and The 1975 should make room in their summer playlists for this Sydney, Australia-based artist. 
"Lovesick In A Hotel Wildfire" - Korey Dane
The summer vibes are strong with this one, y'all.
"Phases" - Bianca Monica
Bianca Monica makes her music video debut inside an installation by studioSPACEnyc, directed by The Neo-Noir's Eve Del Prado. Talk about making an entrance.
"Lucky" - O'neill Hudson
The artist formerly known as Paris Carney is back with a new moniker and delicious love song to her husband.
"TIME CHANGES EVERYTHING" - NYLO
Chi-town, come through! NYLO's back and sexier than ever.
"Hallow Fate" - Gin Wigmore
Gin Wigmore and Steve Rusch teamed up for "Hallow Fate." Launching alongside the track is GIRLGANG, a new collaborative project focused on art and female empowerment. For the project, Wigmore chose five artists to create five pieces of work inspired by the new material. Tattoo artist Briana Sargent made the one shown in the album art. 
"Omnion (feat. Sharon Van Etten)" - Hercules & Love Affair
Hercules & Love Affair's new album is coming and here's a taste. It's transformative and enlightening. Sharon Van Etten sounds right at home in this electronic landscape. Omnion drops September 1.
"Cocky feat. Lila Star & The Vixen" - Shea Couleé
Get your 10s, girls. Sashay the runway with this RuPaul's Drag Race star.
"Sugar Daddy" - Gallo
"All good girls want to get in trouble," Gallo sings on "Sugar Daddy." Ain't that the truth. Press play and find the fun in being bad.