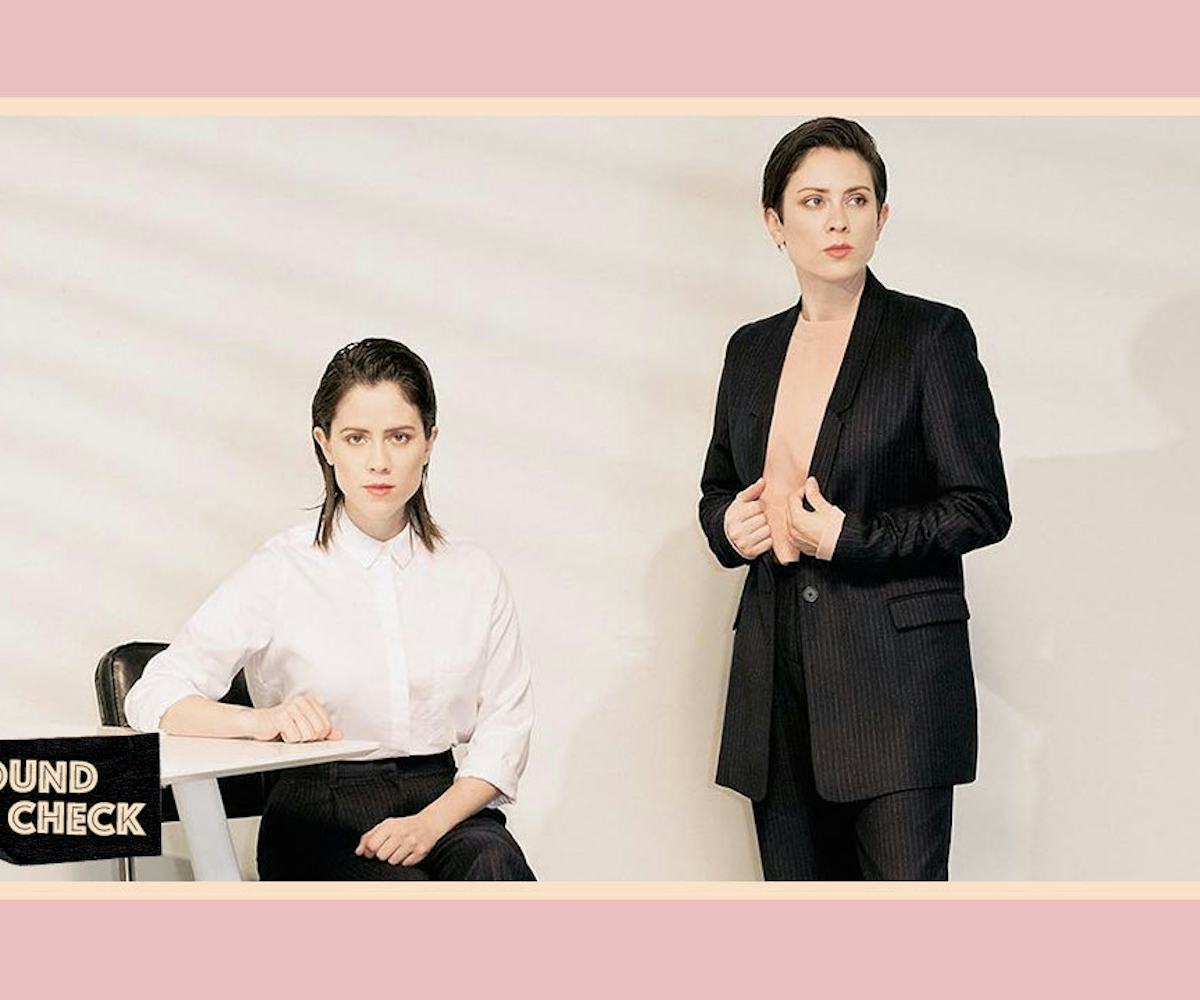 Soundcheck: The 13 Best Music Releases Of The Week
Tegan and Sara, Fischerspooner, Jessie Ware, + many more
Every weekend, we bring you #SOUNDCHECK—your new destination for the best of the best new music that hit the web over the course of the week. Because you should always be prepared when someone passes you that AUX cord. This week's round features 12 of our favorite emerging and established artists including Tegan and Sara, Fischerspooner, Jessie Ware, and so many more. Turn up, tune in, and tune out.
The Con X: Covers - Tegan and Sara
It's no secret that Tegan and Sara's The Con launched them into the mainstream music scene 10 years ago, and this new collection of covers by all your favorite artists, including Grimes, Hayley Williams, Cyndi Lauper, and more, is a true reflection its success. Not to mention, all proceeds from this album go directly to the sisters' foundation geared towards fighting for economic justice, health, and representation for LGBTQ+ women and girls―so you're actually helping people by listening to good music. Press play and get transported all the way back to 2007, above. 
"Togetherness" - Fischerspooner feat. Caroline Polachek 
Fischerspooner's latest offering from their new album SIR is, as Casey Spooner says, overtly homosexual. It's an ode to bedroom politics, the highs and the lows. Caroline Polachek works magic around the light production and casts spells throughout the sexually-charged clip. Oh, and Juliana Huxtable makes a cameo that is not to be missed. Where's that cold shower when you need it?
"Apartment" - Bobi
The Prince-meets-George Michael vibes are strong with Bobi. Here's your 2017 no-holds-barred bedroom anthem.
"Elevator" - K.I.D.
Sometimes carnal attraction trumps romance, blinding you to what's really there. K.I.D.'s latest packages both into a rich two-and-a-half minutes that will have you texting your whatever "You up?" in no time. 
"The Body Is A Blade" - Japanese Breakfast
With its airy warmth and soft melody, we have a feeling Michelle Zauner's latest will still hold its place in your playlist when spring rolls around.
"Green Tea (feat. Angelica Bess)" - Giraffage
Giraffage's slick bass line combined with Bess' ethereal vocals make for one delicious cup of green tea. 
"2" - H.E.R.
H.E.R. reminds us that no unfaithful man is worth spilling tears over. 
"Feelings" - Hayley Kiyoko
Kiyoko is never one to shy away from incorporating the art of dance and seduction into her videos, and her latest is no different. Our only complaint? We need more artists like her! 
Lover Like Me EP - Off Bloom
The Danish electro-pop strikes again in this insanely catchy, club-and-car ready EP. Get those dancing shoes out and prepare to party. 
"Cry For Love" - Harry Hudson
Harry Hudson's sultry debut single is finally here, and we're impressed. From its catchy hook to its slow-burning production, it's clear that Hudson will be one to watch. 
Glasshouse - Jessie Ware
Glasshouse is Ware at her most sophisticated and vulnerable. So grab a glass of wine, kick off your shoes, and be sure to have a box of tissues ready―because you're about to embark on an emotional and unforgettable journey. 
"Anywhere" - Rita Ora
Ora's anthemic new single will have you snapping your fingers all day long. 
Drive Slow EP - Kid Froopy
What's better than one Kid Froopy bop? A whole EP chock-full of them! Getting through your morning commute just got catchier.