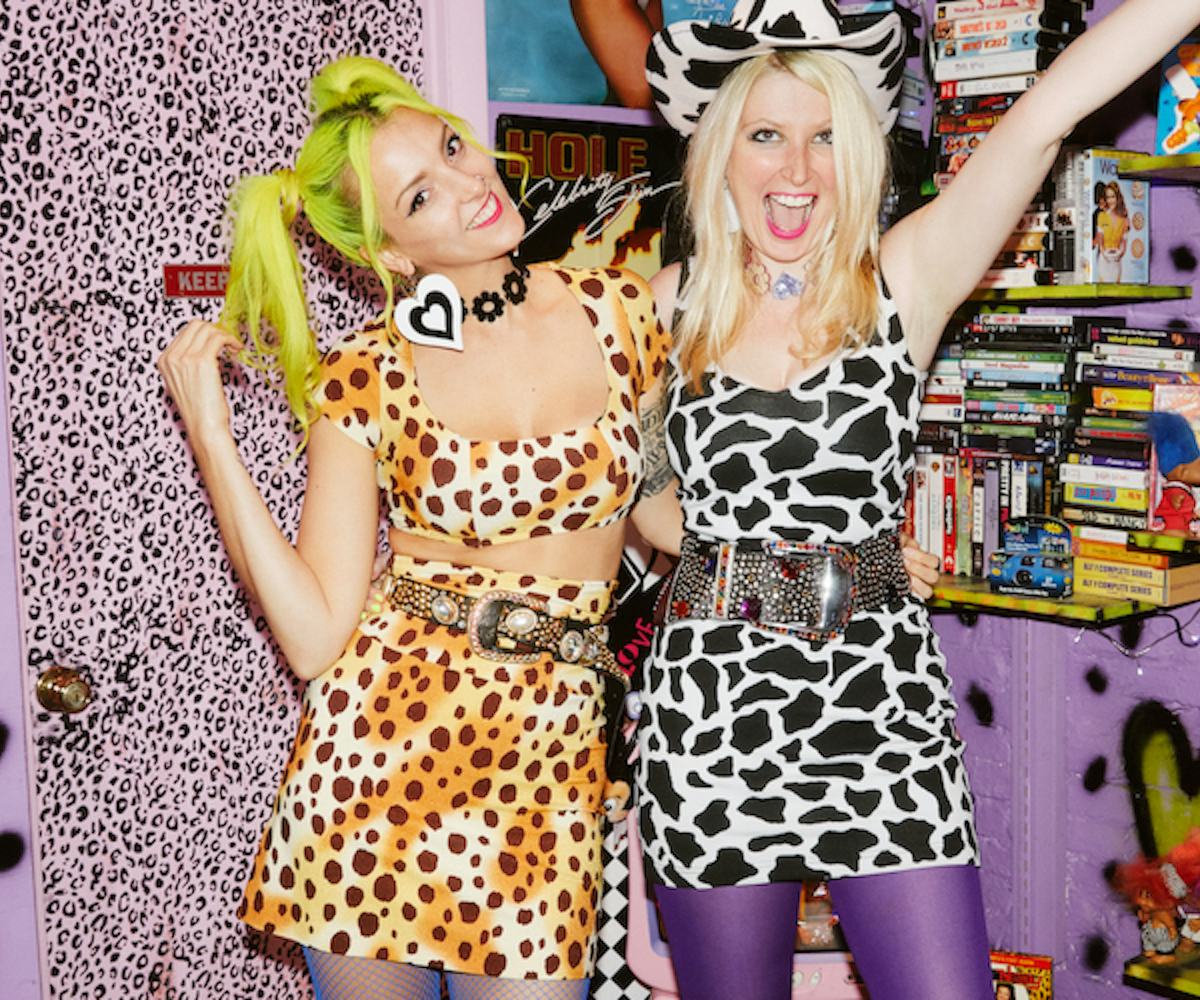 Photo by Eric T. White
Meet Spark Pretty, The Vintage Shop That Lets You Live Out Your '90s Fantasy
One Lisa Frank denim jacket at a time
We love us some Betsey Johnson, so when two of her stylists and avid vintage collectors teamed up to open a vintage store in New York, we just knew it was going to be pure magic.
Amanda Dolan, founder, and Meagan Colby, head consultant, first launched Spark Pretty as an online destination, but when they decided to go brick-and-mortar, they went all-out. First opening its doors this past fall, the East Village shop is a full-on '80s and '90s fantasy. It's over-the-top in the best way possible, essentially taking you on a time-traveling adventure back to the heyday of glam rock and minimalist grunge.
While the shop primarily focuses on carrying pieces from the 1960s through to 1990s, you can't help but feel the '80s and '90s vibe upon entering. The bright colors, glittery crystal embellishments, and animal prints hanging on the racks grab your attention as soon as you walk through the door.
Of course, there's way more than just clothing. The shop also carries quite the collection of rare and one-of-a-kind toys and other treasures, from a shelf lined with Troll dolls to poster-lined walls featuring bands like Hole. Not the mention, they carry every VHS tape you can imagine.
Our personal favorites? The shop's reworked vintage collection by in-house designer Tom Knight, which boasts crystal-encrusted and hand-painted denim jackets, studded and embellished jeans, and feather-cuffed cocktail dresses—all a must if getting noticed is on your agenda.
So, where do they find all of this stuff? For Dolan and Colby, it's a pretty intimate process. "We handpick every item," says Dolan. "We've made it a life mission to seek far and wide, one item at a time. From anywhere possible—from flea markets in London to people's attics all across the country." A shop curated purely by its founders is sure to be full of treasures.
Of course, there are specific criteria when it comes to choosing pieces to carry in store. "The wackier, the better!" says Colby. "If it elicits an instantaneous reaction from us, like 'OMG!' 'Holy Cow!' and 'Whoa!', we know it's coming home. We tend to gravitate toward the colorful, the avant-garde, and over-the-top looks." 
While the two are seriously passionate about the oddities of vintage clothing, there is one thing that they value more: their customers. "The best part [about it all] is sharing our love for zany, outrageous, and vibrant pieces with our customers. It's very rewarding to see our collection live on and bring so much joy to others!" says Colby. Walk in the store on any day, and you'll find a diverse range of people shopping, all with one thing in common: finding that perfect something to make them really, truly stand out.
Should you find yourself in New York, be sure to visit the shop at 333 East Ninth Street. Because, did we forget to mention: There are Lisa Frank denim jackets. Need we say more?