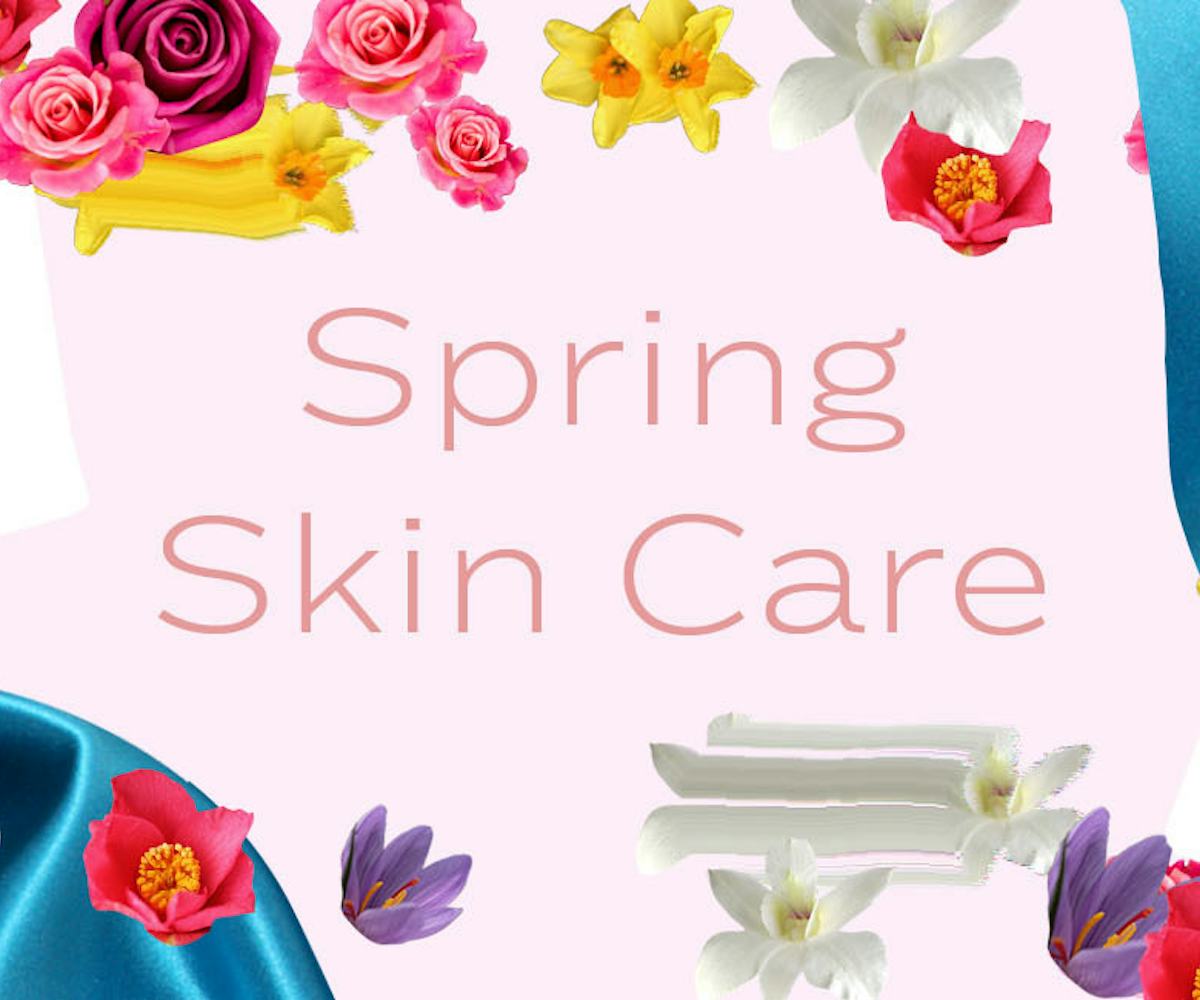 The 7 Skin-Care Trends To Try This Spring
Bring your winter-ravaged complexions back to life
Spring may finally be upon us, but doesn't it feel like our skin is stuck in winter?
Welp, that's because it is. As we begin to make the transition from freezing temperatures and drying indoor heat to sunshine, sweat, and plenty of outdoor activity—there are adjustments to be made to our skin-care routine.
There's the obvious swapping heavy moisturizers for lighter oils, serums, and—our favorite—hyaluronic acid (and don't forget the SPF!), but that's not always the trick to completely reawakening our face. Let's not forget, we also have an entire season's worth of dry, dead skin cell build-up on our face to take care of.
But, fear not! There's plenty we can do to wake up our complexions, as well as protect it from the aggressors that come with spring. We chatted with the experts to get the low down on the latest trending ingredients and products, and why they're so beneficial for the (hopefully) soon-to-come sunshine and warmer weather. Read on, below.
CBD
With the legalization of weed in certain states, it's no wonder that hemp-based ingredients are making their way into the world of skin care and wellness. One ingredient to get to know is CBD, which is reknowned for its calming, anti-anxiety properties when ingested, as well as the fact that it won't get you high. Interestingly enough, it also has a pretty positive impact on the skin. "Here in California, CBD is widely trending as a skin-healing agent, with additional benefits for mind and body as well," says Mo Tresize, in-house holistic esthetician at Shop Good. "When used topically on the skin, CBD is effective in treating acne, nourishing the skin, and calming various inflammatory skin conditions like rosacea, eczema, or psoriasis."
It's basically a miracle worker, especially when the skin is dealing with the shifts from cold and dry winter to warmer weather—which typically involves sweat, sebum overproduction, and clogged pores, leading to acne and blemishes. Dr. Jenelle Kim, founder of JBK Wellness Labs and formulator at HempMeds, explains that our sebaceous glands contain endocannibinoid receptors, meaning their functions are effected by cannabinoids. "CBD can be used to affect the output of oils in the skin. Specifically, CBD inhibits the lipid production in skin cells, making it an effective preventative for acne," she says.
She goes on to explain that CBD is a more powerful antioxidant than vitamins C, E, and A or omega 3 fatty acids, protecting the skin from free radicals such as smoke, UV rays, and environmental pollutants—something we're faced with more commonly in warmer weather.
Try this: Cordial Organics, Nourish Facial Oil, $44, available at Cordial Organics.
Crystal tools
Crystal-infused beauty products have been having a moment for a while now (you know, ever since that whole spiritual wellness boom). But now, rather than infusing crystals directly into the product, crystal tools are having a moment in the spotlight. Just take a look at your Instagram feed if you don't believe us.
"We're seeing a LOT of gemstones," says Merrady Wickes, head of education at Detox Market. "Facial rollers are blowing up, and once you use one, you know why." She goes on to recommend keeping your roller in the freezer to help combat morning puffiness as well as fight those headaches that come with seasonal allergies.
While the roller has become increasingly popular, the gua sha tool is what's really putting in the work—and has been for thousands of years. "It's an exciting time in skin care, as the hottest skin products are actually not new, but simply a throwback to ancient practices that have been around for thousands of years," says Tresize. "A great example of this is the gua sha tool, which we use in our wellness gua sha facials. By stroking a hard stone tool with pressure over facial oil, clients will see increased blood circulation, detoxification, and suppleness while moving any stagnation in the skin." Sounds like the perfect spring-cleaning facial to us.
Try this: Skin Gym, The Blue, $32, available at Detox Market.
Lilac stem cells
When it comes to swapping out products between winter and spring, Myriam Zaoui Malka, co-founder and CCO of Dr. Loretta, suggests bringing lilac stem cells into your skin-care regimen.
Not only do they help to combat excess oil—something we all deal with as the weather gets warmer and we begin to sweat, but they also help to fight free radicals. "Lilac stem cells have strong antioxidant, anti-inflammatory, and cell regenerating activity and regulate sebum production," says Malka.
Try this: Dr. Loretta, Anti-Aging Repair Serum, $110, available at Dr. Loretta
Fruit enzymes
As we first enter spring, our skin is typically not looking its best. Rough winter conditions can be pretty harsh on our complexions, and they don't just go away overnight. "After winter, your skin will be dehydrated and sensitive and will have accumulated dead skin cells that lead to an uneven, dull complexion," says Malka. For this, she recommends focusing our attention on exfoliation for total skin refresh.
To achieve a brighter and more even complexion, Malka recommends opting for an exfoliating chemical peel that contains fruit enzymes such as papain or bromelain. These'll remove those dulling dead skin cells and dirt to give your face a spring awakening sans any harsh chemicals.
Try this: Saturday Skin, Rub-A-Dub Refining Peel Gel, $28, available at Sephora.
Probiotics and prebiotics
The importance of gut and microbiome health and the role that probiotics play in it has been a heavily discussed topic over the past couple of years, including how microbiome health links to the skin. But while many of us know that what happens in our gut affects our skin, what some may not know is that our skin has a microbiome of its very own that we also need to take care of. (Yes, we hate to break it to you, but there are currently tons of bacteria living on your face.)
Probiotic-infused skin care products were trending last year for this exact reason, and now, prebiotics are also being thrown into the mix. But what are prebiotics? "Prebiotics are ingredients that nourish probiotics, or 'good' bacteria," says RealSelf contributor Dr. Sejal Shah. "This helps maintain a diverse microbiome [which means many types of good bacteria are present] which is important to keeping the microbiome healthy."
But, bringing it back to the gut, ingestible supplements that improve our skin by way of gut health are also growing in popularity. Hannah Brady, house beauty expert and esthetician at Credo believes that these will continue to trend this spring. "I think we'll be seeing more and more brands formulating ingestible supplements to help support skin health internally, which is so important. These can contain things like probiotics and antioxidants, which studies have shown can help with chronic skin conditions."
In a season of renewal, sometimes it's best to start from the inside out.
Try this: Oskia, Micro Exfoliating Balm, $72, available at Barneys; RMS, Beauty Within Probiotic+Prebiotic, $64, available at Credo.
Masks containing AHAs and BHAs
Face masks have been popular forever and AHAs and BHAs have been in the spotlight for some time, but both of them merging together is what Tara Foley, founder and CEO of Follain, feels will reign this spring. "Masks continue to be super popular as women bring facials into their homes more regularly, and love to take selfies with them too," she says. "Exfoliating, resurfacing AHA and BHA masks will rise to the top as people try to shed the dead skin of winter."
Try this: Tata Harper, Resurfacing Mask, $58, available at Follain.
Blue tansy
Essential oils have been rising in popularity in terms of skin care, but Brady is finding that one in particular is having a moment—and for good reason. "I'm seeing essential oils such as blue tansy being utilized in a lot of skin-care formulas," she says. "This ingredient comes from a type of chamomile and is ideal for breakout-prone, stressed skin that needs to be soothed."
With winter's stressors still wreaking havoc on our skin, we're ready to douse ourselves in it.
Try this: Herbivore, Lapis Facial Oil, $72, available at Credo.