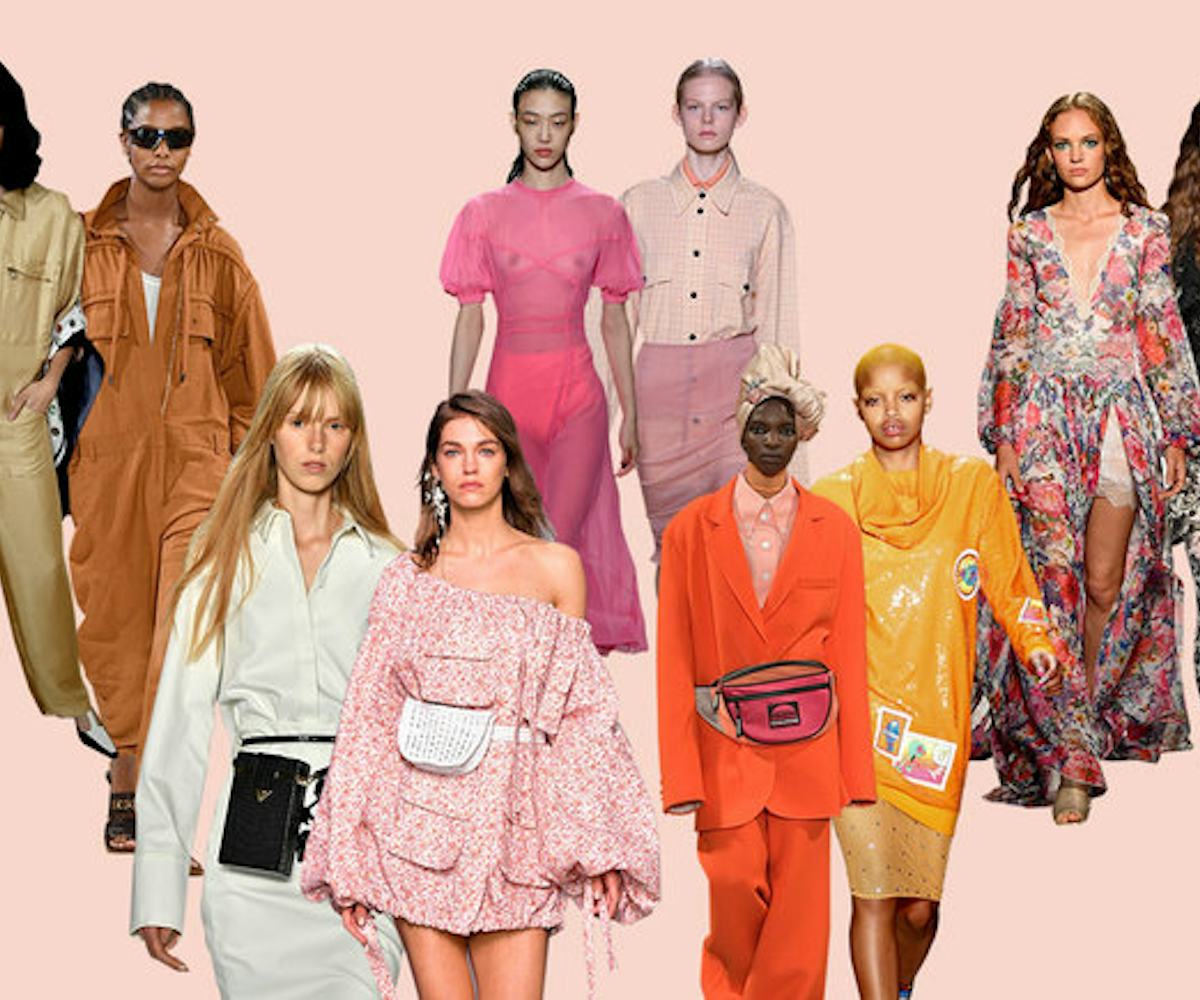 The Spring 2018 Runway Trends You Can Already Start Shopping
Because impatience is real
Spring Fashion Month can seem complicated for a shopping enthusiast. Here we are, fresh from summer and excited for the temperatures to drop, the leaves to change color, and all the layered dressing to ensue. And then, the spring shows happen.
How are we supposed to focus on meticulously building a wardrobe of cozy sweaters, holiday party dresses, and cute-but-Arctic-appropriate outerwear when we've just spent a month drooling over pastels, flowers, and all things bright and sunny? It's tough, to say the least.
However, there's no need to be discouraged. For those of us who wish to be ahead of the curve (or are just, well, impatient AF), we put together a guide for shopping some of Spring 2018's top trends, but with a fall spin. (Well, the practical ones, at least.) For some—especially us New Yorkers—shorts suits just won't cut it on colder days. But traffic cone-inspired shades of orange? Yes, please. How else are we going to stand out in all of those impending blizzards?
Below, five Spring 2018 runway trends that you can start shopping (and actually wear) today.
Hippie Hippie Hourrah
The '70s are back, and this time in the form of the romantic, bohemian hippie. Designers such as Anna Sui and Tadashi Shoji sent their girls down the runway in floor-length florals and dreamy layers that exude the hippie spirit, but in an ultra-feminine, polished way. Bring on the winter florals and maxi skirts!
1. Alice And Olivia,Lakita Raglan Tiered Tunic Dress, $395, available at Alice And Olivia.
2. ASOS, Maxi Skirt in Mix And Match Print, $56, available at ASOS.
3. Self-Portrait, Camo Lace Button-Front Cold-Shoulder Frill Top, $410, available at Neiman Marcus.
4. & Other Stories, Mini Paisley Dress, $115, available at & Other Stories.
Transparency Is Key
We know what you're thinking: sheer? For fall? Is that weather appropriate? The answer, friends, is layering. Sure, Victoria Beckham's completely sheer pencil or puff-sleeved see-through frock à la Prabal Gurung might not make sense in colder temperatures, but you can certainly seek out a few transparent pieces to sprinkle into your fall looks. Let your sheer turtleneck peek out of your cropped sweater, or throw a mesh, oversized dress over your button down and jeans. The trick is to layer, layer, and then layer a little more.
1. Plain Studios, Long Sleeve Top in Sheer Mesh, $29, available at ASOS.
2. Maryam Nassir Zadeh, Luna Blouse, $450, available at Maryam Nassir Zadeh.
3. Oh Hey Girl, Mesh Tutu Dress, $73.01, available at Oh Hey Girl.
4. M Essential, Sheer Tulle Skirt, $385, available at Opening Ceremony.
The Belt Bag
There's no denying that the belt bag (AKA, the fancier way of referring to your fanny pack) has been on the rise for the past few seasons. As fashion month closed earlier this week, it was clear that this trend is here to stay—and likely to remain for seasons to come. While Noon by Noor presented us with polished, structured styles and Zimmermann showcased some hippie boho pieces with its breezy spring dresses, fall's current offerings run the full spectrum. From sporty to quirky, to luxe AF, it's possible for your personal fanny pack dream to come true.
1. Zara, Solid-Colored Belt Bag, $29.90, available at Zara.
2. Gucci, Blue Velvet GG Marmont Matelassé Belt Bag, $980, available at Ssense.
3. Building Block, Beltpack, $395, available at Building Block.
4. Fydelity, Belt Bag, $15, available at Urban Outfitters.
Code Orange
In case you were wondering, the idea of all things dark and drab making up the fall winter color palette is over. Way over. While we already know that fire engine red is a major color trend for Fall 2017, why not turn up the heat a bit with Spring 2018's, as seen at Marc Jacobs, Jeremy Scott, and (many) more? Try it in the form of a shoe, a puffer jacket, or a bag. The possibilities are endless—and you'll be sure to stand out in a sea of black and gray.
1. Urban Outfitters, Lady Lava Covered button-Down Velvet Midi Dress, $129, available at Urban Outfitters.
2. Nicholas Kirkwood, Beya Loafers, $475, available at Farfetch.
3. Zara, Puffer Jacket, $119, available at Zara.
4. Haerfest, Persimmon Eva Tote, $495, available at Bona Drag.
Working Girl
Utilitarian jumpsuits are back in a big way, and to be quite honest, nothing could be more perfect outfit choice for a gloomy, cold day. While Rosie Assoulin's khaki version feels like a genuine worker's suit, Stella McCartney's cozy hooded and oversized version is just, well, magical. Lucky for us, all sorts of utilitarian-inspired one pieces are for sale, now.
1. Free People, Ashleys Romper, $108, available at Free People.
2. Ganni, Charron Zip Front Jumpsuit, $280, available at Need Supply Co.
3. Rachel Comey, Barrie Jumpsuit in Multi Camo Ripstop, $495, available at Rachel Comey.
4. Toit Volant, Frances Jumpsuit, $258, available at Toit Volant.