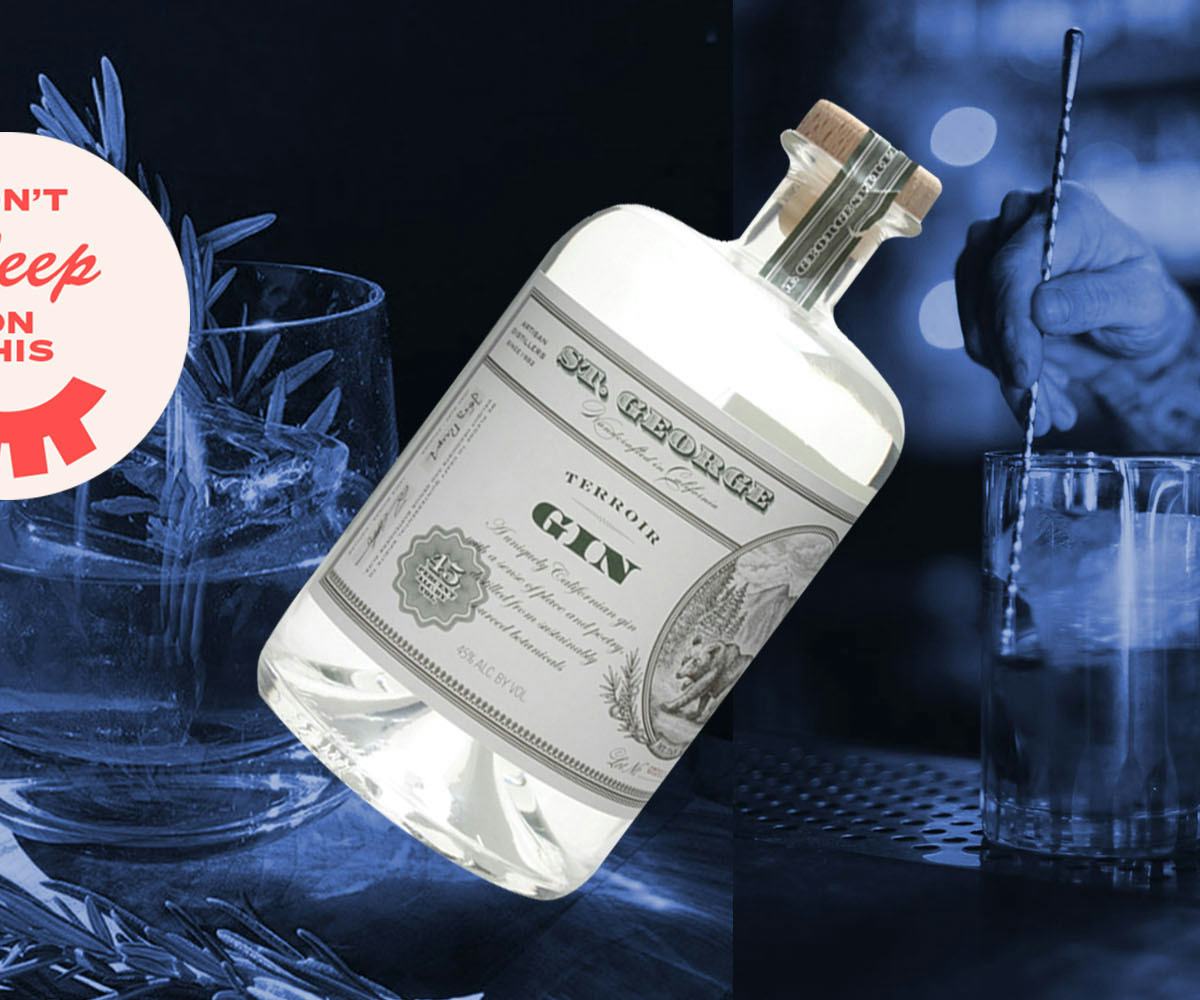 This Gin Will Change The Way You Feel About Gin Forever
Even if you think you dislike gin, you need to try St. George Terroir
Friends don't let friends miss out on all the cool, under the radar things they know about, like where to buy ultra-fashionable clothes at decidedly non-runway prices or which little-known beauty brand is low-key making the best highlighter around. And because we consider our readers to be like friends, we decided to gather together all our best tips in a new series: Don't Sleep on This. Check in every week to see what things we can't wait to share with you.
The interesting thing about having worked in specialty coffee for four years is that it taught me to not only appreciate high-quality coffee but all high-quality beverages. In the same way that there are major flavor differences between a cup of Folgers Instant and a pour-over of a freshly ground single origin, there's a difference in alcohol as well.
Does this make me sound like a stuffy asshole? Maybe, but make yourself a gin and tonic with St. George Terroir Gin—my favorite gin in the whole wide world—and Fever Tree tonic water, and you will absolutely understand what I mean. The carbonation of the tonic is finer, the sweetness more subtle. You'll find you don't need a lime because the drink is already replete with flavor, but a sprig of rosemary definitely won't hurt.
But I'm not just here to extol the virtues of a good gin and tonic, as simple and magical as such a drink may be. I'm here because of St. George Terroir Gin, which catapulted me into my gin obsession, made me a negroni freak, and is why I now have an expensive bar cart with a bunch of pretty bottles, cocktail books, and secondhand glassware decorating its surfaces.
Photo courtesy of @apartment_bartender
St. George Spirits is a small, independent distillery in Alameda, California. Founded in 1982, the company, led by master distiller Lance Winters (an oddly perfect name), has grown a sizeable portion of fans among the specialty cocktail crowd. Its spirits are nuanced and unique, its flavors more drawn from local Californian flora than tradition.
Its Terroir gin is one of a three-piece collection, consisting of Terroir, Botanivore, and Dry Rye. Terroir tastes exactly as it sounds: aromatic, with herbal notes dominated by rosemary and sage, woodsy pine, and a hint of lemon. Juniper—typically the dominant flavor in traditional gin recipes—takes a backseat here to these soft, gentle notes.
I love to make a gin and tonic with Terroir and Fever Tree, but it's perfectly suited to almost any cocktail calling for English Dry or American-style gins. And it's especially lovely in winter, as its aromatic, piney quality lends itself perfectly to sipping in the evening before a brightly lighted Christmas tree.
Below, I've included a couple of my favorite drink recipes to make with St. George Terroir, but don't be afraid to experiment. This unique spirit will make familiar cocktails feel new again.
Gin and Tonic
2 oz. St. George Terroir Gin4 oz. Fever Tree Indian Tonic or other high-quality tonic water
Pour gin in a tall glass with fresh ice. Top with tonic and stir. If desired, garnish with a sprig of rosemary.
Negroni1 ½ oz. St. George Terroir Gin1 ½ oz. Campari or other bitter aperitivo (my personal favorite is St. George's Bruto Americano)1 ½ oz. sweet vermouth (I love Vya and Cocchi Vermouth di Torino)
Combine ingredients in mixing glass, add ice, and gently stir. Pour into rocks glass with fresh ice or coupe glass without ice.
Corpse Reviver no. 2
1 oz. gin1 oz. Lillet Blanc1 oz. freshly squeezed lemon juice1 oz. CointreauDash of absinthe* (St. George's Absinthe Verte is exceptional)
Combine the ingredients in a cocktail shaker filled with ice. Shake vigorously for 10 seconds. Strain into chilled cocktail glass.
*Most recipes recommend you rinse your cocktail glass with absinthe first—meaning to coat the interior of the glass with absinthe and discard the rest—but I prefer the licorice flavor to be nice and pronounced in my Corpse Revivers. Do whatever your heart desires, just for god's sake use fresh lemon juice, not that awful bottled stuff.