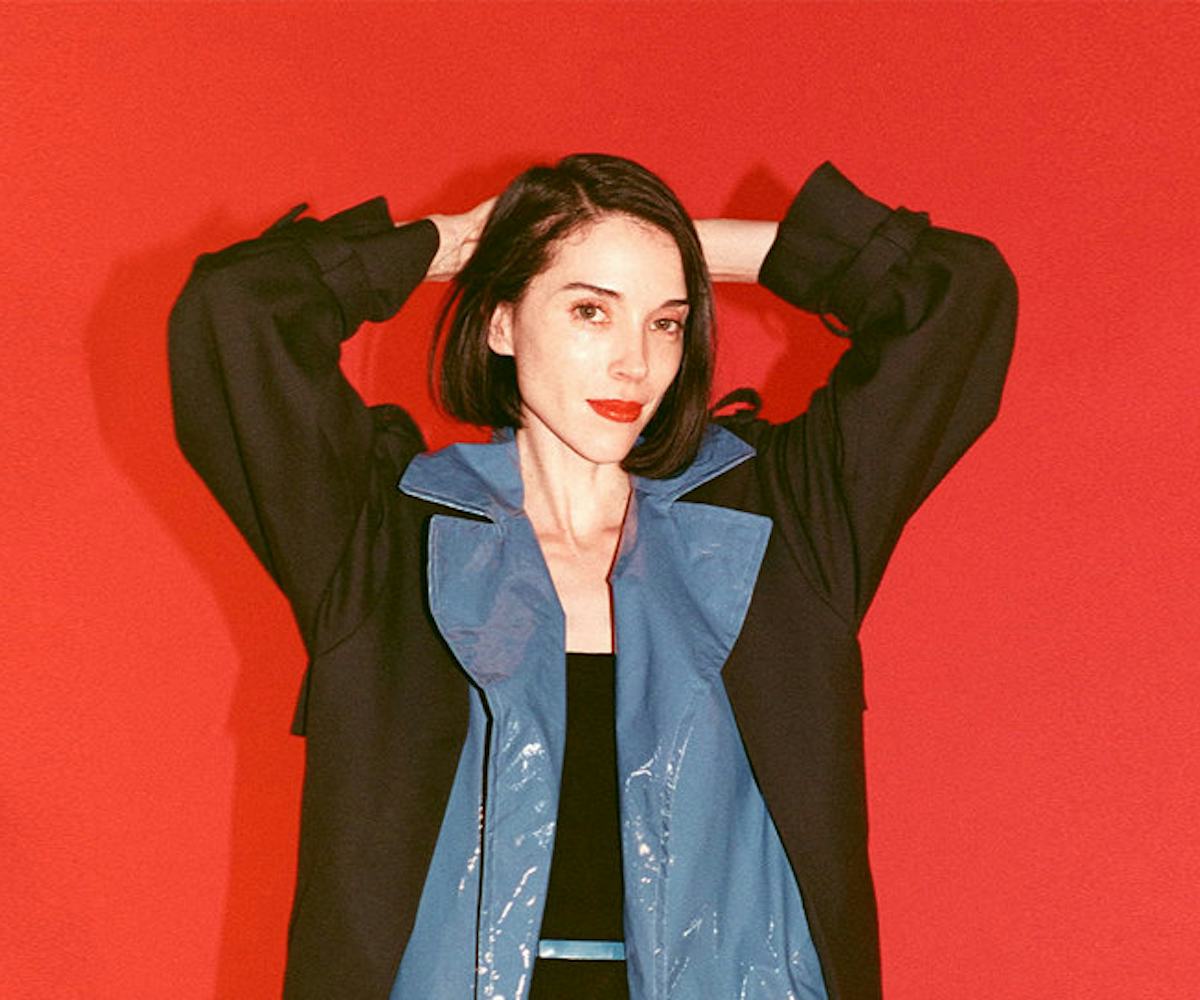 Photographed by Tak Sugita. Styled by Masako Ogura. Bodysuit by Zara, beret by dior.
St. Vincent Is Our October 2017 Cover Star
Talking to Annie Clark about 'MASSEDUCTION,' sobriety, celibacy, and the joys of being misunderstood
The following feature appears in the October 2017 issue of NYLON. 
Annie Clark is not where she's supposed to be. At the last minute, the artist known as St. Vincent decided that instead of trekking to a country store as planned, she wanted to stick closer to her studio in the hills of Los Angeles's Laurel Canyon. When I arrive at our new meeting spot, breathless from a steep climb, the first thing I notice is that neither of us is dressed appropriately for a rendezvous in the domesticated wilderness. Of course, in Clark's case, this means looking pretty damn cool, in a sky-blue duster, gray sweatshirt, and leopard-print shorts, her trademark curly dark hair (which took a silvery lavender turn last album cycle) pin-straight and tucked under a Duran Duran cap. We make our way to a picnic table in the middle of a hiking trail that apparently enjoys more use as a bird lavatory. "Is this OK?" she asks, straddling the bench and setting down her mug of Yogi tea. It is. Anything to stop moving vertically. 
"Up," however, is a fitting direction for the 34-year-old Clark. Over the past decade, she has evolved from a clever multi-instrumentalist to critical darling to indie icon—her last record, 2014's St. Vincent, took home the Grammy for Best Alternative Album. She's a road warrior (with the bed bug stories to prove it), having toured for much of her life, beginning as a teenager when she was the tour manager for her uncle's jazz duo, Tuck & Patti. And her latest album, MASSEDUCTION, is most definitely a career summit. It's her Lemonade, her OK Computer—whatever reference conveys the urgency with which it demands to be listened to when it drops on October 13. "This one's better," she says of her fifth solo effort, nodding. "I was focused on writing the best songs I'd ever written."  
That goal comes at a cost, or so Clark's body language seems to say on this late-August evening. She stifles a yawn, and cradles her tea. For the last couple of months, she's been celibate and sober. Some of the monasticism she favors during recording stuck: An illness last March prompted her to quit alcohol altogether. "I loved my white wine," she says. "But I just can't stand the smell anymore." 
She is also insanely busy, still recuperating from yesterday's flight home from Australia for press, not to mention the whirlwind trip to Tokyo that preceded it, where she performed at Summer Sonic (and shot this cover). And while it's been three and a half years since she released an album, Clark's been working on it all the while. "I've just been collecting things, bowerbird-style, and making elaborate plumage," she says. Meanwhile, she's been flexing her creative muscles: A week ago, Lionsgate announced that the Dallas native would be helming its female-led adaptation of The Picture of Dorian Gray. (Clark made her directorial debut earlier this year with a short called "The Birthday Party" for the female-driven horror anthology XX.)
She's also spent a good part of the last year getting over her breakup from 25-year-old British supermodel and actress Cara Delevingne. The pair dated for 18 months, thrusting Clark into a tabloid existence she'd never known before. You won't find her in any formal pictures from (the old) Taylor Swift's last Fourth of July bonanza in 2016, but she and her soon-to-be ex were captured by paparazzi in a private embrace. "It was really bizarre," she says. "No joke, I've been in high-speed chases in London with at least five cars and six motorcycles following me and Cara. You're going to kill someone, and for what? A photo of a sweet girl?"  
The last thing she wants to talk about is how much of this album was informed by that relationship. She's baffled by such inquiries—she only just recently admitted that 2011's Strange Mercy was partly about her father being sent to prison for investment fraud. "I never think, 'If I only knew who Kate Bush was singing about in "Running Up That Hill," I could enjoy the song,'" she says, shooing a mosquito off my shirt. "I do not wonder who or what songs are about. And the Texan in me is like, 'It's none of your goddamned business.'" I ask whether she cleared the disclosure of her dad's incarceration with him beforehand. "Is it OK with me that he's in prison?" she responds dryly, but quickly adds, "I've only ever spoken highly of my father." 
Clark is a vivid storyteller whose knack for relating tales of dirty policemen or down-on-their-luck friends would make her the most popular guest at a dinner party. On MASSEDUCTION's first single, "New York," which debuted last June, she sings along to a plangent piano about "the only motherfucker in the city who can handle me." While the song's grief over lost heroes could easily apply to David Bowie or Prince, as Clark has suggested, it's the identity of the "motherfucker" that piqued curiosity. "I totally understand it, I do," she says, and frowns thoughtfully. "But the point is for the song to mean whatever it means to somebody else. Some people have a real hang-up about being misunderstood. I don't care." She stops to clarify this point: "I would be concerned if someone was like, 'Wow, she seems like a Holocaust denier.' But racism, sexism, or homophobia aside? I'm happy to be misunderstood."  
In the past, Clark's music was more often respected than adored, like Love This Giant, her 2012 album with Talking Heads savant David Byrne. She is a masterful guitarist, a performance artist unafraid of experimentation. Artificial sounds, brass sections, unhurried choruses? All play a part in her eclectic repertoire, and she rarely stays monogamous to any one genre or rhythm. 
"A lot of people are skilled at bending notes, but I think she actually bends the parameters of what guitar is," says longtime friend Carrie Brownstein, whose prowess on the same instrument helped usher Sleater-Kinney to stardom. "She doesn't approach it in a traditionally worshipful way. While she's playing guitar, she seems to be destroying the very concept of it, which I think is very exciting."
The opening track of her last album famously depicted Clark running naked from a rattlesnake. MASSEDUCTION (pronounced "mass seduction" on the title track) somehow finds her even more exposed. Clark says "New York" was the first time she ever wrote something and thought, "This could be somebody's favorite song." The same could be said of many tracks on the album, which, taken as a whole, sounds like Clark violating her own sense of privacy in order to grant access to her vulnerability. "I'm not eschewing any of the work I've done in the past," says Clark. "But I was less concerned [here] about doing a lot of musical tricks that to me are intellectually interesting. The point of the record was to go, like, mainline to the heart."  
For this, Clark enlisted co-producer Jack Antonoff. Through his work with Lorde and Taylor Swift, as well as his own band Bleachers, Antonoff has developed a reputation for channeling ideas and emotions into their most approximate, frequently synth-driven expressions. "Jack changed my life for the better," says Clark. "He makes you feel like anything is possible. We were merciless, trying to push all these songs past the finish line to accept the gold medal." 
None of which is to suggest that Clark has sacrificed any virtuosity or ambition. Several of the best songs break off into their own compelling codas. "How could anybody have you and lose you and not lose their mind, too?" moans Clark on "Los Ageless," backed by an aggressive beat that would not be out of place at an adults-only club, before dissolving, like a film melt, into a series of bleary synths and barely audible whispers.  
The theme of Clark's last record was "near-future cult leader." Here, having traded in those wild lavender-platinum curls for an austere black bob, "It's dominatrix at the mental institution," she says. "I knew I needed to write about power—the fiction of power and the power of fiction." The concept is at its most powerful on the more adrenalized songs, like "Pills," whose opening lines function like a Valley of the Dolls reboot: "Pills to wake/ Pills to sleep/ Pills, pills, pills every day of the week." The words are delivered by Delevingne in a demented, cheerfully vacant chant.  
"You mean Kid Monkey, obscure DJ," says Clark, gamely referencing her ex's pseudonym. "It needed to be a posh British voice. I was like, 'Cara, wake up. I need you to sing on this song.' And she's kind of grumpy. And I'm like, 'Please. It sounds so good. One more time.'" That song, too, starts with a blinking alertness but finishes drowsily, like Pink Floyd at the planetarium. Clark says the inspiration came to her after popping a sleeping pill on tour, and speaks to larger issues of opioid addiction that have affected people she cares about.
But the song that's most likely to be picked over lyrically, for obvious reasons, is "Young Lover." It's set in Paris, where gossip rags once reported that Delevingne, proposed to Clark. The relationship described in the song suffers as a result of the titular subject's hard-partying ways. "Did I have experiences that emotionally resonated in the way they do for that character? Abso-fucking-lutely," says Clark, who's also been linked briefly to Kristen Stewart. "But did that exact scenario happen? No!" She makes a dismissive face.  
Clark didn't grow up feasting on the sordid details of celebrity coupledom, though she admits to a fascination with Kate Moss, Shalom Harlow, and the early-'90s supermodel set. (The musician has recently done some modeling herself as one of the new faces of Tiffany & Co.) Her parents divorced young, and Clark lived with her social worker mother and two older sisters. "I was free to be a wild card, because the other roles were spoken for," she says. A breeze kicks up and she rubs her legs as they prickle with goosebumps. 
A tiny part of her early musical education includes a crate of CDs that fell off a truck in front of their house. "It was good taste for someone in the suburbs of Dallas," she says, citing Nine Inch Nails and Pet Shop Boys. Clark started playing guitar at 12, and was encouraged by her maternal uncle, who hired her as a tour manager for his jazz duo when she was a teenager.  
Eventually, her family swelled to include eight siblings, with whom she is close. A younger brother now works as her assistant. "We grew up hearing my dad talk business on the phone, and it was 'motherfucker' this and 'fucking cocksucker' that," she says, laughing. In part, this informed her curse word of choice on "New York." "If people don't curse at all, I always think they're hiding something," she says.
The next day, Clark is filming a video for MASSEDUCTION's as-yet-unannounced second single at a soundstage in Hollywood. She spends more time on the West Coast now that she has built a studio here, but still keeps properties in New York and Texas. She hesitates to use the word bicoastal, which feels "kind of douchey," she says.
The video set changes from a Pepto-Bismol pink beauty salon, where the pedicure tubs are filled with green slime, to a yoga studio. Clark is dressed in a cheetah-print leotard with an open-face hood. She's been bending over for 15 minutes straight in order for director Willo Perron to get a dolly shot of her face hanging between her legs. I marvel at her stamina. "Are you really asking me how I'm good at bending over?" she says, wryly. She rests between takes, curling up on the yoga mat like a cat in a sunbeam.  
Clark wasn't involved with the concept for the video. Back in Laurel Canyon, she admitted to being preoccupied with Dorian Gray, working with Elle screenwriter David Birke and rereading the book for the first time since high school. "I jumped at the chance to explore themes of transgression, narcissism, youth, beauty, queerness, but through a female protagonist," says Clark, who's currently considering a cast for the project. She's new to this milieu, but credits Tuck & Patti with teaching her the rigors of knowing her shit. "They really were the coach in Rocky," she says of her uncle's duo. "I learned how to be professional. It's not as if I need to be a camera expert in order to direct something, but you have to have the respect of the crew. This is not a vanity project. This is something I want to do for the rest of my life." 
Melanie Lynskey, who starred in Clark's XX short, was pleasantly surprised by the musician's command of the set. "It was like working with someone who had been doing it a very long time," she says. "She's so smart and she had such a clear idea of what she wanted, but gave me all the room in the world to come up with ideas and collaborate." 
In the meantime, Clark is also preparing for this fall's Fear the Future Tour. As we slowly make our way down the hill, clutching at branches to steady ourselves, she says there won't be as much postmodern dancing this time around. "The record is full of sorrow, but the visual aspect of it is really absurd," she says. "I take the piss out of myself. The last tour I sat atop a pink throne, looking very imperious." She kindly helps me down the last step. "This one will let people see that I have a sense of humor."
Photographer: Tak Sugita    Stylist: Masako Ogura     Makeup: Yuka Hirata    Hair: Hanjee for Hanjee Hair Gallery at Signo Inc.     Producer: Yasuto Ogawa     Stylist's Assistant: Anna Uwada     Makeup Assistant: Miki Nagano     Photo Assistant: Genki Kawakami