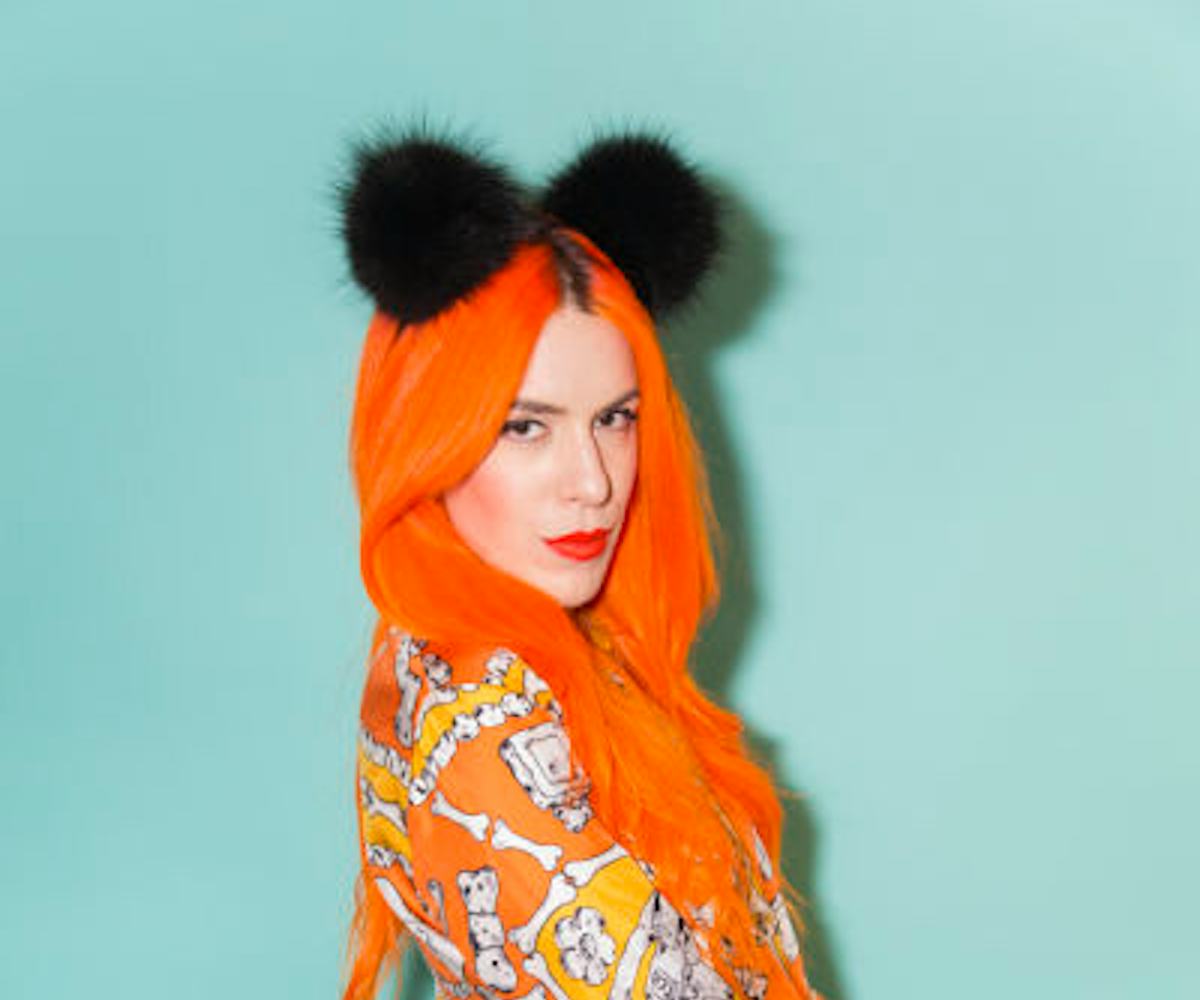 Photographed by Kate Owen
The Different Stages Of Female Friendship
Kerin Rose Gold's guide to bedazzling your life
I stopped shopping at fast fashion retailers several years ago. Terrible environmental and labor practices aside, the thrill of being able to buy a LOT of stuff for NOT A LOT of money didn't excite me the way it did in my early twenties. Here I was, standing before a closet full of crap. Sure, I had a handful of well-loved pieces that I saved up for and would keep forever, but most of the clothes I owned were disposable. I spent an afternoon trying on everything; if it didn't make me feel amazing, it got donated. I was left with a much smaller wardrobe filled with things that I would actually wear—and continue to wear—every day. I no longer woke up every morning in front of an overflowing closet of old trends, lamenting that I had nothing to wear.
Coincidentally, I was going through a similar purge with my girlfriends. At the time, I was going out a lot, seeing the same types of people, exchanging the absolute smallest of talk. I had 14 variations of "Jessica" in my phone, most of whom I've only halfheartedly texted about getting coffee soon. I may have "known everybody" at whatever party or bar I was frequenting, but only by a first name in a dim light. One night, I got fed up spending all my free time with people I only kind of liked. I realized I hadn't seen some of my oldest and dearest actual friends in ages because I became passive.
I had what Oprah would call an "aha moment," and immediately traded in those unfulfilling nights surrounded by hundreds of acquaintances for meaningful IRL hangs with my real ones. I made actual plans with friends; we would go for walks and catch up or just catch up on the phone (like, actually talking and not just texting.) I was so fulfilled by this relationship renaissance that I no longer felt the need to go out all the time. My girlfriends were as paired down as my closet, and I freakin' loved it.
I've been lucky to have a lot of great friends throughout my life. Some, like my yellow floral babydoll dress, stayed in my life lovingly for a few years, and others, like my vintage Westwood jumpsuit, have grown with me and only gotten better with time. As a discerning adult, I am as picky about what comes into my closet as who comes into my life.
Lil Kerin had it easy. You start grade school with a closet full of clothes and a classroom full of friends. It's a bubble; you can't go anywhere and you can't do anything on your own, but as frustrating as that can be, it's the only time in your life that you'll be on a relatively equal playing field with all the other girls. Everyone wears the clothes their parents bought them and your school friends become your girlfriends because they're the only people a seven-year-old has access to.
Then those teen years arrive, truly a tale of two cities: the best of times and the worst of times. I kept one or two best girlfriends, but in high school, I was a rebel. Having a clique felt, well, cliquey, and I was over it. For the first time, I joined clubs and became friends with different people who had different interests. I flittered between the choir, drama club, and TV studio, each with a built-in set of friends. Not surprisingly, I began experimenting with my wardrobe in these years. I might not have realized it at the time, but I was simultaneously trying out different kinds of friendships and different ensembles to see which ones fit best. One day, I'd be rocking a neon puffer coat and shredded jeans with the kids who took smoke breaks. Another day, I'd play around with blue lipstick spending quality time with my TV studio crew. Let's not forget about the ball gown skirts and band tees while building sets for drama club!
When I graduated, I stuck with what worked and parted with what didn't. With an NYU dorm room and a record label job waiting for me, I packed my coolest wardrobe pieces, ready to make a ton of equally cool new friends at college. Nobody tells you that adjusting to college life—and its accompanying friendships—gets rough, though. It's you and thousands of other people from all over the world hoping to connect, pass classes, and do adult things like remember to eat balanced meals and do laundry. To be honest, I didn't keep many of my friends from college, as great as a lot of them were at the time. NYU has no campus, so I spent time in the East Village. I met rad women who took me under their wing at rock shows. I wore stripper heels everywhere and dyed my hair to look like a rainbow. I bought cool things at Trash & Vaudeville and a ton of crap at H&M. I broke up with my best girlfriend from high school.
College is a time of discovery for most people, and it was for me too. In the end, my different groups of college friends all had more in common with one another than with me. I was too heterosexual for the lesbians across the hall, too mainstream for the indie rockers at the school paper, too prissy for the straightedge girls at hardcore shows, and too weird for everyone else. Like the piles of H&M in my closet, nothing fit quite right. Fortunately, years of personal and sartorial overhaul has my relationships—and wardrobe—in a much healthier place. I kept the friends in my life who were truly special and reconnected with people I hadn't spoken to in a few years. I ditched the cliques, the 1am friends of my twenties, and proudly became more selective about my lifestyle choices overall. I put a higher premium on everything. Clothes, friends, food, and men could only come into my life if they made me a better person. It takes a lot of work, but it's worth it… you can start by editing your closet!  
The friendships I've made in my late twenties and early thirties have been the most rewarding. I've connected with strong, confident, independent, and secure women. And I've watched my old friends grow into those women as well. I have seen myself develop those qualities that I require and admire in my friendships. I now work on myself as much as I work on the special female friendships in my life, and it is challenging. Female friendships as adults are hard work. They take a lot of energy, planning, and confidence. Once you've become more settled in who you are and what you're doing with your life, meeting new people doesn't happen that often. And meeting cool new people is another story entirely. As career demands and the need for sleep become priorities (spoiler alert: you can't run on three hours a night in your thirties!), I go out less. But the quality of people I meet out now is so much higher. The friendships are much more rewarding. Maybe because I'm so fulfilled I do less shopping, too. But you can be sure whatever I'm buying is top quality because I have top-notch girlfriends to dress up for.