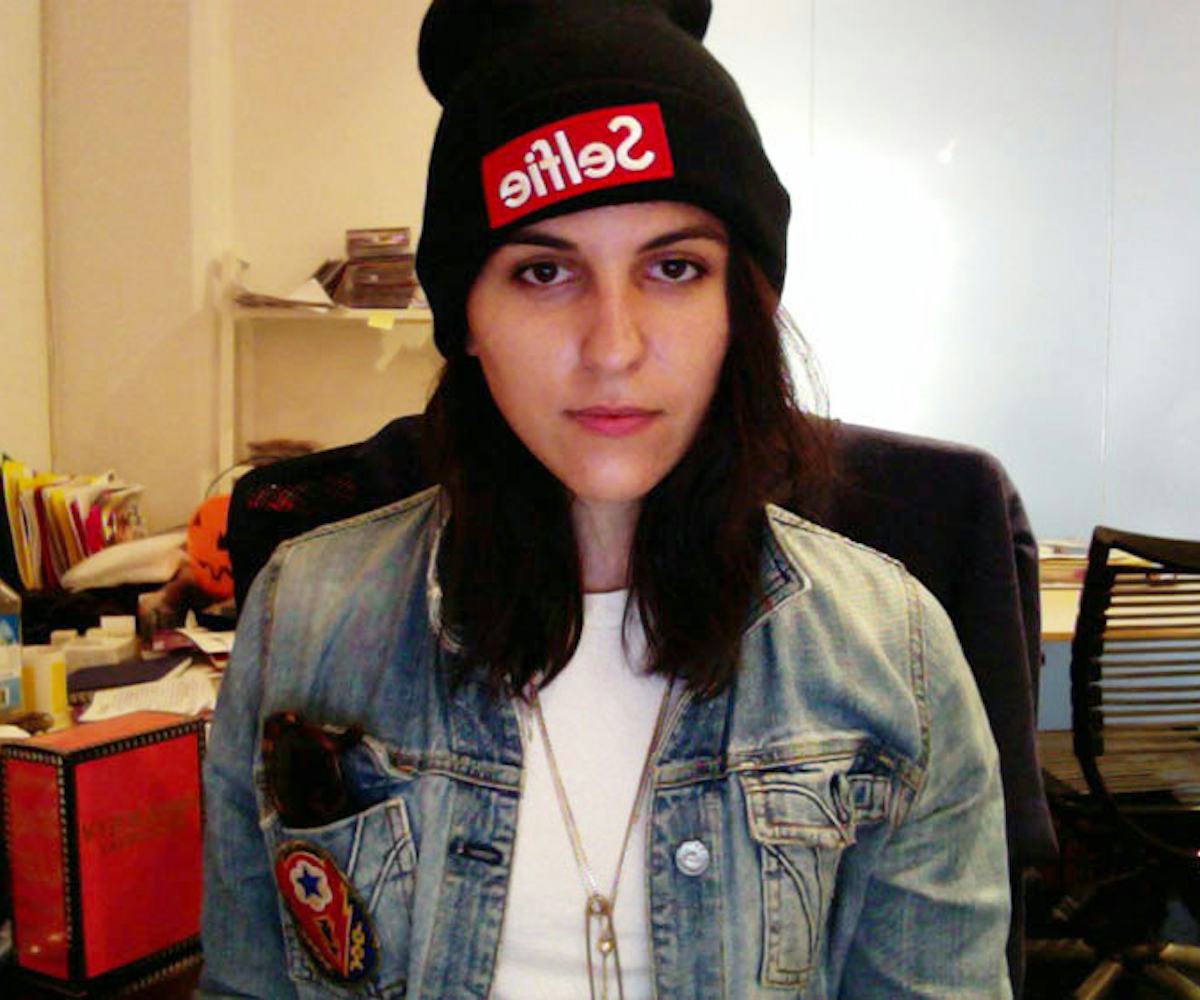 editor's pick: selfie nation
a week in the selfie life of a nylon editor.
October is National Self Promotion month, meaning the thousands of selfies crowding your Instagram feed are sort of justified for the next 13 days. As an introvert for the other 11 months of the year (see my
for proof), I thought this would be the perfect time for me to go for it and attempt to make the switch from "behind-the-lens Steff" to "selfie Steff." Luckily I had 
this "Seflie" beanie from Petals and Peacocks
to ease my transition.
Starting last Saturday I tried to take a selfie, or at least a photo, of everything I did each day to illuminate the daily life of a NYLON editor. I was confident that it would be a no-brainer, but boy, was I wrong. Turns out being selfie-ready 24/7 is a lot harder than I thought and takes a lot more effort than I expected. While I'm definitely no
, I think I've probably progressed in the past week from total closet case status to the level of weird, arty girl no one talks to, but is aware exists. Hey, it's an improvement. 
Check out all my #seflies in the gallery below including pics from CMJ shows, trips to the MoMA, and during a phone call with Aziz Ansari! And don't forget to keep following
where you can spy everything our editors are seeing every day!
Saturday: A free Saturday means a trip to the Museum of Modern Art. It definitely made me feel like a tourist to pose in front of all the art, so I tried to pick the least conspicuous piece to #selfie in front of, an Andy Warhol series in the hallway.
Saturday: Peace out van Gogh.
Saturday: Here's a nice view of van Gogh's "Starry Night."
Saturday: OK, so it was my second trip to the MoMA in two weeks. I was there last Sunday to check out the
Designing Modern Women exhibit
that--as you can see from this photo--rules.
Sunday: My boyfriend is the director of operations for
that contracts musical entertainment for the New York Jets, New York Giants, New York Knicks, and New York Rangers, so we go to
a lot
of sports games. Here's me on the field at last week's Steelers vs. Jets game at MetLife Stadium.
Sunday: In case you've ever wondered what it's like to stand in the end zone in the NFL, here you go. (That's the Jets' drumline,
, in the background during their soundcheck.)
Sunday: The Jets lost, but that didn't stop us from having a couple beers in the East Village post-game. I'm a Packers fan anyway, so I was celebrating our win against the Ravens.
Monday: Nicki Minaj came to the office and took a selfie.
Monday: We have a monthly digital team happy hour. This Monday we went to Dallas BBQ and ordered some Texas sized drinks. I feel like Garth in
.
Monday: The full display.
Tuesday: So, yeah, Monday night made Tuesday morning not so great.
Wednesday: Kiko Mizuhara seflie!
Wednesday: Up close and personal with Joanna Gruesome at CMJ.
Wednesday: Our Project Aloft Star winners My Body performing at our NYLON party!
Thursday: It took me to Thursday to realize that I wasn't really fulfilling my obligation and taking true, self-promoting mirror selfies, so here you go. What I've learned from this one is that I need to clean my mirror.
Thursday: The NYLON bathroom mirror is like selfie central. Nobody looks twice if you're shamelessly selfie-ing it up in the mirror when they walk in.
Thursday: How cute is this display at McNally Jackson!? It's like a tiny Wes Anderson world!
Thursday: Also very Wes Anderson-y is the new Clare Vivier store on Elizabeth Street. I'll take ten of these bags, please!
Thursday: The collage wallpaper at the Clare Vivier store is awesome too. AND Mike D. was at the party. You know, "I'm Mike D. and I get respect. Your cash and your jewelry is what I expect," Mike D. Yeah, I was way too nervous to talk to him because I know the words to every Beastie Boys' song ever and I idolize him.
Thursday: After the party I went to H&M to try on fuzzy sweaters, as one does.
Thursday: I caught the Rag & Bone stone's facade mid-mural switch too. Get ready for a lot of Virgin Mary statues, Elizabeth Street.
Throwback Thursday: Here's a terrible pic of my outfit that I wore to our Alexa Chung issue party. Normally I'm in jeans and a T-shirt, but I upped my game to an Alexa-style minidress from Comptoir des Cottoniers and a vintage jacket.
Friday: Seflie with George Costanza in the subway for my fellow Seinfeld-obsessor,
Christian the Intern from NYLON Guys
.
Friday: Impersonating Aziz Ansari in the subway because...
Friday: ...Here I am on the phone with Aziz Ansari discussing his new Netflix special dropping November 1. I asked him to be my prom date on the call, I think he's going to do it. Now all I need to find is a prom.