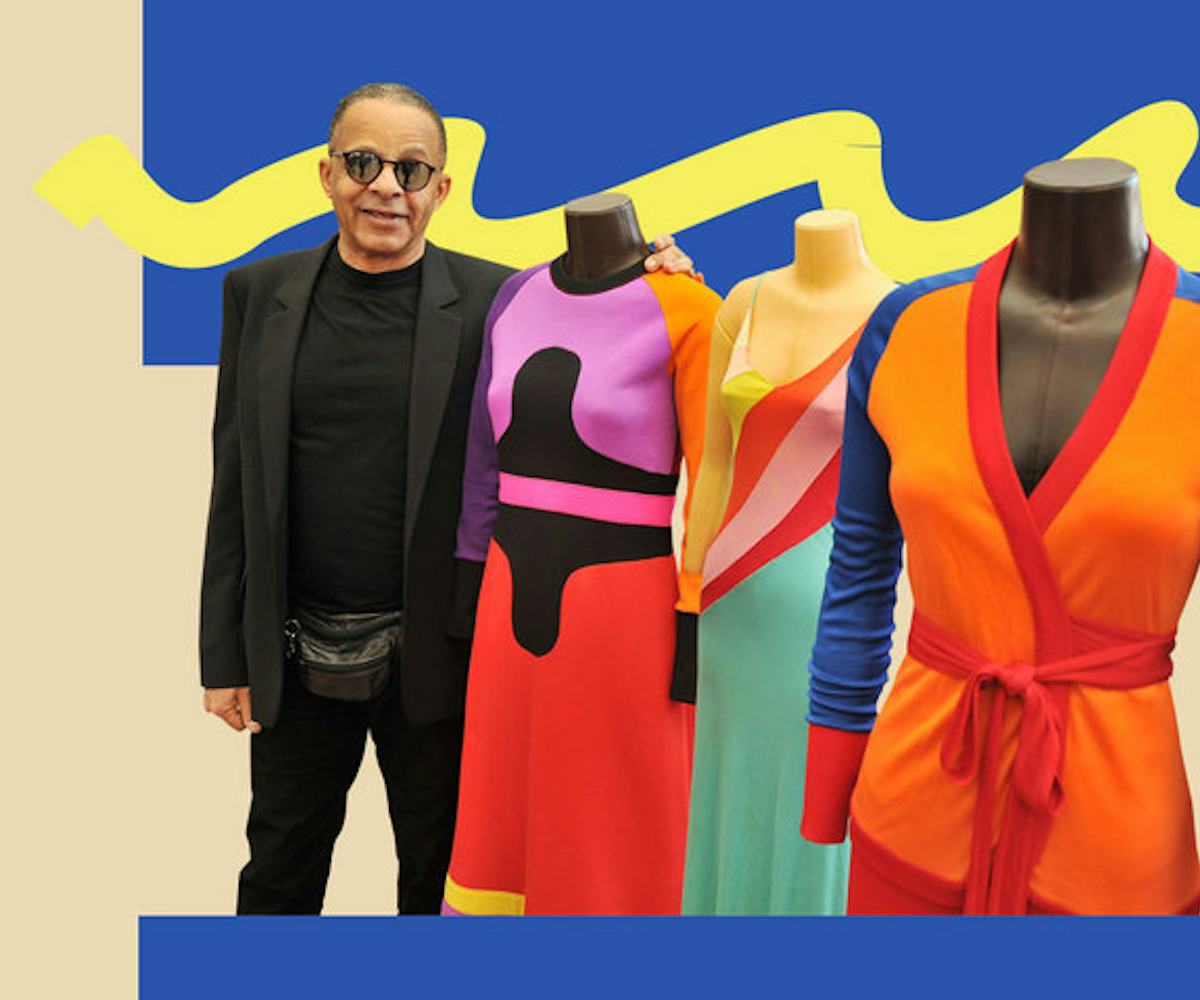 Get To Know: Famed Fashion Designer Stephen Burrows
He became the first African-American designer to gain international fame
In our new column "Get to Know," we will be discussing cultural icons of the past, whose legacy continues to influence art in our world today.
Stephen Burrows wanted to dress the world. That was his mission, as Robin Givhan outlined in her 2015 book, The Battle of Versailles: The Night American Fashion Stumbled into the Spotlight and Made History. He did just that at the height of his career in the '70s, but, over time, the color and vibrancy present in his clothing started to fade from the public's eye. The man who managed to make clothes dance while making history was left by the wayside, not to say that his legacy isn't forever.
"In modern terms, [Burrows] was Alexander Wang, Hedi Slimane, and Nicholas Ghesquiere all rolled into one," Givhan wrote in The Battle of Versailles. Along those same lines, instead of partying with the Kardashian-Jenners or the Rihannas of today, Burrows' inner circle included Andy Warhol, Cher, Diana Ross, and Barbra Streisand. Instead of Up&Down, he partied at Studio 54. And he designed clothing fitting for the downtown crowd—sheer jerseys, loose-fitting clothes in loud colors with uneven hemlines. "Burrows was the 1970s," Givhan declared. But it took him some time, some more work, and a little bit of luck to get there.
Burrows has his grandmother, Beatrice Simmons, to thank for his storied career—at least, in part. She taught him how to sew at a very young age. In fact, he adopted his character lettuce edging and visible stitch lines from her. He improved upon his skills by attending the Philadelphia Museum College of Art and, later, the Fashion Institute of Technology in New York City. After graduating in 1966, he was hired as a designer at Weber Originals. He left after a year to co-found O Boutique, which grew to become one of the most intriguing shops in NYC. It attracted hipster clients, musicians, and stars like Jane Fonda, Miles Davis, and Nina Simone. It's also where Burrows' career would start to take shape: he met model Pat Cleveland, who would become his muse, and was introduced to Geraldine Stutz, founder of Henri Bendel who would later help bring his clothing to the masses.
1973, though, would become the year Burrow truly blossomed. In June, he became the first black designer to win a Coty award. He received it alongside Calvin Klein. The award ceremony is where Burrows caught the attention of Eleanor Lambert, the publicist wrangling together American designers to take part in what would become one of the most iconic fashion shows (or rather, fashion face-offs) in history: the Battle of Versailles.
Burrows was a bit of a wild card choice, Givhan explains. Lambert had already recruited Oscar de la Renta, Halston, Bill Blass, and Anne Klein, all established, accomplished designers already. And they were going up against established French icons like Yves Saint Laurent, Pierre Cardin, Emanuel Ungaro, Christian Dior, and Hubert de Givenchy. Burrows was still very much in the beginning stages of things, and that put him at an advantage because he had nothing to lose. He was a kid compared to most in the industry and didn't know enough to be intimidated. "It didn't impact me at all. I wasn't into the history of Paris at the time. I just wanted to do everything they said you couldn't." His naiveté made him the perfect final designer.
As the story goes, the Americans kicked French ass. It was Burrows' high-energy show—complete with black models dancing down the runway—that helped charm them to victory. But Burrows' name never became as emblematic as the other designers who took part.
Returning to New York City, he opened up his own business on Seventh Avenue. He became the first African-American designer to come out with a signature scent (that he didn't exactly love). When his clothes and fragrance stopped selling, he went back to Bendels, which was bought out soon after by The Limited Inc. After struggling to find partners he trusted enough to work with, in 1985, he closed his business.
What followed was a series of continued retail problems and tepid comeback attempts. He presented a couple of collections, one in 2006 another in 2012. He was honored with a retrospective at the Museum of the City of New York in 2013 called "When Fashion Danced," and, in 2014, received the lifetime achievement awards from the Savannah College of Art and Design and the Pratt Institute of Design. But, in terms of breaking back into the industry, Burrows' designs and style have failed to resonate with newer generations. "[When I started,] it was a more creative and experimental period," Burrows said in a 2013 interview with Paper. "It was also less trendy and more individual. It was not about looking the same." Burrows' clothing, on the other hand, as described by Glenn O'Brien in the 2013 book Stephen Burrows: When Fashion Danced, was"made to twirl, leap, and undulate in, made to move. His dresses bloomed in motion, like a hothouse garden of orchids, like a Fillmore East light show."
Though Burrows' achievements seem to be just a blip in history, they were very bright, very bold ones. He became the first of many things, achieved many milestones, and opened doors for many black designers behind him. In 1977, The New York Times called Burrows the brightest star of American fashion and, if you didn't know, our celestial friends usually live for about 10 billion years. So, don't discount him just yet.